Global Metering Pump Market Information by Type (Diaphragm, Piston), by Application (Water and Wastewater Treatment, Food Industry, Oil & Gas, Petrochemical, Chemical and other) and Region - Forecast to 2023
Market Synopsis of Metering Pump Market
A metering pump is designed with the purpose to move fluids at highly precise flow rates over certain periods of time. Metering pumps are also known as chemical dosing pumps or chemical injection pumps and are used for high level of accuracy in pumping a wide variety of liquids in a host of end-use industries. Increase in the growing demand for environmentally friendly waste-water disposal and increasing investment in modernization of infrastructure are estimated to drive the global metering pump market. Moreover, increasing usage of metering pumps across industries such as waste and wastewater treatment, food & beverages, pulp & paper, petrochemicals, and oil & gas industry, is expected to drive the market for the metering pump in the forecast period.
However, these pumps are not ideal for operations that require movement of huge quantities of fluid in a short span of time. Additionally, it is not recommended for moving most types of gas.
The Metering Pumps Market was valued at USD 3.70 Billion in 2016, and is projected to reach USD 5.30 Billion by 2023, at a CAGR of 6.5%, during 2016 to 2023.
Study Objectives of Metering Pump Market:



To provide detailed analysis of the market structure along with forecast for the next six years of various segments and sub-segments of the global metering pump market




To provide insights about factors affecting the market growth




To analyze the global Metering pump market based on various tools such as Price Analysis, Supply Chain Analysis, Porter's Five Forces Analysis




To provide historical and forecast revenue of the market segments and sub-segments with respect to four main geographies, North America, Europe, APAC, and Rest of the World (ROW) and their countries




To provide country level analysis of the market with respect to the current market size and future prospective




To provide country level analysis of the market for segment by type, phase, application, and regions




To provide strategic profiling of the key players in the market, comprehensively analyzing their core competencies, and drawing a competitive landscape for the market




To track and analyze competitive developments such as joint ventures, strategic alliances, mergers and acquisitions, new product developments, and research and developments in the global metering pump market



Segmentation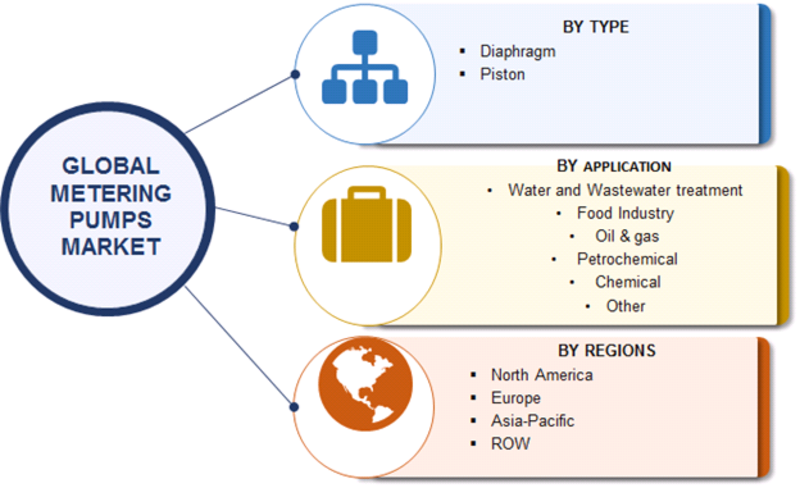 Regional Analysis of Global Metering Pump Market
Asia-Pacific is projected to be an emerging market for Metering pump. China is the largest and is also projected to be the fastest-growing market for metering pumps during the forecast period. China is the single largest end-user for metering pumps. Availability of comparatively low-cost raw materials and soaring growth of end-use applications with high domestic and foreign investment drives the growth in China. Asia-Pacific is projected to dominate the metering pump market during the forecast period with high investments from manufacturers for capacity expansion.
Key Players
The key players of global metering pump market include Lewa GmbH (Germany), Milton Roy Company (U.S.), IDEX Corporation (U.S.), Injection Technical Control Incorporation (Spain), Mcfarland-Tritan LLC (U.S.), Seepax GmbH (Germany), Prominent Dosiertechnik GmbH (Germany), Seko S.P.A. (Italy), Swelore Engineering Private Limited (India) and SPX Flow Technology Norderstedt GmbH (Germany).
Target Audience



Manufactures




Raw Materials Suppliers




Aftermarket suppliers




Research Institute / Education Institute




Potential Investors




Key executive (CEO and COO) and strategy growth manager



Product Analysis
Additional Information



Regulatory Landscape




Pricing Analysis




Macroeconomic Indicators



Geographic Analysis
Company Information



Profiling of 10 key market players




In-depth analysis including SWOT analysis, and strategy information of related to report title




Competitive landscape including emerging trends adopted by major companies



The report for Global Metering Pump Market of Market Research Future comprises of extensive primary research along with the detailed analysis of qualitative as well as quantitative aspects by various industry experts, key opinion leaders to gain the deeper insight of the market and industry performance. The report gives the clear picture of current market scenario which includes historical and projected market size in terms of value and volume, technological advancement, macro economical and governing factors in the market. The report provides details information and strategies of the top key players in the industry. The report also gives a broad study of the different market segments and regions.
Table of Contents
1 Executive Summary


2 Research Methodology


2.1 Scope of the Study


2.1.1 Definition


2.1.2 Research Objective


2.1.3 Assumptions


2.1.4 Limitations


2.2 Research Process


2.2.1 Primary Research


2.2.2 Secondary Research


2.3 Market size Estimation


2.4 Forecast Model


3 Market Dynamics


3.1 Market Drivers


3.2 Market Inhibitors


3.3 Supply/Value Chain Analysis


3.4 Porter's Five Forces Analysis


4 Global Metering Pumps Market, By Type


4.1 Diaphragm


4.2 Piston


5 Global Metering Pumps market, By Application


5.1 Introduction


5.2 Water and Wastewater treatment


5.3 Oil & gas


5.4 Petrochemical


5.5 Chemical


5.6 Other


6 Regional Market Analysis


6.1 Introduction


6.2 North America


6.2.1 U.S.


6.2.2 Canada


6.3 Europe


6.3.1 U.K


6.3.2 France


6.3.3 Germany


6.3.4 Spain


6.3.5 Rest of Europe


6.4 Asia-Pacific


6.4.1 China


6.4.2 Japan


6.4.3 India


6.4.4 Rest of Asia-Pacific


6.5 Rest of the World


7 Competitive Analysis


7.1 Introduction


7.2 Competitive Scenario


7.2.1 Market Share Analysis


7.2.2 Market Development Analysis


7.2.3 Type/Service Benchmarking


7.3 Lewa GmbH


7.3.1 Overview


7.3.2 Type/Service Offering


7.3.3 Strategy


7.4 Milton Roy Company


7.4.1 Overview


7.4.2 Type/Service Offering


7.4.3 Strategy


7.5 IDEX Corporation


7.5.1 Overview


7.5.2 Type/Service Offering


7.5.3 Strategy


7.6 Injection Technical Control Incorporation


7.6.1 Overview


7.6.2 Type/Service Offering


7.6.3 Strategy


7.6 Mcfarland-Tritan LLC


7.6.1 Overview


7.6.2 Type/Service Offering


7.6.3 Strategy


7.7 Seepax GmbH


7.7.1 Overview


7.7.2 Type/Service Offering


7.7.3 Strategy


7.9 Prominent Dosiertechnik GmbH


7.9.1 Overview


7.9.2 Type/Service Offering


7.9.3 Strategy


7.10 Seko S.P.A


7.10.1 Overview


7.10.2 Type/Service Offering


7.10.3 Strategy


7.11 Swelore Engineering Private Limited


7.11.1 Overview


7.11.2 Type/Service Offering


7.11.3 Strategy


7.12 SPX Flow Technology Norderstedt GmbH


7.12.1 Overview


7.12.2 Type/Service Offering


7.12.3 Strategy


LIST OF TABLES
TABLE 1 GLOBAL METERING PUMPS MARKET, BY TYPE


TABLE 2 GLOBAL METERING PUMPS MARKET, BY APPLICATION


TABLE 3 GLOBAL METERING PUMPS MARKET, BY REGIONS


TABLE 4 NORTH AMERICA METERING PUMPS MARKET, BY TYPE


TABLE 5 NORTH AMERICA METERING PUMPS MARKET, BY APPLICATION


TABLE 6 U.S. METERING PUMPS MARKET, BY TYPE


TABLE 7 U.S. METERING PUMPS MARKET, BY APPLICATION


TABLE 8 CANADA METERING PUMPS MARKET, BY TYPE


TABLE 9 CANADA METERING PUMPS MARKET, BY APPLICATION


TABLE 10 EUROPE METERING PUMPS MARKET, BY TYPE


TABLE 11 EUROPE METERING PUMPS MARKET, BY APPLICATION


TABLE 12 GERMANY METERING PUMPS MARKET, BY TYPE


TABLE 13 GERMANY METERING PUMPS MARKET, BY APPLICATION


TABLE 14 FRANCE METERING PUMPS MARKET, BY TYPE


TABLE 15 FRANCE METERING PUMPS MARKET, BY APPLICATION


TABLE 16 U.K. METERING PUMPS MARKET, BY TYPE


TABLE 17 U.K. METERING PUMPS MARKET, BY APPLICATION


TABLE 18 REST OF EUROPE METERING PUMPS MARKET, BY TYPE


TABLE 19 REST OF EUROPE METERING PUMPS MARKET, BY APPLICATION


TABLE 20 ASIA-PACIFIC METERING PUMPS MARKET, BY TYPE


TABLE 21 ASIA-PACIFIC METERING PUMPS MARKET, BY APPLICATION


TABLE 22 ROW METERING PUMPS MARKET, BY TYPE


TABLE 23 ROW METERING PUMPS MARKET, BY APPLICATION


LIST OF FIGURES
FIGURE 1 RESEARCH METHODOLOGY


FIGURE 2 GLOBAL METERING PUMPS MARKET: BY TYPE (%)


FIGURE 3 GLOBAL METERING PUMPS MARKET: BY APPLICATION (%)


FIGURE 4 GLOBAL METERING PUMPS MARKET: BY REGION


FIGURE 5 NORTH AMERICA METERING PUMPS MARKET, BY TYPE (%)


FIGURE 6 NORTH AMERICA METERING PUMPS MARKET, BY APPLICATION (%)


FIGURE 7 EUROPE METERING PUMPS MARKET, BY TYPE (%)


FIGURE 8 EUROPE METERING PUMPS MARKET, BY APPLICATION (%)


FIGURE 9 ASIA-PACIFIC METERING PUMPS MARKET, BY TYPE (%)


FIGURE 10 ASIA-PACIFIC METERING PUMPS MARKET, BY APPLICATION (%)


FIGURE 11 ROW METERING PUMPS MARKET, BY TYPE (%)


FIGURE 12 ROW METERING PUMPS MARKET, BY APPLICATION (%)