Ligation Devices Market Scenario
The ligation devices market is expected to register a CAGR of 6.7% during the forecast period of 2019 to 2024. Ligation devices are used for closing incisions during surgeries or to join separated organs/tissue parts. From the past few years, the number of surgeries and laparoscopic procedures have increased, generating developmental backgrounds for the market. As per 2017, National Health Statistics Reports published by the Centers for Disease Control and Prevention, in 2010, ~48.3 million surgical/nonsurgical procedures were performed within the U.S. Additional it is noted that surgeries are often reimbursed, thus, encouraging a larger patient pool for producers. Therefore, favorable reimbursement policies along with rising healthcare expenditure, and rising research and development expenditures boost the market. According to the GI Endoscopy Coding and Reimbursement Guide published by Cook in 2017, procedures like Endoscopic retrograde cholangiopancreatography (ERCP) is covered under CPT code 43261 with average facility payment of about USD 1,134.02. However, factors such as high cost of surgery and related side effects are estimated to restraint the market growth.
Ligation Devices Market Segmentation
The global ligation devices market is segmented based on product, procedure, application, end user, and region.
On the basis of product, the market is segmented into handheld instruments and accessories. Based on procedure, the market is segmented into minimally invasive surgery and open surgery. The application segment is segmented into gastrointestinal and abdominal applications, cardiovascular applications, gynecological applications, urological applications, and others. Based on the end user, the market is segmented into hospitals & clinics, ambulatory surgical center, and others.
Regional Market Summary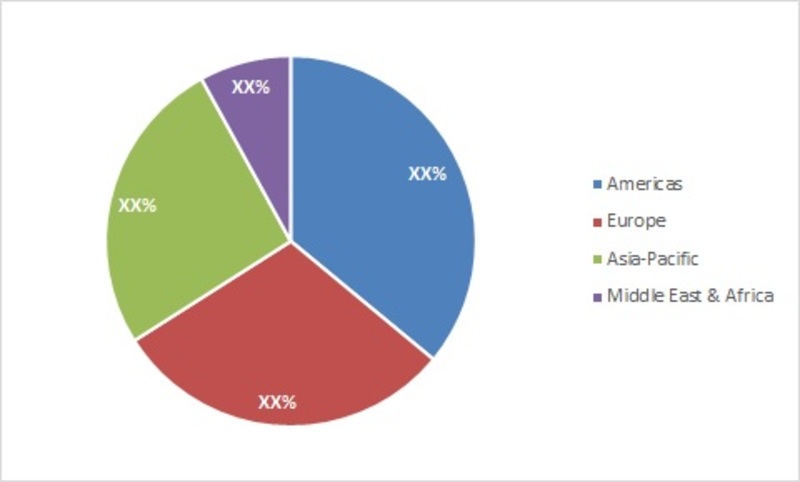 Global
Ligation Devices
Market Share (%),
by Region, 2018
Sources:
The Americas dominated the global market of ligation devices owing to increasing healthcare expenditure, and the rising incidence of chronic diseases. According to the Centers for Disease Control and Prevention in 2018, Coronary heart disease (CHD) was estimated to be the most common type of heart disease within the U.S. and was projected to cause 370,000 per year.
In 2018, it was estimated that Europe stood second in the global healthcare litigation devices market. This can be attributed due to the increasing awareness, government support, development of technologically advanced medical products, and growing number of surgeries. However, strict regulation is the factors expected to hamper the growth of the global ligation devices market over the forecast period.
Asia-Pacific was the fastest growing region for the global ligation devices market in 2018. Asia-Pacific has a huge market potential for the ligation devices market. Factors such as increasing healthcare infrastructure, developing healthcare industries, increasing number of surgeries and rising medical tourism drives the market growth within the region. Monash University stated that bariatric surgery burden in Australia was burgeoning in 2015 and within the same year approximately 15,000 surgical procedures were performed in the region. Moreover, the presence of developing economies like India and China boosts the market.
On the other hand, the Middle East and Africa held the least share in the global ligation devices market. Factors such as the presence of poor economies and low per capita income, especially within the African region make the market to lag within the region. It is estimated that most of the regional market is held by the Middle East due to increasing government funding in the healthcare, and presence of developed economies such as the United Arab Emirates, Saudi Arabia, and others.
Key Players
Some of the key players in the global ligation devices market are Medtronic, Johnson & Johnson, The Cooper Companies, Inc., Conmed Corporation, B. Braun Melsungen AG, Teleflex Incorporated, Olympus Corporation, Applied Medical Resources Corporation, Grena Think Medical, Genicon, Inc., and others.
Research Methodology
Market Research Future research is conducted by industry experts who offer insights into industry structure, market segmentation, assessment, Competitive Landscape (CL), penetration, as well as on emerging trends. Besides primary interviews (~ 80%) and secondary research (~ 20%), their analysis is based on their years of professional expertise in respective industries. Our analysts also predict where the market will be headed in the next five to ten years, by analyzing historical trends and current market positions. Furthermore, the varying trends of segments and categories geographically presented are studied and are estimated based on the primary and secondary research.
Primary Research
Extensive primary research was conducted to gain a deeper insight into the market and industry performance. In this particular report, we have conducted primary surveys (interviews) with key level executives (VPs, CEOs, Marketing Directors, Business Development Managers, and many more) of major players who are active in the market. In addition to analyzing the current and historical trends, our analysts predict where the market is headed, over the next five to ten years.
Secondary Research
Secondary research was mainly used to collect and identify information useful for the extensive, technical, market-oriented, and commercial study of the global ligation devices market. It was also used to obtain key information about major players, market classification, and segmentation according to industry trends, geographical markets, and developments related to the market and perspectives. For this study, analysts have gathered information from various credible sources, such as annual reports, SEC filings, journals, white papers, corporate presentations, company web sites, international organization of chemical manufacturers, some paid databases, and many others.
Intended Audience



Pharmaceutical companies




Government and private laboratories




Research and Development (R&D) companies




Market research and consulting service providers



Segmental Overview
Ligation Devices Market, by Product



Handheld Instruments




Accessories



Ligation Devices Market, by Procedure
Ligation Devices Market, by Application



Gastrointestinal and Abdominal Applications




Cardiovascular Applications




Gynecological Applications




Urological Applications




Others



Ligation Devices Market, by End User
Ligation Devices Market, by Key Players



Medtronic




Johnson & Johnson




The Cooper Companies, Inc.




Conmed Corporation




Braun Melsungen AG




Teleflex Incorporated




Olympus Corporation




Applied Medical Resources Corporation




Grena Think Medical




Genicon, Inc.




Others