Global Integrated Telecom Infrastructure Market, By Services (Professional, Technical, Managed), By Components (Video, Power, Network, Optical, Telecom Tower), By Infrastructure Type (Network, Civil, Electrical, Management Layer) Forecast till 2023.
Market Synopsis of the Global Integrated Telecom Infrastructure Market
The integrated telecom infrastructure market is growing at a fast rate owing to advancements in 5G spectrum, growing demand for smartphone and advancements in the mobile communication technology. The infrastructure of telecommunication sharing is generally divided into active and passive, which includes civil infrastructure, electrical and electronic infrastructure, network infrastructure, and management layer infrastructure. These are basically the infrastructure sharing components, also known as cell site, consisting of electronic and non-electronic infrastructure. The passive infrastructure is sharing the non-electronic infrastructure at the cell site, which includes civil infrastructure components such as antennas, cables, ducts, power source, shelter, etc. This forms a basic and important infrastructure as far as integrated telecom is concerned. On the other hand, the active infrastructure is sharing the electronic infrastructure such as couplers, amplifiers, rectifier, repeaters, microcontrollers, network devices, and many more. This includes the network and electrical infrastructure. The major factor that drives the market growth of integrated telecom infrastructure is the advancement in telecommunication and wireless technology like VoLTE, and 5G. Many countries are adopting the 5G technology for better call quality, higher spectrum, and cheaper infrastructure.
Segmentation
The integrated telecom infrastructure market is segmented into services, components, and infrastructure type. On the basis of services, the market is further segmented into professional services, technical services, and managed services. The professional services includes network consulting (network designing and planning), system integration (network migration and transformation), and network optimization. The professional services lead market since they are the most used services and they serve as a backbone to the integrated telecom infrastructure. On the other hand, the technical services include, deployment (installation and commission), maintenance (repair and replacement), and support (helpdesk and trouble shooting). The technical service is growing at a fast rate owing to the lack of experienced and skilled labor encouraging the companies to adopt the automation of helpdesk support, troubleshooting, and installation. The managed services include network outsourcing, and hosted & managed services and applications.
On the basis of components, the market is segmented into power component, network component, telecom tower, video component, and network management component. The power component provides the required power to operate the electrical equipment like antenna receivers, antenna transmitters, network devices (routers, switches, modems) and transmission devices (repeaters, amplifiers). However, the network component is leading this market segment as it includes the LAN, MAN, and WAN technology required for the widespread of telecom network. In addition to network component, optical component plays an equally important role as it includes fiber optic cables, optical transmitters, and couplers. The Video component is expected to increase at a fast rate as this is the result of the advancement in VoLTE and 5G technology.
On the basis of infrastructure type, the market is sub-segmented in to civil infrastructure, electrical infrastructure, network infrastructure, and management layer infrastructure. These infrastructure are important in the overall operation of the telecommunication. The management layer infrastructure segment is growing at the fastest rate owing to constantly growing need for upgrades and maintenance.
Regional Analysis
The regional analysis covers the geographical regions like North America, Europe, Asia pacific and Rest of the world. Asia pacific is the leading region and is projected to experience a fastest growth during the forecast period owing to increasing government spending to adopt VoLTE and other advanced mobile telecommunication technologies.
Europe and North America regions are matured integrated telecom infrastructure market as these regions are the early adopters of these technologies and continues to show a steady growth. However, major upgrade in the telecommunication sector are taking place in these regions to improve the communication and create a more integrated infrastructure.
Key Players
Sone of the key players in the integrated telecom infrastructure market: Nu Tek India ltd. (India), Texas Instruments Inc (U.S.), CROC Inc (Russia), Tech Mahindra Limited (India), Huawei Technologies Co. Ltd (U.S.), Experis IT Pvt. Ltd, ZTE Corporation (China), Nokia Networks (Finland), NEC Corporation (Japan), Ericsson (Sweden), and Siemens AG (Germany).
The global integrated telecom infrastructure market is expected to reach USD 60 billion at a CAGR of 26% during the forecasted period 2017-2023.
Global Integrated Telecom Infrastructure Market, USD Billion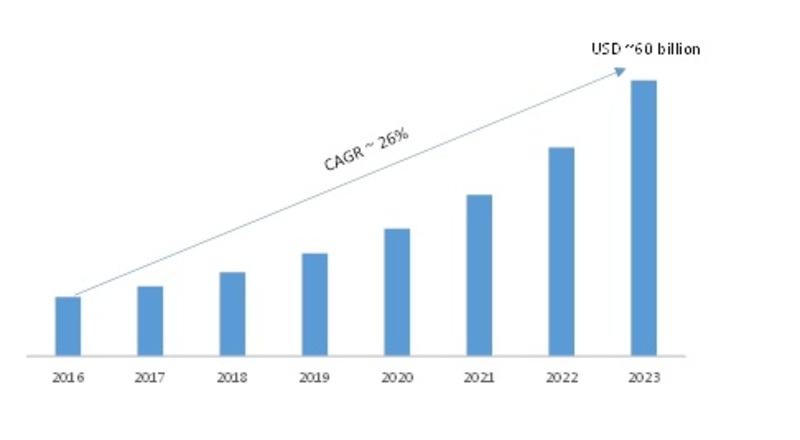 Source: MRFR analysis
Intended Audience



Storage providers




Network providers




Telecommunicarion network providers




Research firms




Software investors




Software Developers




BTS providers




Call centers




Software Testers




IT enablers




Database solutions




Cloud providers




Telecommunication companies




Government service providers



TABLE OF CONTENTS
1 MARKET INTRODUCTION


1.1 INTRODUCTION


1.2 SCOPE OF STUDY


1.2.1 RESEARCH OBJECTIVE


1.2.2 ASSUMPTIONS


1.2.3 LIMITATIONS


1.3 MARKET STRUCTURE
2 RESEARCH METHODOLOGY


2.1 RESEARCH INTEGRATED TELECOM INFRASTRUCTURE


2.2 PRIMARY RESEARCH


2.3 SECONDARY RESEARCH


2.4 FORECAST MODEL


2.4.1 MARKET DATA COLLECTION, ANALYSIS & FORECAST


2.4.2 MARKET SIZE ESTIMATION
3 MARKET DYNAMICS


3.1 INTRODUCTION


3.2 MARKET DRIVERS


3.3 MARKET CHALLENGES


3.4 MARKET OPPORTUNITIES


3.5 MARKET RESTRAINTS
4 EXECUTIVE SUMMARY
5. MARKET FACTOR ANALYSIS


5.1 PORTER'S FIVE FORCES ANALYSIS


5.2 SUPPLY CHAIN ANALYSIS
6 INTEGRATED TELECOM INFRASTRUCTURE MARKET, BY SEGMENTS


6.1 INTRODUCTION


6.2 MARKET STATISTICS


6.2.1 BY SERVICES


6.2.1.1 PROFESSIONAL


6.2.1.2 TECHNICAL


6.2.1.3 MANAGED


6.2.2 BY COMPONENTS


6.2.2.1 VIDEO COMPONENT


6.2.2.2 POWER COMPONENT


6.2.2.3 NETWORK COMPONENT


6.2.2.4 OPTICAL COMPONENT


6.2.2.5 TELECOM TOWER


6.2.2.6 NETWORK MANAGEMENT COMPONENT


6.2.3 BY INFRASTRUCTURE TYPE


6.2.3.1 NETWORK


6.2.3.2 CIVIL


6.2.3.3 ELECTRICAL


6.2.3.4 MANAGEMENT LAYER


6.2.4 BY REGION


6.2.4.1 NORTH AMERICA


6.2.4.1.1 U.S.


6.2.4.1.2 CANADA


6.2.4.1.3 MEXICO


6.2.4.2 EUROPE


6.2.4.2.1 U.K.


6.2.4.2.2 GERMANY


6.2.4.2.3 FRANCE


6.2.4.2.4 ITALY


6.2.4.2.5 REST OF THE EUROPE


6.2.4.3 ASIA PACIFIC


6.2.4.3.1 CHINA


6.2.4.3.2 JAPAN


6.2.4.3.3 SOUTH KOREA


6.2.4.3.4 INDIA


6.2.4.3.5 REST OF THE ASIA PACIFIC


6.2.4.4 REST OF THE WORLD
7 COMPETITIVE ANALYSIS


7.1 MARKET SHARE ANALYSIS


7.2 COMPANY PROFILES


7.2.1 NU TEK INDIA LTD. (INDIA)


7.2.2 TEXAS INSTRUMENTS INC (U.S.)


7.2.3 CROC INC (RUSSIA)


7.2.4 TECH MAHINDRA LIMITED (INDIA)


7.2.5 HUAWEI TECHNOLOGIES CO. LTD (U.S.)


7.2.6 EXPERIS IT PVT. LTD


7.2.7 ZTE CORPORATION (CHINA)


7.2.8 NOKIA NETWORKS (FINLAND)


7.2.9 NEC CORPORATION (JAPAN)


7.2.10 ERICSSON (SWEDEN)


7.2.11 SIEMENS AG (GERMANY)


7.2.12 OTHERS


LIST OF TABLES
TABLE 1 INTEGRATED TELECOM INFRASTRUCTURE MARKET, BY SERVICES


TABLE 2 INTEGRATED TELECOM INFRASTRUCTURE MARKET, BY COMPONENTS


TABLE 3 INTEGRATED TELECOM INFRASTRUCTURE MARKET, BY INFRASTRUCTURE TYPE


TABLE 4 INTEGRATED TELECOM INFRASTRUCTURE MARKET, BY REGION


TABLE 5 NORTH AMERICA INTEGRATED TELECOM INFRASTRUCTURE MARKET, BY SERVICES


TABLE 6 NORTH AMERICA INTEGRATED TELECOM INFRASTRUCTURE MARKET, BY COMPONENTS


TABLE 7 NORTH AMERICA INTEGRATED TELECOM INFRASTRUCTURE MARKET, BY INFRASTRUCTURE TYPE


TABLE 8 U.S. INTEGRATED TELECOM INFRASTRUCTURE MARKET, BY SERVICES


TABLE 9 U.S. INTEGRATED TELECOM INFRASTRUCTURE MARKET, BY COMPONENTS


TABLE 10 U.S. INTEGRATED TELECOM INFRASTRUCTURE MARKET, BY INFRASTRUCTURE TYPE


TABLE 11 U.S. INTEGRATED TELECOM INFRASTRUCTURE MARKET, BY END USER


TABLE 12 CANADA INTEGRATED TELECOM INFRASTRUCTURE MARKET, BY SERVICES


TABLE 13 CANADA INTEGRATED TELECOM INFRASTRUCTURE MARKET, BY COMPONENTS


TABLE 14 CANADA INTEGRATED TELECOM INFRASTRUCTURE MARKET, BY INFRASTRUCTURE TYPE


TABLE 15 MEXICO INTEGRATED TELECOM INFRASTRUCTURE MARKET, BY SERVICES


TABLE 16 MEXICO INTEGRATED TELECOM INFRASTRUCTURE MARKET, BY COMPONENTS


TABLE 17 MEXICO INTEGRATED TELECOM INFRASTRUCTURE MARKET, BY INFRASTRUCTURE TYPE


TABLE 18 EUROPE INTEGRATED TELECOM INFRASTRUCTURE MARKET, BY SERVICES


TABLE 19 EUROPE INTEGRATED TELECOM INFRASTRUCTURE MARKET, BY COMPONENTS


TABLE 20 EUROPE INTEGRATED TELECOM INFRASTRUCTURE MARKET, BY INFRASTRUCTURE TYPE


TABLE 21 U.K. INTEGRATED TELECOM INFRASTRUCTURE MARKET, BY SERVICES


TABLE 22 U.K. INTEGRATED TELECOM INFRASTRUCTURE MARKET, BY COMPONENTS


TABLE 23 U.K. INTEGRATED TELECOM INFRASTRUCTURE MARKET, BY INFRASTRUCTURE TYPE


TABLE 24 GERMANY INTEGRATED TELECOM INFRASTRUCTURE MARKET, BY SERVICES


TABLE 25 GERMANY INTEGRATED TELECOM INFRASTRUCTURE MARKET, BY COMPONENTS


TABLE 26 GERMANY INTEGRATED TELECOM INFRASTRUCTURE MARKET, BY INFRASTRUCTURE TYPE


TABLE 27 FRANCE INTEGRATED TELECOM INFRASTRUCTURE MARKET, BY SERVICES


TABLE 28 FRANCE INTEGRATED TELECOM INFRASTRUCTURE MARKET, BY COMPONENTS


TABLE 29 FRANCE INTEGRATED TELECOM INFRASTRUCTURE MARKET, BY INFRASTRUCTURE TYPE


TABLE 30 ITALY INTEGRATED TELECOM INFRASTRUCTURE MARKET, BY SERVICES


TABLE 31 ITALY INTEGRATED TELECOM INFRASTRUCTURE MARKET, BY COMPONENTS


TABLE 32 ITALY INTEGRATED TELECOM INFRASTRUCTURE MARKET, BY INFRASTRUCTURE TYPE


TABLE 33 REST OF EUROPE INTEGRATED TELECOM INFRASTRUCTURE MARKET, BY SERVICES


TABLE 34 REST OF EUROPE INTEGRATED TELECOM INFRASTRUCTURE MARKET, BY COMPONENTS


TABLE 35 REST OF EUROPE INTEGRATED TELECOM INFRASTRUCTURE MARKET, BY INFRASTRUCTURE TYPE


TABLE 36 ASIA PACIFIC INTEGRATED TELECOM INFRASTRUCTURE MARKET, BY SERVICES


TABLE 37 ASIA PACIFIC INTEGRATED TELECOM INFRASTRUCTURE MARKET, BY COMPONENTS


TABLE 38 ASIA PACIFIC INTEGRATED TELECOM INFRASTRUCTURE MARKET, BY INFRASTRUCTURE TYPE


TABLE 39 CHINA INTEGRATED TELECOM INFRASTRUCTURE MARKET, BY SERVICES


TABLE 40 CHINA INTEGRATED TELECOM INFRASTRUCTURE MARKET, BY COMPONENTS


TABLE 41 CHINA INTEGRATED TELECOM INFRASTRUCTURE MARKET, BY INFRASTRUCTURE TYPE


TABLE 42 JAPAN INTEGRATED TELECOM INFRASTRUCTURE MARKET, BY SERVICES


TABLE 43 JAPAN INTEGRATED TELECOM INFRASTRUCTURE MARKET, BY COMPONENTS


TABLE 44 JAPAN INTEGRATED TELECOM INFRASTRUCTURE MARKET, BY INFRASTRUCTURE TYPE


TABLE 45 SOUTH KOREA INTEGRATED TELECOM INFRASTRUCTURE MARKET, BY SERVICES


TABLE 46 SOUTH KOREA INTEGRATED TELECOM INFRASTRUCTURE MARKET, BY COMPONENTS


TABLE 47 SOUTH KOREA INTEGRATED TELECOM INFRASTRUCTURE MARKET, BY INFRASTRUCTURE TYPE


TABLE 48 INDIA INTEGRATED TELECOM INFRASTRUCTURE MARKET, BY SERVICES


TABLE 49 INDIA INTEGRATED TELECOM INFRASTRUCTURE MARKET, BY COMPONENTS


TABLE 50 INDIA INTEGRATED TELECOM INFRASTRUCTURE MARKET, BY INFRASTRUCTURE TYPE


TABLE 51 REST OF ASIA PACIFIC INTEGRATED TELECOM INFRASTRUCTURE MARKET, BY SERVICES


TABLE 52 REST OF ASIA PACIFIC INTEGRATED TELECOM INFRASTRUCTURE MARKET, BY COMPONENTS


TABLE 53 REST OF ASIA PACIFIC INTEGRATED TELECOM INFRASTRUCTURE MARKET, BY INFRASTRUCTURE TYPE


TABLE 54 REST OF WORLD INTEGRATED TELECOM INFRASTRUCTURE MARKET, BY SERVICES


TABLE 55 REST OF WORLD INTEGRATED TELECOM INFRASTRUCTURE MARKET, BY COMPONENTS


TABLE 56 REST OF WORLD INTEGRATED TELECOM INFRASTRUCTURE MARKET, BY INFRASTRUCTURE TYPE
LIST OF FIGURES
FIGURE 1 RESEARCH BOT SERVICES


FIGURE 2 INTEGRATED TELECOM INFRASTRUCTURE MARKET, BY SERVICES (%)


FIGURE 3 INTEGRATED TELECOM INFRASTRUCTURE MARKET, BY COMPONENTS (%)


FIGURE 4 INTEGRATED TELECOM INFRASTRUCTURE MARKET, BY INFRASTRUCTURE TYPE (%)


FIGURE 5 INTEGRATED TELECOM INFRASTRUCTURE MARKET, BY REGION (%)


FIGURE 6 NORTH AMERICA INTEGRATED TELECOM INFRASTRUCTURE MARKET, BY SERVICES (%)


FIGURE 7 NORTH AMERICA INTEGRATED TELECOM INFRASTRUCTURE MARKET, BY COMPONENTS (%)


FIGURE 8 NORTH AMERICA INTEGRATED TELECOM INFRASTRUCTURE MARKET, BY INFRASTRUCTURE TYPE (%)


FIGURE 9 U.S. INTEGRATED TELECOM INFRASTRUCTURE MARKET, BY SERVICES (%)


FIGURE 10 U.S. INTEGRATED TELECOM INFRASTRUCTURE MARKET, BY COMPONENTS (%)


FIGURE 11 U.S. INTEGRATED TELECOM INFRASTRUCTURE MARKET, BY INFRASTRUCTURE TYPE (%)


FIGURE 12 U.S. INTEGRATED TELECOM INFRASTRUCTURE MARKET, BY END USER (%)


FIGURE 13 CANADA INTEGRATED TELECOM INFRASTRUCTURE MARKET, BY SERVICES (%)


FIGURE 14 CANADA INTEGRATED TELECOM INFRASTRUCTURE MARKET, BY COMPONENTS (%)


FIGURE 15 CANADA INTEGRATED TELECOM INFRASTRUCTURE MARKET, BY INFRASTRUCTURE TYPE (%)


FIGURE 16 MEXICO INTEGRATED TELECOM INFRASTRUCTURE MARKET, BY SERVICES (%)


FIGURE 17 MEXICO INTEGRATED TELECOM INFRASTRUCTURE MARKET, BY COMPONENTS (%)


FIGURE 18 MEXICO INTEGRATED TELECOM INFRASTRUCTURE MARKET, BY INFRASTRUCTURE TYPE (%)


FIGURE 19 EUROPE INTEGRATED TELECOM INFRASTRUCTURE MARKET, BY SERVICES (%)


FIGURE 20 EUROPE INTEGRATED TELECOM INFRASTRUCTURE MARKET, BY COMPONENTS (%)


FIGURE 21 EUROPE INTEGRATED TELECOM INFRASTRUCTURE MARKET, BY INFRASTRUCTURE TYPE (%)


FIGURE 22 U.K. INTEGRATED TELECOM INFRASTRUCTURE MARKET, BY SERVICES (%)


FIGURE 23 U.K. INTEGRATED TELECOM INFRASTRUCTURE MARKET, BY COMPONENTS (%)


FIGURE 24 U.K. INTEGRATED TELECOM INFRASTRUCTURE MARKET, BY INFRASTRUCTURE TYPE (%)


FIGURE 25 GERMANY INTEGRATED TELECOM INFRASTRUCTURE MARKET, BY SERVICES (%)


FIGURE 26 GERMANY INTEGRATED TELECOM INFRASTRUCTURE MARKET, BY COMPONENTS (%)


FIGURE 27 GERMANY INTEGRATED TELECOM INFRASTRUCTURE MARKET, BY INFRASTRUCTURE TYPE (%)


FIGURE 28 FRANCE INTEGRATED TELECOM INFRASTRUCTURE MARKET, BY SERVICES (%)


FIGURE 29 FRANCE INTEGRATED TELECOM INFRASTRUCTURE MARKET, BY COMPONENTS (%)


FIGURE 30 FRANCE INTEGRATED TELECOM INFRASTRUCTURE MARKET, BY INFRASTRUCTURE TYPE (%)


FIGURE 31 ITALY INTEGRATED TELECOM INFRASTRUCTURE MARKET, BY SERVICES (%)


FIGURE 32 ITALY INTEGRATED TELECOM INFRASTRUCTURE MARKET, BY COMPONENTS (%)


FIGURE 33 ITALY INTEGRATED TELECOM INFRASTRUCTURE MARKET, BY INFRASTRUCTURE TYPE (%)


FIGURE 34 REST OF EUROPE INTEGRATED TELECOM INFRASTRUCTURE MARKET, BY SERVICES (%)


FIGURE 35 REST OF EUROPE INTEGRATED TELECOM INFRASTRUCTURE MARKET, BY COMPONENTS (%)


FIGURE 36 REST OF EUROPE INTEGRATED TELECOM INFRASTRUCTURE MARKET, BY INFRASTRUCTURE TYPE (%)


FIGURE 37 ASIA PACIFIC INTEGRATED TELECOM INFRASTRUCTURE MARKET, BY SERVICES (%)


FIGURE 38 ASIA PACIFIC INTEGRATED TELECOM INFRASTRUCTURE MARKET, BY COMPONENTS (%)


FIGURE 39 ASIA PACIFIC INTEGRATED TELECOM INFRASTRUCTURE MARKET, BY INFRASTRUCTURE TYPE (%)


FIGURE 40 CHINA INTEGRATED TELECOM INFRASTRUCTURE MARKET, BY SERVICES (%)


FIGURE 41 CHINA INTEGRATED TELECOM INFRASTRUCTURE MARKET, BY COMPONENTS (%)


FIGURE 42 CHINA INTEGRATED TELECOM INFRASTRUCTURE MARKET, BY INFRASTRUCTURE TYPE (%)


FIGURE 43 JAPAN INTEGRATED TELECOM INFRASTRUCTURE MARKET, BY SERVICES (%)


FIGURE 44 JAPAN INTEGRATED TELECOM INFRASTRUCTURE MARKET, BY COMPONENTS (%)


FIGURE 45 JAPAN INTEGRATED TELECOM INFRASTRUCTURE MARKET, BY INFRASTRUCTURE TYPE (%)


FIGURE 46 SOUTH KOREA INTEGRATED TELECOM INFRASTRUCTURE MARKET, BY SERVICES (%)


FIGURE 47 SOUTH KOREA INTEGRATED TELECOM INFRASTRUCTURE MARKET, BY COMPONENTS (%)


FIGURE 48 SOUTH KOREA INTEGRATED TELECOM INFRASTRUCTURE MARKET, BY INFRASTRUCTURE TYPE (%)


FIGURE 49 INDIA INTEGRATED TELECOM INFRASTRUCTURE MARKET, BY SERVICES (%)


FIGURE 50 INDIA INTEGRATED TELECOM INFRASTRUCTURE MARKET, BY COMPONENTS (%)


FIGURE 51 INDIA INTEGRATED TELECOM INFRASTRUCTURE MARKET, BY INFRASTRUCTURE TYPE (%)


FIGURE 52 REST OF ASIA PACIFIC INTEGRATED TELECOM INFRASTRUCTURE MARKET, BY SERVICES (%)


FIGURE 53 REST OF ASIA PACIFIC INTEGRATED TELECOM INFRASTRUCTURE MARKET, BY COMPONENTS (%)


FIGURE 54 REST OF ASIA PACIFIC INTEGRATED TELECOM INFRASTRUCTURE MARKET, BY INFRASTRUCTURE TYPE (%)


FIGURE 55 (%)


FIGURE 56 REST OF WORLD INTEGRATED TELECOM INFRASTRUCTURE MARKET, BY SERVICES (%)


FIGURE 57 REST OF WORLD INTEGRATED TELECOM INFRASTRUCTURE MARKET, BY COMPONENTS (%)


FIGURE 58 REST OF WORLD INTEGRATED TELECOM INFRASTRUCTURE MARKET, BY INFRASTRUCTURE TYPE (%)