Market Synopsis:
The global integrated systems market is expected to reach USD 30 Billion by 2023 at CAGR of 16% through the forecast period 2017 to 2023.

The IT landscape has progressed into the scalable environment by having various mobile applications, services, and various cloud techniques. Organizations need integration tool in order to create connectivity with on-premise systems and databases throughout the enterprise. Organizations have implemented point to point integration to create connectivity which creates custom code and embed with the individual node to create a connection. For a business with many applications and databases, this method becomes difficult in connecting the endpoints. For such type, complete integration solution needs to be deployed. For integration, the process may involve designing or building a customized application which can integrate with the existing or new hardware or software and network infrastructure.
An integrated system is a process of creating an information system which includes constructing a modified application, which is used to combine the communication between the hardware and software which are already installed. Most of the enterprises rely on third-party integrators for system development. With the rise in cloud computing, the integration system helps in integrating on-premise systems with cloud-based applications to maintain a balanced ecosystem.
With the integration of existing technologies related to hardware and software among enterprises, the adoption of cloud based services turn out to be easy and is the major factor driving the global integrated systems market. Increasing investments in IT sector in recent years has resulted in the deployment of IT in various organizations which created demand for integration of systems. Development in technologies across manufacturing sector is fuelling the global market for integrated systems. High implementation cost and complexity in integrating existing systems with the latest software are hindering the market growth.
Segmentation:
The global integrated systems market can be classified on the basis of product, service, end-use, and region. On the basis of product, the segment is further classified into integrated platform and integrated infrastructure. On the basis of service, the segment is further classified into professional and managed services. The managed services segment can be further classified into maintenance, support, installation and integration. The professional services can be segmented into consulting services. The integrated systems can be deployed in various verticals such as BFSI, telecom, healthcare, retail, manufacturing, and many more.
Key Findings:



Veeam Software, a data management software company launched suite 9.5 which helps in integrating windows server and nimble storage. It helps in providing data protection across physical and cloud workloads.




Lockheed Martin, an American Defense and advanced technology company, is about to build an integrated automation system for ExxonMobil to support company's oil & gas plant operations.



SOURCE: Company websites, white papers, Annual reports, MRFR analysis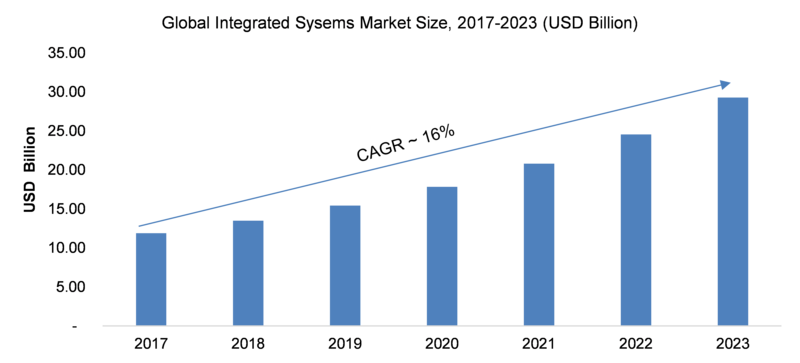 Regional Analysis:
North America holds the major market share for global integrated systems market and is expected to grow at a significant rate through the forecasted period. The presence of major market players and being highly developed region are driving the market in the region. Asia Pacific is anticipated to show prominent growth rate during the forecast period. Deployment of data centers coupled with the existing IT infrastructure is driving the market in this region. The telecom industry in this region is investing significantly in order to sustain their increasing customer base by employing several integration techniques which revamp existing network solutions. Europe holds the second largest market share in global integrated systems market. Increasing adoption of cloud-based services in SMEs and large enterprises is driving the revenue growth in this region.
Some of the key players in the global integrated systems market are Cisco Systems, Inc. (U.S.), Honeywell International Inc. (U.S.), Johnson Controls International Plc (U.S.), Schneider Electric SE (France), United Technologies Corporation (U.S.), Fujitsu (Japan), IBM Corporation (U.S.), Huawei Technologies Co., Ltd.(China), Hitachi, Ltd.(Japan), Emerson Electric (U.S.), Robert Bosch GmbH(Germany) among others. Prominent vendors are constantly investing in research and development to deploy cost-effective integration solutions.
Intended Audience



System Integrators




Software developers




Testing




IT Providers




Infrastructure agencies




Research Firms




Value-added resellers



Frequently Asked Questions (FAQ) :
---