Market Synopsis
The Global Industrial Controller Market was valued at USD 63.21 Billion in 2018; it is expected to reach USD 128.98 Billion by the end of the forecast period at a CAGR of 11.1%.
Industrial controllers minimize human interference and enable manufacturing facilities to increase product quality, quantity, and reliability while reducing the costs incurred in the production and designing of the product. The demand for automation by manufacturing facilities and similar industries is expected to drive the growth of the global industrial controllers market. PCs, programmable logic controllers (PLCs), and distributed control systems (DCS) provide process control functionality which is used at automation control level in industrial automation. In the case of SCADA, PLC and DCS systems, multiple servers at various locations require additional maintenance and management of individual servers which add up to the investment costs for enterprises. Several enterprises are expected to adopt industrial robots due to the trend of automation and innovative technological advancements. The adoption of industrial robotics is expected to offer a growth opportunity for players in the industrial controllers market.
Key Developments



In September 2019,

Omron

introduced the sixth wave of control panel equipment for factory automation. This equipment is built on a common design platform with unified product specifications, for further innovation in control panel building. The products consist of 237 models in six categories: J7KC, J7TC, J7MC, J7KCA, and J7KCR series low-voltage switching gears, S8V-CP series DC electronic circuit protectors and PTF-PU series Sockets with Push-In Plus technology.





In February 2019,

Schlumberger Limited

entered into a joint venture with Rockwell Automation, a company dedicated to industrial automation and information, to combine the latter's integrated control and information solutions with former's oil and gas expertise to help customers maximize the value of their investments.






In May 2018, Rockwell

launched a new Micro800 family of PLCs to help optimization of control architecture in large standalone machines or systems. The new Micro870 PLC has three plug-ins and eight I/O modules and can support smart micro applications. Furthermore, the PLC supports modular programming and user-defined function blocks to reduce design time.



Segmentation
The Global Industrial Controller Market has been segmented based on Type, Application, and Region.
By type, the market has been segmented into programmable logic control (PLC), distributed control system (DCS), and supervisory control and data acquisition (SCADA).
By control, the market has been segmented into ON-OFF control, open-loop control, feed-forward control, and closed-loop control.
By application, the market has been segmented into automotive, manufacturing, oil & gas, energy & utilities, water & wastewater, food processing & beverage, and aerospace & aviation
By region, the industrial controller market has been segmented into North America, Europe, Asia-Pacific, the Middle East & Africa, and South America.
Regional Analysis
Globally, the industrial controllers market has been categorized into five regions—North America, Europe, Asia-Pacific, the Middle East & Africa, and South America. North America dominated the industrial controller market in 2018 and is expected to continue its dominance throughout the forecast period. The major factors contributing to the growth of this market include government favored policies to help factory automation and increased demand for intelligent and automated manufacturing systems. On the other hand, the Asia-Pacific region is expected to show the highest CAGR during the forecast period.
Global Industrial Controller Market, USD Billion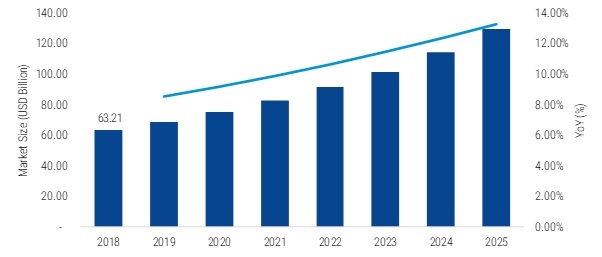 Source: MRFR Analysis
Competitive landscape
The Global Industrial Controller Market is characterized by the presence of many global, regional, and local vendors. The vendors compete based on cost, product quality, reliability, and aftermarket services. It is crucial for the vendors to provide cost-efficient and high-quality technology to survive and succeed in an intensely competitive market. The market share analysis is derived by considering various factors such as financial position, segmental R&D investment, product innovations, corporate strength, product portfolio, strategy analysis, and, key innovations in the market among other factors. Mitsubishi Electric Corporation is a leading manufacturer and developer of electric and electronic equipment. General Electric is a technology and financial services company that develops and manufactures products for the generation, transmission, distribution, control, and utilization of electricity. Emerson Electric Co. is a leading manufacturer of process control systems, valves, and analytical instruments.
Key Players
The key players in the industrial controller market are identified across all the major regions based on their country of origin, presence, recent key developments, product diversification, and industry expertise. Some of them are National Instruments, Ascon Technologic, Siemens AG, Mitsubishi Electric, General Electric, Omron Corporation, Red Lion Controls, B&R Industrial Automation GmbH, Schneider Electric, ABB Limited, Honeywell International, Rockwell International, Emerson Electric Corporation, and Belden Inc. among others. These players contribute significantly to market growth. Apart from the top key players, the other players contribute nearly 25–30% in the industrial controllers market.
Intended Audience



System Integrators




OEMs




Electronic Component Manufacturers




Resellers and Distributors




Consultancy and advisory firms




Research Institutes and Organizations




Technology Standards Organizations



Frequently Asked Questions (FAQ) :
---