Hydraulic Fracturing Market Scenario
Hydraulic fracturing market is expected to expand at 14% CAGR during the forecast period.
The major drivers for the hydraulic fracturing market involve increased shale oil & gas revolution, rising demand for oil & gas, and rising concern for depletion of natural resources. Till 2015, only four countries were commercially producing shale oil & gas including U.S., China, Canada, and Argentina. With increasing shale revolution other nations, such as Algeria, Russia, Mexico, Australia, and Colombia, have also started participating in shale production. This has positively affected the hydraulic fracturing market. Besides, various oil fields are getting depleted as they have been producing for over 100 years. For instance, the Permian basin of U.S. and Safaniya oil field in the Persian Gulf have been producing oil since an early 20th century. They have reached their peak life and are depleting at a fast pace. Hydraulic fracturing allows the flow rate of the damaged oil fields to get increased. However, the harm caused by the technological process by hydraulic fracturing causes the restraint to the market.
Global hydraulic fracturing market has been segmented on the basis of well type, technology, application, and region. Based on technology, the market is further segmented into plug-and-perforation, sliding sleeve, and others. Amongst these, the plug-and-perf segment dominates the global market due to the advantage of having a large number of individually fractured stages in the wellbore. On the basis of well type, global hydraulic fracturing market is classified into horizontal and vertical. The horizontal hydraulic fracture technology is prominent in the market due to its advantage of fracturing multiple oil wells from the same point. Based on application, hydraulic fracturing market is segmented into crude oil, shale gas, tight oil, and others. Tight oil segment is dominating the global market with increasing demand for oil from non-conventional sources, and shale rocks are having low permeability.
Hydraulic fracturing industry is expected to have a huge number of advancements over the forecast period owing to continuous developments in end-use industry coupled with growing demand for exploration and production expenditure in the oil industry. The market is also expected to have high expansion activities by multinationals and well-established companies.
Key Players
The key players of global hydraulic fracturing market are Baker Hughes GE (U.S.), Schlumberger (U.S.), National Oilwell Varco, Inc. (U.S.), Patterson-UTI Energy (U.S.), FracChem LLC. (U.S.), TechnipFMC (UK), U.S. Silica Holdings (U.S.), Halliburton (U.S.), Nuverra (U.S.), FTS International (U.S.), US Well Services (U.S.), Franklin Well Service LLC (U.S.), and EOG Resources (U.S.).
Market Segmentation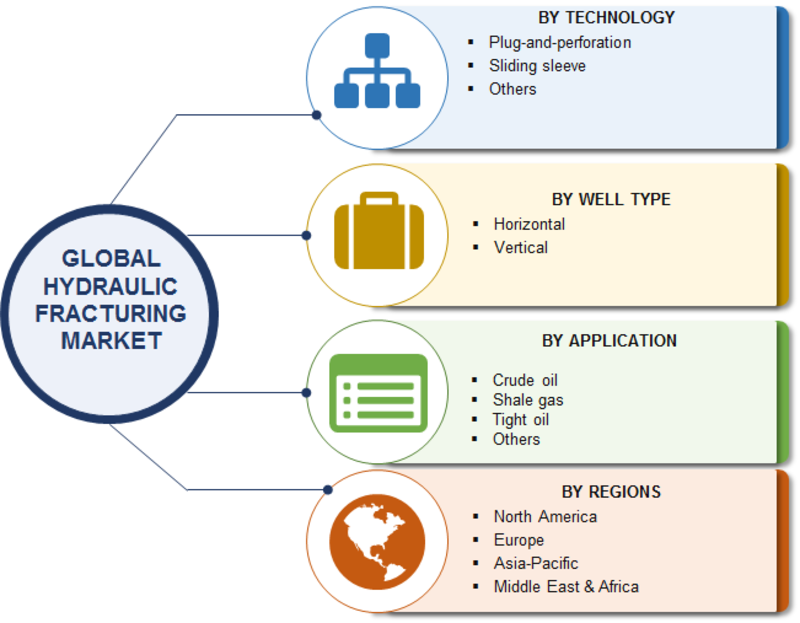 Global Hydraulic Fracturing Market
Global hydraulic fracturing market is anticipated to expand at a phenomenal rate during the forecast period due to increased shale oil & gas revolution, rising demand for oil, and rising concern for the depletion of natural resources. North America is expected to dominatein terms of market share of the hydraulic fracturing market as a reason that shale oil & gas production is increasing every year from U.S. and Canada. According to U.S. EIA, in 2017, the total tight oil produced in the U.S. was about 4.67 million barrels per day, accounting up to 50 % of total crude oil production from the country.
The energy industry has observed the transition from conventional crude oil and natural gas to shale oil & gas and gas hydrates. With the increasing demand for fuels from growing nations, large-scale shale oil production has been started globally. Most of the shale rocks are semi-permeable, and thus, oil produced is called tight oil. To extract oil from these rocks, conventional drilling techniques, as well as the drilling fluids used for normal crude oil or gas production, are inefficient. Hydraulic fracturing technology gains advantage from the increasing shale production and the increased demand for energy fuels. Fracturing helps in forming cracks in tight rocks and thus, reaching out to oil.

Hydraulic fracturing is modern technology, in which fluids are pumped into the oil wells at the injection rate which is so high that the formation of the oil reservoir breaks down. The fluids injected in the reservoirs conventionally include water sand and chemicals. With advancements in technology, recently the drilling companies are implementing hydraulic fracturing along with horizontal drilling to allow the drilling of multiple wells from the same spot. In the current scenario of oil and gas production, hydraulic fracturing process is used globally to optimize the production of oil & gas from the reservoirs. According to the U.S. Department of Energy, up to 95% of the new wells that are being drilled currently or are drilled recently are fractured hydraulically. This accounts for around 75% of total natural gas production and almost 50% of total crude oil production from the U.S.
Report Scope:
Report Attribute/Metric
Details
Market Size
2027: Significant Value
CAGR
14% CAGR (2020-2027)
Base Year
2019
Forecast Period
2020-2027
Historical Data
2018
Forecast Units
Value (USD Million)
Report Coverage
Revenue Forecast, Competitive Landscape, Growth Factors, and Trends
Segments Covered
Well Type, Technology and Application
Geographies Covered
North America, Europe, Asia-Pacific, and Rest of the World (RoW)
Key Vendors
Baker Hughes GE (U.S.), Schlumberger (U.S.), National Oilwell Varco, Inc. (U.S.), Patterson-UTI Energy (U.S.), FracChem LLC. (U.S.), TechnipFMC (UK), U.S. Silica Holdings (U.S.), Halliburton (U.S.), Nuverra (U.S.), FTS International (U.S.), US Well Services (U.S.), Franklin Well Service LLC (U.S.), and EOG Resources (U.S.)
Key Market Opportunities
New product launches and R&D amongst major key players
Key Market Drivers
Increased shale oil & gas revolution
Rising demand for oil & gas
Rising concern for depletion of natural resources
Frequently Asked Questions (FAQ) :
---