Honeycomb Packaging Market Scenario
Honeycomb packaging market is expected to grow at ~ 6% CAGR during the forecast period.
Increasing demand for sustainable packaging by various industries such as automotive, furniture, consumer goods, and others, is the major growth driver for honeycomb packaging. Furthermore, the growing demand for e-Commerce sector owing to increasing utilization of smart phones, is propelling the growth of packaging industry, which in turn has augmented the growth of honeycomb packaging. However, increasing demand for flexible packaging is the major challenge to honeycomb packaging market. Stringent government regulations by U.S. Environmental Protection Agency and other regulatory bodies on the recyclability and environment hazards of the material used in flexible packaging such as plastic and aluminum, is expected to boost growth of the honeycomb packaging market as honeycomb packaging is made from environment friendly material.
Global Honeycomb Packaging Market
The global honeycomb packaging market is expected to witness phenomenal growth during the forecast period. This is due to the considerable demand from End-use Industries is driving honeycomb packaging market. The government has set regulations to reduce packaging wastage and this is driving demand for environment friendly packaging materials such as honeycomb packaging. The significant growth in e-Commerce has also augmented growth of honeycomb packaging. North America was the dominant market with a market share of more than 35% in 2016, whereas, Asia Pacific is the fastest growing market in the forecast period. This is attributed to growing demand for packaging from automotive and e-Commerce sectors in emerging economies such as India and China.
Global honeycomb packaging market has been segmented based on packaging type, end-use industry and geography. Based on packaging type, it has been segmented as exterior packaging, interior packaging, pallets, and others. Exterior packaging is the largest packaging type segment in the market as it provides enhanced safety in product transportation and is easy to handle. Based on the end-use industry the market is segmented as automotive, consumer goods, food and beverages, furniture, industrial goods, and others. Protective packaging is an important part of the automotive supply chain. Honeycomb packaging is the effective method for packaging bulky products and automotive parts, as it offers enhanced safety.
Key Players
The key players of global honeycomb packaging market are BASF SE (Germany), ACH Foam Technologies (U.S), DS Smith plc (U.K), HUHTAMAKI GROUP. (Mexico), Lsquare Eco-Products Pvt. Ltd. (India), Packaging Corporation of America (U.S), Sealed Air Corporation (U.S), Sonoco Products Company (U.S), Smurfit Kappa Group plc (Ireland) and WestRock Company. (U.S).
The global honeycomb packaging market is expected to grow at ~ 6% CAGR during the forecast period.
Market Segmentation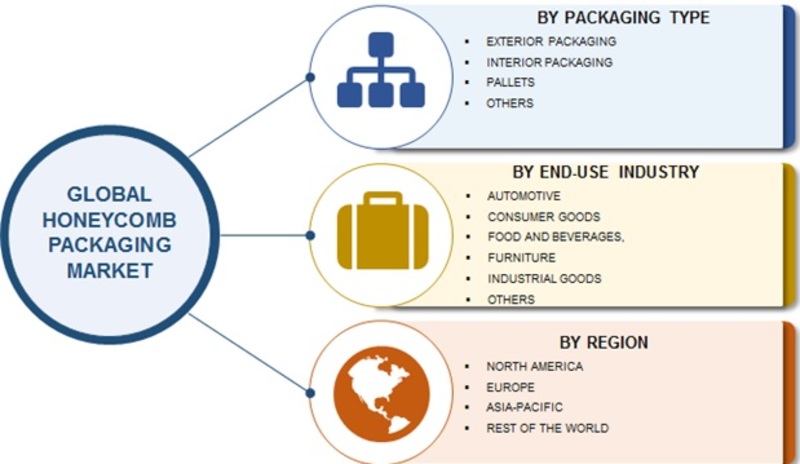 Honeycomb structures are naturally occurring or man-made and have the geometry of a honeycomb. These are used between two thin sheets to make materials for honeycomb packaging. Honeycomb structures aid the material used in packaging in reducing density and increasing shear and compression properties. This enables in minimizing the material usage and maximizes strength. Honeycomb packaging is 100% ecofriendly, lightweight, shock absorbent, and does not change in dimensions with temperature variations. It provides advantages such as easy handling and transportation, easy disposal, and low cost.
Honeycomb packaging is made by conglutination of paper bands into series of hexagons that are similar to honeycomb structure, and are then sandwiched between two sheets. The properties of honeycomb packaging are low material consumption, low weight, difficult to deform, resistant to pressure, shock and bending, good cushioning performance, and recyclable. Increasing demand for lightweight, environment friendly, and low cost packaging by food and beverages, automotive, and other industries, is driving the growth of honeycomb packaging market.
Report Scope:
Report Attribute/Metric
Details
Market Size
2027: Significant Value
CAGR
6% CAGR (2020-2027)
Base Year
2019
Forecast Period
2020-2027
Historical Data
2018
Forecast Units
Value (USD Million)
Report Coverage
Revenue Forecast, Competitive Landscape, Growth Factors, and Trends
Segments Covered
Packaging Type, End-use Industry
Geographies Covered
North America, Europe, Asia-Pacific, and Rest of the World (RoW)
Key Vendors
BASF SE (Germany), ACH Foam Technologies (U.S), DS Smith plc (U.K), HUHTAMAKI GROUP. (Mexico), Lsquare Eco-Products Pvt. Ltd. (India), Packaging Corporation of America (U.S), Sealed Air Corporation (U.S), Sonoco Products Company (U.S), Smurfit Kappa Group plc (Ireland) and WestRock Company. (U.S)
Key Market Opportunities
increasing demand for flexible packaging
Key Market Drivers
Increasing demand for sustainable packaging by various industries
increasing utilization of smart phones
growing demand for e-Commerce sector
Speak to Analyst
Ask for Customization
Frequently Asked Questions (FAQ) :
---