Global Heart Transplant Market Information: By Surgery Type (Ventricular Assist Devices, Total Artificial Hearts, and others), By End User (Hospital, Cardiac Institutes and others) - Forecast till 2023
Market Scenario
Heart transplantation has emerged as a viable therapeutic strategy for some patients with end-stage heart disease by offering them extended survival and improved quality of life. The cardiologist may refer the patient to a heart transplant center if, the patient health is serious and other treatments are not able to improve things or control patient symptoms. In a heart transplant, a surgery is performed to remove a person's diseased heart and replace it with a healthy heart from a deceased donor. Mostly, it is done on patients who have end-stage heart failure.


Coronary artery disease is the one of the main cause which damages the heart muscle that results in heart failure. There are many diseases which lead to heart failures such as cough-especially at night, poor exercise tolerance, shortness of breath, fatigue, and fluid retention.


According to the registry of the International Society for Heart and Lung Transplantation, approximately 500-600 pediatric heart transplantation procedures are performed globally every year, which represents around 12% of the total number of heart transplants performed. And in 2014, a total number of children heart transplants execute globally was 586. In children, the most often caused of heart failure is occurred owing to a congenital heart defect or a cardiomyopathy.


The global market for a heart transplant is expected to grow at a CAGR of 11.2% during the forecast period of 2017-2023.
Intended Audience



Biomedical devices manufacturers




Biomedical devices suppliers




Government Research Laboratory




Private Research Laboratory




Research and Development (R&D) Companies




Market Research and Consulting Service Providers




Medical Research Laboratories



Figure: Global Heart Transplant Market Share, By Type Market Share, 2017 (%)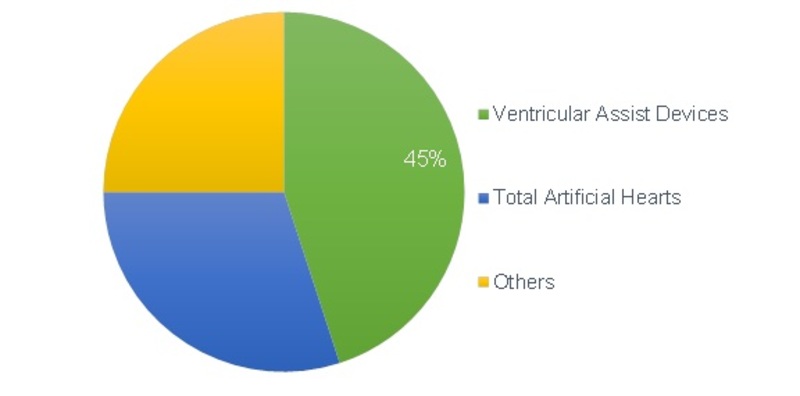 Sources: Annual reports, Press release, White paper, Company presentation
Segmentations
The global acquired aplastic anemia market is segmented on the basis of types and by the end user.
On the basis of the type, it is segmented into ventricular assist devices, total artificial hearts, and others.
On the basis of the end user, it is segmented into the hospital, cardiac institute, and others.
Regional Analysis
The Americas dominate the global heart transplant market owing to well-developed technology, high health care spending, increasing government support for research & development, and increasing patient with coronary artery disease, heart valve disease, and cardiomyopathy. Furthermore, increased R&D activities and the concentration of major companies have fuelled the growth of the market in this region. According to the International Society for Heart and Lung Transplantation in 2016, total heart transplants in the U.S. were performed in patients up to 17 years of age is 444.
Europe holds the second position in the global heart transplantation market owing to the government support for research & development and availability of funds for research. This is expected to continue driving the European market over the forecasted period. For instance, countries like Germany and France are increasing investment in the healthcare domain.
Asia Pacific is the fastest growing health transplantation market owing to the presence of rapidly developing healthcare technology and high healthcare expenditure. Moreover, lower treatment cost as compared to developed countries attract global patients to the countries like India and China market. Furthermore, increasing demand for quality devices in the healthcare is projected to lead to the use of advanced equipment, which, in turn, is likely to increase the growth of the heart transplantation market in the region.
On the other hand, the Middle East and Africa account for the least market owing to poor political conditions in Africa and limited availability of funds and medical facilities. The Middle East holds the major share of the Middle East & Africa region due to the presence of well-developed countries like Kuwait, Qatar, Oman, and South Arabia.
Key Players
Some of the key players in this market are SynCardia Systems, LLC (U.S.), HeartWare International Inc., Apaxis Medical, Inc., Calon Cardio, Optum Inc. (U.S.), Thoratec Corporation (U.S.), CardiacAssist Inc. (U.S.), CARMAT (France), and others.
Research Methodology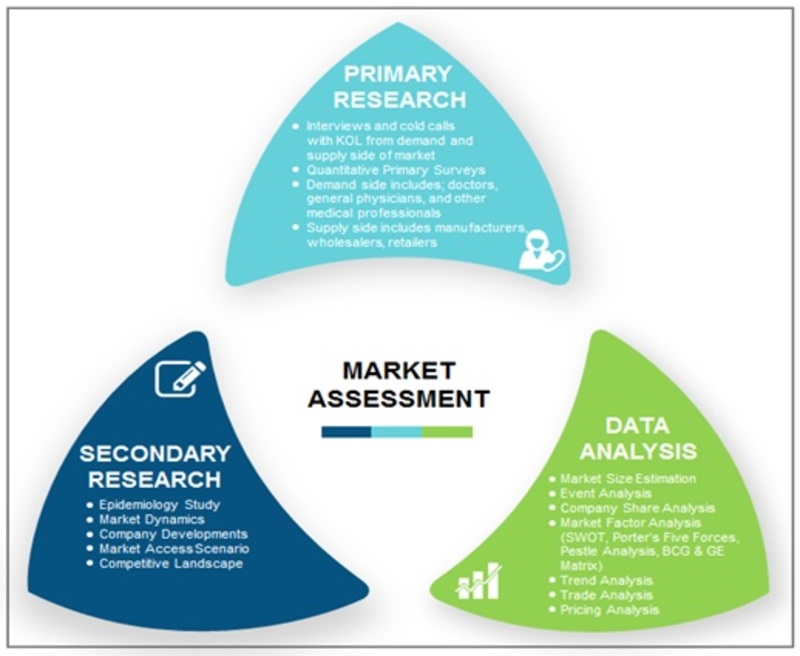 Sources: Annual reports, Press release, White paper, and Company presentation
Table of Content

1. Report Prologue

2. Market Introduction

2.1 Definition

2.2 Scope of the Study

2.2.1 Research Objective

2.2.2 Assumptions

2.2.3 Limitations

3. Research Methodology

3.1 Introduction

3.2 Primary Research

3.3 Secondary research

3.4 Market Size Estimation

4. Market Dynamics

4.1 Drivers

4.2 Restrains

4.3 Opportunities

4.4 Challenges

4.5 Macroeconomic Indicators

4.6 Technology Trends & Assessment

5. Market Factor Analysis

5.1 Porters Five Forces Analysis

5.1.1 Bargaining Power of Suppliers

5.1.2 Bargaining Power of Buyers

5.1.3 Threat of New Entrants

5.1.4 Threat of Substitutes

5.1.5 Intensity of Rivalry

5.2 Value Chain Analysis

5.3 Investment Feasibility Analysis

5.4 Pricing Analysis

6. Global Heart Transplant Market, by Type

6.1 Introduction

6.2 Ventricular Assisted Device (VAD)

6.2.1 Market Estimates & Forecast, 2017-2022

6.3 Others

6.3.1 Market Estimates & Forecast, 2017-2022

7. Global Heart transplant Market, by End User

7.1 Introduction

7.2 Hospitals

7.2.1 Market Estimates & Forecast, 2017-2022

7.3 Cardiac Institutes

7.3.1 Market Estimates & Forecast, 2017-2022

7.4 Others

8. Global Heart transplant Market, by Region

8.1 Introduction

8.2 Americas

8.2.1 North America

8.2.1.1 U.S.

8.2.1.2 Canada

8.2.2 South America

8.3 Europe

8.3.1 Western Europe

8.3.1.1 Germany

8.3.1.2 France

8.3.1.3 U.K.

8.3.1.4 Italy

8.3.1.5 Spain

8.3.1.6 Rest of Western Europe

8.3.2 Eastern Europe

8.4 Asia Pacific

8.4.1 Japan

8.4.2 China

8.4.3 India

8.4.4 Australia

8.4.5 Republic of Korea

8.4.6 Rest of Asia Pacific

8.5 The Middle East & Africa

8.5.1 United Arab Emirates

8.5.2 Saudi Arabia

8.5.3 Oman

8.5.4 Kuwait

8.5.5 Qatar

8.5.6 Rest of the Middle East & Africa

9 Company Landscape

9.1 Introduction

9.2 Market Share Analysis

9.3 Key Development & Strategies

9.3.1 Key Developments

10 Company Profiles

10.1 SynCardia Systems, LLC

10.1.1 Company Overview

10.1.2 Product Overview

10.1.3 Financials

10.1.4 SWOT Analysis

10.2 HeartWare International Inc.

10.2.1 Company Overview

10.2.2 Product Overview

10.2.3 Financial Overview

10.2.4 Key Developments

10.2.5 SWOT Analysis

10.3 Apaxis Medical, Inc.

10.3.1 Company Overview

10.3.2 Product Overview

10.3.3 Financial Overview

10.3.4 Key Development

10.3.5 SWOT Analysis

10.4 Calon Cardio

10.4.1 Company Overview

10.4.2 Product/Business Segment Overview

10.4.3 Financial Overview

10.4.4 Key Development

10.4.5 SWOT Analysis

10.5 Optum Inc.

10.5.1 Company Overview

10.5.2 Product Overview

10.5.3 Financial overview

10.5.4 Key Developments

10.6 Thoratec Corporation

10.6.1 Company Overview

10.6.2 Product Overview

10.6.3 Financial Overview

10.6.4 Key Developments

10.7 CardiacAssist Inc.

10.7.1 Overview

10.7.2 Product Overview

10.7.3 Financials

10.7.4 Key Developments

10.7.5 SWOT Analysis

10.8 Others

11 MRFR Conclusion

11.1 Key Findings

11.1.1 From CEO's View Point

11.1.2 Unmet Needs of the Market

11.2 Key Companies to Watch

11.3 Prediction of Pharmaceutical Industry

12 Appendix


LIST OF TABLES

Table 1 Heart transplant Industry Synopsis, 2017-2022

Table 2 Global Heart transplant Market Estimates and Forecast, 2017-2022, (USD Million)

Table 3 Global Heart transplant Market by Region, 2017-2022, (USD Million)

Table 4 Global Heart transplant Market by Types, 2017-2022, (USD Million)

Table 5 Global Heart transplant Market by End Users, 2017-2022, (USD Million)

Table 6 North America Heart transplant Market by Types, 2017-2022, (USD Million)

Table 7 North America Heart transplant Market by End Users, 2017-2022, (USD Million)

Table 8 US Heart transplant Market by Types, 2017-2022, (USD Million)

Table 9 US Heart transplant Market by End Users, 2017-2022, (USD Million)

Table 10 Canada Heart transplant Market by Types, 2017-2022, (USD Million)

Table 11 Canada Heart transplant Market by End Users, 2017-2022, (USD Million)

Table 12 South America Heart transplant Market by Types, 2017-2022, (USD Million)

Table 13 South America Heart transplant Market by End Users, 2017-2022, (USD Million)

Table 14 Europe Heart transplant Market by Types, 2017-2022, (USD Million)

Table 15 Europe Heart transplant Market by End Users, 2017-2022, (USD Million)

Table 16 Western Europe Heart transplant Market by Types, 2017-2022, (USD Million)

Table 17 Western Europe Heart transplant Market by End Users, 2017-2022, (USD Million)

Table 18 Eastern Europe Heart transplant Market by Types, 2017-2022, (USD Million)

Table 19 Eastern Europe Heart transplant Market by End Users, 2017-2022, (USD Million)

Table 20 Asia Pacific Heart transplant Market by Types, 2017-2022, (USD Million)

Table 21 Asia Pacific Heart transplant Market by End Users, 2017-2022, (USD Million)

Table 22 Middle East & Africa Heart transplant Market by Types, 2017-2022, (USD Million)

Table 22 Middle East & Africa Heart transplant Market by End Users, 2017-2022, (USD Million)


LIST OF FIGURES

Figure 1 Research Process

Figure 2 Segmentation for Global Heart transplant Market

Figure 3 Segmentation Market Dynamics for Heart transplant Market

Figure 4 Global Heart transplant Market Share, by Type 2016

Figure 6 Global Heart transplant Market Share, by End Users, 2016

Figure 7 Global Heart transplant Market Share, by Region, 2016

Figure 8 North America Heart transplant Market Share, by Country, 2016

Figure 9 Europe Heart transplant Market Share, by Country, 2016

Figure 10 Asia Pacific Heart transplant Market Share, by Country, 2016

Figure 11 Middle East & Africa Heart transplant Market Share, by Country, 2016

Figure 12 Global Heart transplant Market: Company Share Analysis, 2016 (%)

Figure 13 SynCardia Systems, LLC: Key Financials

Figure 14 SynCardia Systems, LLC: Segmental Revenue

Figure 15 SynCardia Systems, LLC: Geographical Revenue

Figure 16 HeartWare International Inc.: Key Financials

Figure 17 HeartWare International Inc.: Segmental Revenue

Figure 18 HeartWare International Inc.: Geographical Revenue

Figure 19 Apaxis Medical, Inc.: Key Financials

Figure 20 Apaxis Medical, Inc.: Segmental Revenue

Figure 21 Apaxis Medical, Inc.: Geographical Revenue

Figure 22 Calon Cardio: Key Financials

Figure 23 Calon Cardio: Segmental Revenue

Figure 24 Calon Cardio: Geographical Revenue

Figure 25 Optum Inc: Key Financials

Figure 26 Optum Inc: Segmental Revenue

Figure 27 Optum Inc: Geographical Revenue

Figure 28 Thoratec Corporation: Key Financials

Figure 29 Thoratec Corporation: Segmental Revenue

Figure 30 Thoratec Corporation: Geographical Revenue

Figure 31 CardiacAssist Inc.: Key Financials

Figure 32 CardiacAssist Inc.: Segmental Revenue

Figure 33 CardiacAssist Inc.: Geographical Revenue