Market Snapshot
Green technology and sustainability is a process to conserve natural resources and the environment. The global green technology and sustainability market size was valued at USD 9.6 billion in 2019 and is projected to grow at a CAGR of 21.04% from 2019 to 2026. This technology is one of the most promising upcoming technological trends in the information technology domain. This growth can be attributed to the increasing awareness about the harmful effects of greenhouse gas emissions on the environment and the rising need for low-carbon electricity. Moreover, the rise in renewable power capacity and integration of advanced systems to store energy are the major factors driving the growth of the green technology and sustainability market.
Growing consumer awareness and strict government regulations pertaining to protecting the environment are expected to propel the market's growth. As a result, the green technology demand has increased dramatically over the last few years. The growing demand for green technology, particularly in emerging economies, is expected to positively impact market growth.
Impact of COVID-19 on market
The green technology and sustainability market is substantially influenced due to the increasing pandemic situation of COVID-19 across the world. Fluctuating consumer preferences and behavior due to the changing global pandemic scenario will considerably influence the green technology and sustainability market over the projected timeframe. For instance, in March 2020, the World Health Organization (WHO) announced the COVID-19 as a global pandemic resulting in several countries under lockdown. There is a high probability that the outbreak of novel coronavirus will have a long-term effect on consumer lifestyle and behavior. It may also result in increased usage of green technology due to the decrease in carbon emissions, increase in solar energy generation, increase in rainfall received, and escalating use cases of various technologies among various industry verticals. Moreover, increased focus on protecting the environment across various industries will positively impact the green technology and sustainability market
Synopsis
The global green technology and sustainability market has been segmented based on technology, application, and region.
Based on technology, the global green technology and sustainability market has been segmented into Internet of things (IoT), artificial intelligence (AI) and analytics, digital twin, cloud computing, security, and blockchain.
Based on application, the green technology and sustainability market has been segmented into carbon footprint management, green building, water purification, water leak detection, fire detection, soil condition/moisture monitoring, crop monitoring, forest monitoring, weather monitoring and forecasting, air and water pollution monitoring, and sustainable mining and exploration.
Regional Analysis
Geographically, the green technology and sustainability market has been segmented into Asia-Pacific, North America, Europe, the Middle East & Africa, and South America.
North America leads the green technology and sustainability market in terms of market share. This trend is expected to continue in the foreseeable future owing to the rapid adoption of innovative technologies in developed countries, such as the US and Canada. The presence of major solution providers in the market such as General Electric, IBM, Enviance, Sensus, Trace Genomics, and LO3 Energy is another factor that has contributed to the growth of the North American green technology and sustainability market.
Europe is likely to be the second-largest regional market owing to rising investments from the government and companies to address climate change by deploying technology solutions for various applications.
Asia-Pacific is expected to register the fastest growth of XX% over the forecast period, owing to a large consumer base and rising government focus on increasing the adoption of eco-friendly solutions. Growth is relatively higher in China, India, and Japan. Increasing R&D activities for technology-based renewable sources in developing economies, such as China and India, are likely to drive the regional market growth over the study period.
Companies Covered
The key players of the global green technology and sustainability market are General Electric (US), IBM (US), Enablon (France), Enviance (US), Sensus (US), Taranis (Israel), Trace Genomics (US), LO3 Energy (US), ConsenSys (US), CropX (Israel), Hortau (US), SMAP Energy (UK), Treevia (Brazil), Pycno (UK), IoT Solutions and Consulting (Europe), Oizom (India), MineSense Technologies (Canada), and WINT (US).
Key Developments
In September 2020, GE Renewable Energy partnered with Norwegian energy company BKK to deliver its digital Asset Performance Management (APM) solutions.
In June 2019, Enviance collaborated with an AI developer, ehsAI, to provide customers a tool to lower the cost of EHS compliance and capture complex regulatory permit information using artificial intelligence.
In July 2019, GE Renewable Energy signed an agreement with Emrgy Inc. for the global commercialization of its distributed hydropower system. As per the terms of the agreement, it would supply hydropower turbines up to 1 MW to Emrgy Inc.
In January 2020, OIZOM partnered with Ortelium and Aaxis Nano to offer smart air quality management solutions to the Indian market. This partnership provides an environmental monitoring software platform that allows for the integration of environmental data from many different sources and combines with innovative data visualization
Global Green Technology and Sustainability Market, 2018–2026 (USD Million)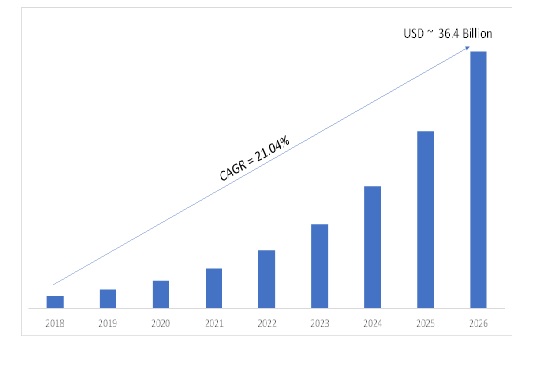 Key questions addressed by the report



What was the historic market size (2018)?




Which segmentation (Technology/Application) is driving the market?




What will be the growth rate by 2026?




Who are the key players in this market?




What are the strategies adopted by key players?



Report Scope:
Report Attribute/Metric
Details
Market Size
USD 9.6 Billion (2019 - 2026)
CAGR
21.04% (2019-2026)
Base Year
2019
Forecast Period
2020-2027
Historical Data
2018
Forecast Units
Value (USD Billion)
Report Coverage
Revenue Forecast, Competitive Landscape, Growth Factors, and Trends
Segments Covered
by Technology
Geographies Covered
North America, Europe, Asia-Pacific, and Rest of the World (RoW)
Key Vendors
green technology and sustainability market are General Electric (US), IBM (US), Enablon (France), Enviance (US), Sensus (US), Taranis (Israel), Trace Genomics (US), LO3 Energy (US), ConsenSys (US), CropX (Israel), Hortau (US), SMAP Energy (UK), Treevia (Brazil), Pycno (UK), IoT Solutions and Consulting (Europe), Oizom (India), MineSense Technologies (Canada), and WINT (US).
Key Market Opportunities
This growth can be attributed to the increasing awareness about the harmful effects of greenhouse gas emissions on the environment and the rising need for low-carbon electricity.\r\n
The rise in renewable power capacity and integration of advanced systems to store energy are the major factors driving the growth of the green technology and sustainability market.
Key Market Drivers
Growing consumer awareness and strict government regulations pertaining to protecting the environment are expected to propel the market's growth