Market Scenario
Major giants like Philips Lighting (Netherlands), Acuity Brands Lighting, Inc. (U.S.), General Electric Company (U.S.), OSRAM Licht AG (Germany) and Honeywell International (U.S.) are concentrating on the smart lighting market due to increasing development of smart cities and growing need for energy efficient solutions for the same. Philips Lighting has come up with new solutions for smart lighting by embedding ZigBee communication chips inside the LED ceiling lights and luminaries which will help in reducing the energy consumption by controlling the lighting in an intelligent manner. Increasing demand for smart lighting solutions is one major factor driving the growth of smart lighting market. Cost effectiveness is another major factor responsible for fueling the growth of smart lighting market.
Europe region holds the largest market share of global smart lighting market followed by North America and Asia Pacific regions. The growth is Europe region is mainly dominated by France, UK and Germany and is attributed to the increasing demand for energy efficient solutions in the region. The region also has a well-established infrastructure which allows implementation of advanced technologies. Also the shifted focus to connected homes is one major factor responsible for driving the growth of smart lighting market in North America region.
Smart lighting market has been segmented on the basis of component, product type, light source, communication technology and application. The light source segment is bifurcated into Light emitting diode (LED, fluorescent lamp (FL) and high intensity discharge lamps (HID). Out of which, the LED light source sub segment is expected to grow at the highest arte during the forecast period. The growth is attributed to the factors like low power consumption rate and also lower maintenance costs compared to other light source types.
Global smart lighting market is expected to grow at approx. USD 30,658.36 Billion by 2026, at 17.5% of CAGR between 2019 and 2026.

Smart Lighting Market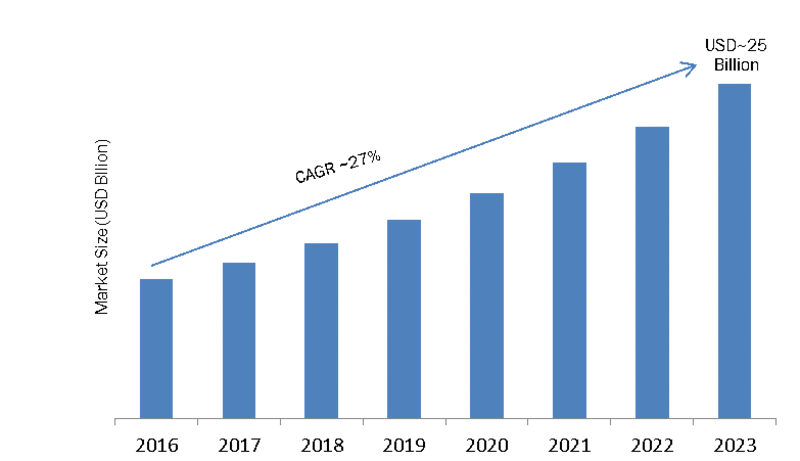 Key Players
The prominent players in smart lighting market are – Philips Lighting Holding B.V. (The Netherlands), Acuity Brands Lighting, Inc. (U.S.), General Electric Company (U.S.), Osram Licht AG (Germany), Honeywell International Inc. (U.S.), Legrand S.A. (France), Schneider Electric SE (France), CREE, Inc. (U.S.), Cooper Industries, Inc. (Ireland), Digital Lumens, Inc. (U.S.) and others.
Segments
Smart Lighting market can be segmented on the basis of following:
By Component
By Product Type
Luminaries
Lighting Controls



Sensors




Switches & Dimmers




Relay Units




Gateways




LED drivers & Ballasts



By Light Source



Light Emitting Diode (LED)




Fluorescent Lamps (FL)




High Intensity Discharge Lamps (HID)



By Communication Technology
-Wired
-LonWorks
-KNX
-Proprietary Protocols
-Wireless
By Application
-Indoor Lighting



Residential




Commercial




Industrial




Others



-Outdoor Lighting



Architectural Lighting




Lighting at Public Places




Highways & Roadways Lighting




Others



Regional Analysis
The regional analysis of smart lighting market is being studied for regions such as Asia Pacific, North America, Europe and Rest of the World. It has been observed that Europe is estimated to account for the largest share of the market, whereas Asia-Pacific is projected to grow at the fastest rate during the forecast period. The major growth in smart lighting market in Europe is attributed to technical advancements and increasing investments in infrastructure modernization projects in that region. The growth in Europe is followed by North America region.
Intended Audience
Frequently Asked Questions (FAQ) :
---