Fiber Reinforced Concrete Market Synopsis
The market of Glass Fiber Reinforced Concrete was valued at approximately USD 1.83 billion and expected to reach USD 5.35 billion during the forecast year (2020 - 2027) at a CAGR of ~10.3%. The increasing awareness about eco-friendly building and construction has also contributed to the market of GFRC. The market for GFRC is constantly growing with the increasing adoption of green buildings. Green buildings are built by using environmentally viable and responsible processes. People, especially in the U.S. and Europe, are awareness about green structure since many building certification programs like Leadership in Energy and Environmental Design (LEED) have been developed which contributes to the market growth of glass fiber reinforced concrete. The flexibility of design has also accelerated the adoption and, in turn, the market for glass fiber reinforced concrete. Due to changing lifestyles, consumers are inclined toward new design & architecture and want to adopt an attractive infrastructure for their personal and professional use which has further surged the popularity of such structures. Moreover, because of global warming and other environmental issues, the climatic conditions keep on changing. Therefore, the need for safe and moisture resistant buildings has increased considerably. Increasing demand for weather and fire resistant infrastructure has also opened the door for GFRC market. However, the low ductility of GFRC in comparison with steel reinforced concrete (SRC) acts as restraint to the widespread adoption of glass fiber reinforced concrete.

Global Glass Fiber Reinforced Concrete (GFRC) is a type of fiber reinforced concrete which consists of a mixture of cement, sand, water, alkali-resistant glass fiber, and concrete. It is mainly used in construction industry for exterior facade panels, piping, decorative non-recoverable formwork and as architectural precast concrete. GFRC is a composite material which is more preferred for external infrastructure due to several advantages such as fire resistance, lightweight, high mechanical strength, aesthetic properties and superior crack resistance.
Key Players
The major key players are Willis Construction Co., Inc. (U.S.), Fibrex Construction Group (UAE), Formglas Products Ltd. (Canada), Clark Pacific (U.S.), Ultratech Cement Ltd. (India), Betofiber A.S. (Turkey), BB Fiberbeton (Denmark), Nanjing Beilida New Material System Engineering Co., Ltd. (China), Stromberg Architectural (U.S.), Low & Bonar (U.K.) and Loveld (Belgium).
Segmentation of Glass Fiber Reinforced Concrete (GFRC) Market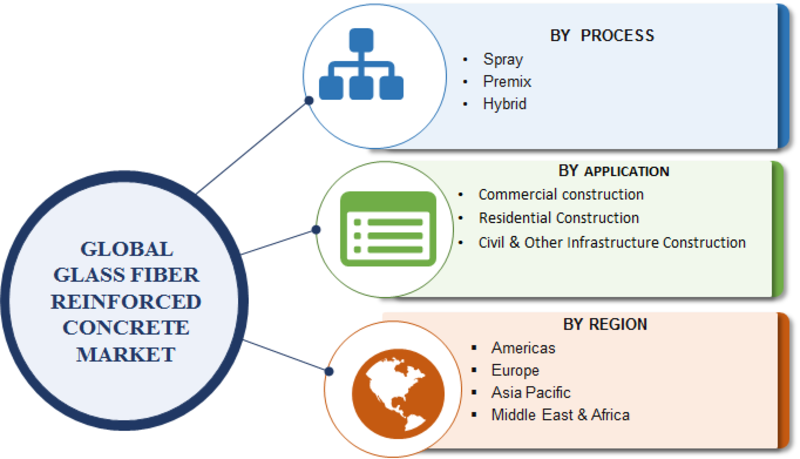 Source: MRFR Analysis
On the basis of process, the market of GFRC has been segmented into spray, premix, and hybrid. The spray process segment is expected to be the largest market segment because of its ultimate performance and flexibility. A large number of end users prefers spray process because of its better performance and usage in different applications in the construction sector. It is a modern method of producing GFRC and can be used as a replacement for traditional hand sprayed production methods. During the mixing process, the fiber is added to the matrix and is pumped to a spray gun. Sprayed GFRC offers superior ductility which enables constructors to use panels of different sizes freely.
The GFRC market has been segmented on the basis of application as commercial construction, residential construction, and civil & other infrastructure construction. The commercial construction application is anticipated to lead the market of GFRC during forecast year in terms of volume as well as value. GFRC provides many benefits like moisture absorption, fire resistance, weather resistance, crack resistant, and durability which contribute to the growth of the construction industry and aids to increase the demand for GFRC.
Regional Analysis of Global Glass Fiber Reinforced Concrete (GFRC) Market
On the basis of geography, the market of glass fiber reinforced concrete (GFRC) is segmented into the Americas, Europe, Asia Pacific and the Middle East & Africa. North America is anticipated to be the largest market of glass fiber reinforced concrete in the coming years because of the increasing residential and commercial construction in America. The reason for the growth of glass fiber reinforced concrete market is the rising environmental concerns. Canada is contributing to the growth of the North American GFRC market substantially. The demand for remodeling of houses in Mexico also drives the market for glass fiber reinforced concrete (GFRC). Whereas, Asia Pacific is estimated to grow in the coming future because of rising disposable income of people and expanding construction industry. The market for glass fiber reinforced concrete is showing considerable growth in India because of the government initiatives associated with smart cities.
The report for Global Glass Fiber Reinforced Concrete (GFRC) Market of Market Research Future comprises of extensive primary research along with the detailed analysis of qualitative as well as quantitative aspects by various industry experts, key opinion leaders to gain the deeper insight of the market and industry performance. The report gives a clear picture of the current market scenario which includes historical and projected market size in terms of value and volume, technological advancement, macroeconomic and other governing factors in the market. The report provides detailed information and strategies of the top key players in the industry. The report also gives a broad study of the different market segments and regions.
Report Scope:
Report Attribute/Metric
Details
Market Size
2027: USD 5.35 Billion
CAGR
10.3% CAGR (2020-2027)
Base Year
2019
Forecast Period
2020-2027
Historical Data
2018
Forecast Units
Value (USD Billion)
Report Coverage
Revenue Forecast, Competitive Landscape, Growth Factors, and Trends
Segments Covered
by Technology, by Application, by Material
Geographies Covered
North America, Europe, Asia-Pacific, and Rest of the World (RoW)
Key Vendors
Willis Construction Co., Inc. (U.S.), Fibrex Construction Group (UAE), Formglas Products Ltd. (Canada), Clark Pacific (U.S.), Ultratech Cement Ltd. (India), Betofiber A.S. (Turkey), BB Fiberbeton (Denmark), Nanjing Beilida New Material System Engineering Co., Ltd. (China), Stromberg Architectural (U.S.), Low & Bonar (U.K.) and Loveld (Belgium)
Key Market Opportunities
Increase in construction activities
Increase in industrialization
Rising urbanized population
Key Market Drivers
Increasing adoption of green buildings
Increasing awareness about eco-friendly building and construction
Frequently Asked Questions (FAQ) :
---