Market Synopsis of Force Sensor Market: Market Scenario: Major giants like TE Connectivity, Honeywell International and General Electric are investing into the force sensor market due to increasing demand from various industry verticals like retail, automotive, consumer electronics, medical among others. Increasing adoption of force sensors in automotive sector is one major factor fueling the growth of force sensor market. Force sensors are gaining importance owing to the increasing adoption in consumer electronics owing to the growing popularity of touch interface devices.
North America region holds the largest market share of global Force sensor market followed by Europe and Asia Pacific regions. The growth is North America region is mainly dominated by U.S. and Canada and is attributed to the increasing demand for cloud computing applications and in the region. The region also has a well-established infrastructure which allows implementation of advanced technologies. Increasing adoption of internet of things is one major factor responsible for driving the growth of force sensor market.
Force sensor market has been segmented on the basis of type, application and vertical. The type segment is further bifurcated into optical force sensor, piezo-resistive force sensor, capacitive force sensor, magnetic force sensor, ultrasonic force sensor, electrochemical force sensor, strain gauges and load cell sensor. Out of which, piezo resistive force sensor type is expected to witness steady growth during the forecast period followed by magneto elastic force sensor. Whereas, the piezo electric force sensor type is expected to hold the largest market share of the overall force sensor market.
Force sensors are basically transducers that convert a mechanical input signal into electrical output signal. It offers ultra-thin sensor construction and great flexibility. Owing to this, they are highly durable and are being used in applications across various industry verticals. As they are ultra-thin, these sensors lead to minimal interference in normal action of devices.
The global force sensor market is expected to grow at approx. USD 2.95 Billion by 2023, at 6% of CAGR between 2017 and 2023.
Force Sensor Market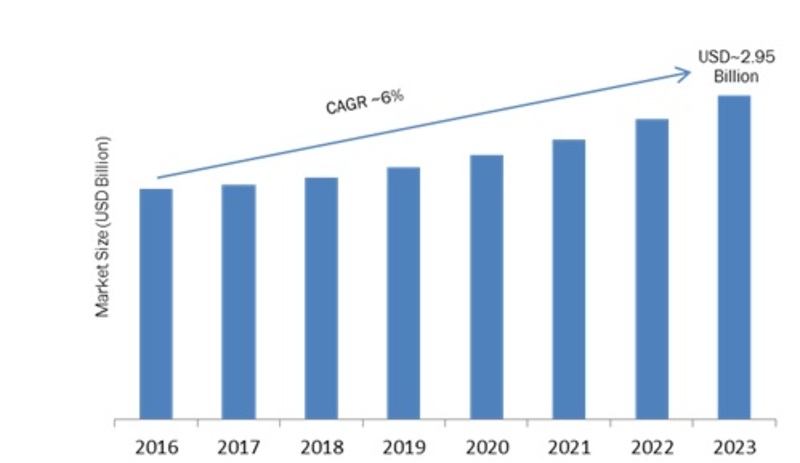 Key Players: The prominent players in force sensor market are – TE Connectivity Ltd. (Switzerland), Freescale Semiconductor Inc. (U.S.), ATI Industrial Automation Inc. (U.S.), General Electric (U.S.), Innovative Sensor Technology IST AG (Germany), Tekscan Inc. (U.S.), Sensata Technologies Inc. (U.S.), Spectris PLC (U.K.), Honeywell International Inc. (U.S), Infineon Technologies AG (Germany) and others.
Segments: Force sensor market can be segmented on the basis of following:
By Technology



Optical Force Sensor




Fiber Optic




Opto Mechanical




Photo Elasticity




Tracking of Optical Markers



- Piezo-Resistive Force Sensor
- Piezo-Electric Force Sensor
- Capacitive Force Sensor
- Magnetic Force Sensor



Magneto Elastic




Hall Effect & Magneto Resistance



- Ultrasonic Force Sensor
- Electrochemical Force Sensor
- Strain Gauges



Metal Strain Gauges




Semiconductor Strain Gauges




Load Cell Sensor



By Application



Traffic Engineering




Process Monitoring




Biomedical




Control Monitoring




Measuring Equipment




Others



By Vertical
Regional Analysis: The regional analysis of force sensor market is being studied for regions such as Asia Pacific, North America, Europe and Rest of the World. It has been observed that North America is estimated to account for the largest share of the market, whereas Asia-Pacific is projected to grow at the fastest rate during the forecast period. The major growth in force sensor market in North America is attributed to technical advancements and increasing demand for force sensors across various industry verticals in that region.
Intended Audience



Technology Investors




Research/Consultancy Firms




Original equipment manufacturers (OEMs)




Government Bodies




Consumers




Automotive Companies



Frequently Asked Questions (FAQ) :
---