Global Floating Power Plant Market Report, by Power Plant Type (Floating Solar Power, Floating Wind, Floating Wind and Wave power, Floating Nuclear power and Others (Coal, Diesel, Heavy Fuel Oils, Natural Gas)), by Platform Type (Floating Structures, Power Barges and Power Ships) and by Region - Global Forecast to 2023

Market Scenario:
Floating power plant plays a crucial role in electricity generation at remote areas where power generation is restricted due to scarcity of land mass. Shortage of electricity or the lack of access is one of the major development hurdles faced by many regions in developing countries. Moreover, in many countries, certain regions are not connected with their national distribution grid and off grid power is their only source of energy. In addition to that, growing concern about climate change and global warming are increasingly forcing nations to switch to renewable energy sources to meet their respective climate change targets.
The market is driven by various factors such as the need for uninterrupted electricity supply is growing because of the rising world population, climbing income levels and industrialization, huge land area is necessary for the construction of coal, wind and solar power plants which has constraints in many countries, these factors are expected to drive the market for floating power plant in near future. However, the high capital cost of floating power plant and the high level of complexity involved in the design of the systems, will act as restrains for the floating power plant market, globally.
Based on regions, Rest of the World is projected to dominate the market during the forecast period. The major factors driving the growth of the market here are the increasing demand for energy from growing population, developing economies with major scarcity for land and increased commitment towards deploying renewable energy resources. Moreover, substantial growth is expected in regions such as, North America, Middle East and Africa, as these region are rapidly increasing their power generation capacity. Technological advancements and favorable geographic areas & coast lines in these region, are further driving the market for floating power plants in the region.
The Global Floating Power Plant Market is expected to grow at a CAGR of around 10.35% during the forecast period.
Market Segmentation: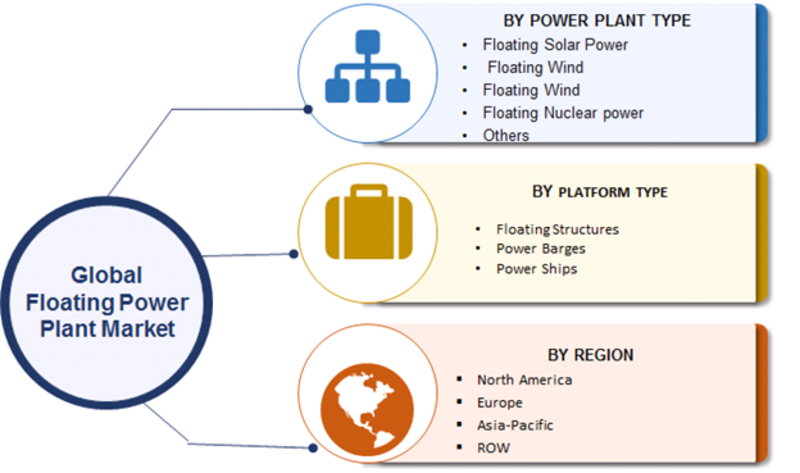 Global Floating Power Plant Market:
Currently, market for floating power plants is growing, especially by the renewable energy source types such as solar, wind and wave power. One of the advantages of these floating power plant systems is their ability to be relocated to any location where there is a demand for power. This will also enable electricity to be cheaper, which will result in its strong growth. Floating power plants are a safe and efficient power source for remote islands and they are less susceptible to natural disasters.
Key Players:
The key players of global floating power plant market are MAN Diesel & Turbo (Germany), Karadeniz Holding A.Ş.( Turkey), Vikram Solar Pvt. Ltd. (India), Ciel & Terre International (France), Waller Marine, Inc.(U.S.), Power Barge Corporation (U.S.), Floating Power Plant A/S (Denmark), Principle Power, Inc.(U.S.), Wartsilä (Finland), Kyocera TCL Solar (Japan )and ROSATOM State Atomic Energy Corporation (Russia).

The key players adopted various strategies to retain and/or expand their market share. The key strategies followed by most companies within the global floating power plant market were partnerships & collaborations followed by the product launch.

The report for Global Floating Power Plant Market of Market Research Future comprises of extensive primary research along with the detailed analysis of qualitative as well as quantitative aspects by various industry experts, key opinion leaders to gain the deeper insight of the market and industry performance. The report gives the clear picture of current market scenario which includes historical and projected market size in terms of value, technological advancement, macro economical and governing factors in the market. The report provides details information and strategies of the top key players in the industry. The report also gives a broad study of the different market segments and regions.