Global Facility Management Market Information, by End-User (Real Estate, Education, Government, Retail, Healthcare), by Service (Project Management, Inventory Management, Operations Management), by Deployment (Cloud, On-Premise) - Forecast 2022
Market Synopsis of Facility Management Market:
Market Scenario:
The facility management is the process of managing multiple disciplines and operations of an organization and ensures smooth functionality of the built environment. It integrate people, place, process, and technology and assist the company to focus on its core competencies. Its core competencies include communication, environment sustainability, finance & business, leadership strategy, operation & maintenance, project management, property management, and technology management. Facility management provides various benefits over traditional approach namely it enables cost effective working processes within the business, motivates smart working by implementing smart IT systems, integrate business related information on one platform, and maintains complete compliancy of an organization. With these benefits, the business owners are able to analyze insights for their provided facilities and can make more informed decisions.

The major growth drive of facility management market is changing work culture in the organization which is demanding for efficient facility management services. Other factors such as increasing cloud technology market, growing trend of outsourcing facility management operations, increasing commercial real estate properties and growing focus on building asset & space management system by an organization is expected to drive the facility management market in the upcoming future. However, lack of awareness and highly adopted & comfortable traditional approach is projected to hamper the growth of facility management market during 2016-2022.
Global Facility Management Market (2016-2022)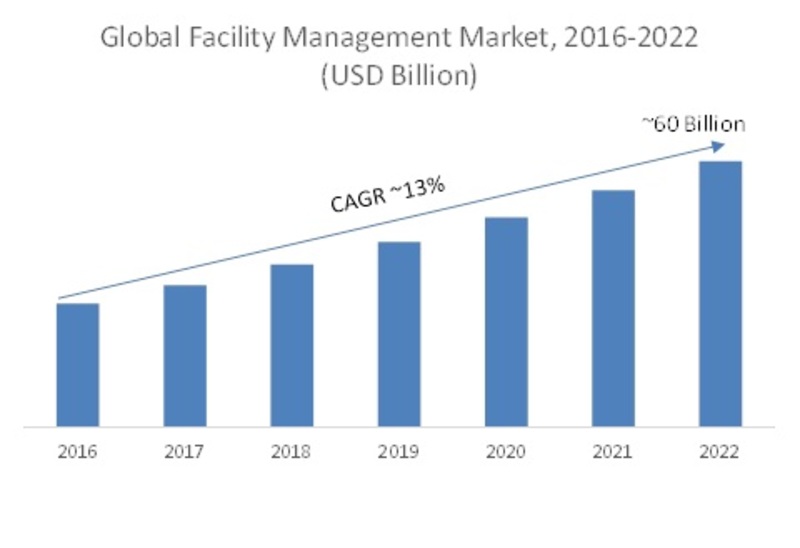 Globally the market for Facility Management Market is expected to grow at the rate of more than ~13% from 2016 to 2022.

Study Objective of Facility Management market:



To provide detailed analysis of the market structure along with forecast for the next five years of the various segments and sub-segments of the global

Facility Management




To provide insights about factors affecting the market growth.




To analyze the Facility Management market based on various factors- porters five force analysis, mega trend analysis, macroeconomic indicators etc.




To provide historical and forecast revenue of the market segments and sub-segments with respect to four main geographies and their countries- North America, Europe, Asia, and Rest of the World (ROW).




To provide country level analysis of the market with respect to the current market size and future prospective.




To provide country level analysis of the market for segment by services, deployment, end-users and sub-segments.




To provide strategic profiling of key players in the market, comprehensively analyzing their core competencies, and drawing a competitive landscape for the market




To track and analyze competitive developments such as joint ventures, strategic alliances, mergers and acquisitions, new product developments, and research and developments in the global

Facility Management



Key Players for Facility Management Market:
Some of the major players in Global Facility Management Market includes IBM Corporation (U.S.), Oracle Corporation (U.S.), SAP SE (Germany), EMCOR group, Inc. (U.S.), Aramark Corporation (U.S.), FM System, Inc. (U.S.), CA Technologies, Inc. (U.S.), Accruent, LLC (U.S.), Interserve Plc. (UK), Trimble, Inc. (U.S.) and others.

Segments for Facility Management Market:
Global Facility Management Market can be segmented as follows:
Segmentation by Services: Project Management, inventory management, maintenance management, operation management, and others.
Segmentation by Deployment: on-premise and cloud.
Segmentation by End-Users: Healthcare, Education, Retail, Manufacturing, Real estate, BFSI, Government, IT & telecom and others.

Regional Analysis of Facility Management Market:
North America is expected to dominate the facility management market during the forecast period 2016-2022 due to high adoption of technology advancement by manufacturing & IT sectors thereby lead to early adoption of facility Management services by companies in the region. Europe is also considered to support North America in generating high revenue for facility management market. The growing demand for support & maintenance services by manufacturing industry for services namely plant maintenance, and fabrication is expected to drive the market in the region. Furthermore, Asia-Pacific is expected to be the fastest growing market for facility management during the forecast period 2016-2022 due to changing work environment in the region. Also, increasing cloud based deployment among organizations and rising demand for soft services by education and residential sector is projected to increase the market of facility management in the region.

Target Audience:



Facility management providers




Managed service providers




Cloud and network service providers




Training and consultancy




Application developers




Integrated service providers




Database vendors




Small & large enterprises




End users




Technology investors




IT vendors



1. Executive Summary

2. Research Methodology

2.1. Scope of the study

2.1.1. Definition

2.1.2. Research Objective

2.1.3. Assumptions

2.1.4. Limitations

2.2. Research Process

2.2.1. Primary Research

2.2.2. Secondary Research

2.3. Market size Estimation

2.4. Forecast Model

3. Market Dynamics

3.1. Market Drivers

3.2. Market Inhibitors

3.3. Supply/Value Chain Analysis or Market Ecosystem

3.4. Porter's Five Forces Analysis

4. Facility Management Market, by Services

4.1. Introduction

4.2. Project Management

4.3. Inventory Management

4.4 Maintenance Management

4.5 Operation Management

4.6 Others

5. Facility Management Display Market, by Deployment

5.1. Introduction

5.2. On-Premise

5.3 Cloud

6. Facility Management Display Market, By End-User

6.1. Introduction

6.2. Healthcare

6.3. Education

6.4. Retail

6.5. Manufacturing

6.6. Real Estate

6.7. BFSI

6.8. Government

6.9. IT & Telecom

6.10. Others

7. Regional Market Analysis

7.1. Introduction

7.2. North America

7.2.1. U.S.

7.2.2. Canada

7.2.3. Mexico

7.3. Europe

7.3.1. U.K.

7.3.2. France

7.3.3. Germany

7.3.4. Rest of Europe

7.4. Asia-Pacific

7.4.1. China

7.4.2. Japan

7.4.3. India

7.4.4. South Korea

7.4.5. Rest of Asia-Pacific

7.5. Middle East & Africa

8. Competition Analysis

8.1. Introduction

8.2. Competitive Scenario

8.2.1. Market Share Analysis

8.2.2. Market Development Analysis

8.2.3. Product/Service Benchmarking

8.3. IBM Corporation (U.S.)

8.3.1. Overview

8.3.2. Product/Service Offering

8.3.3. Strategy

8.4. Oracle Corporation (U.S.)

8.4.1. Overview

8.4.2. Product/Service Offering

8.4.3. Strategy

8.5. SAP SE (Germany)

8.5.1. Overview

8.5.2. Product/Service Offering

8.5.3. Strategy

8.6. EMCOR group, Inc. (U.S.)

8.6.1. Overview

8.6.2. Product/Service Offering

8.6.3. Strategy

8.7. Aramark Corporation (U.S.)

8.7.1. Overview

8.7.2. Product/Service Offering

8.7.3. Strategy

8.8. FM System, Inc. (U.S.)

8.8.1. Overview

8.8.2. Product/Service Offering

8.8.3. Strategy

8.9. CA Technologies, Inc. (U.S.)

8.9.1. Overview

8.9.2. Product/Service Offering

8.9.3. Strategy

8.10. Accruent, LLC (U.S.)

8.10.1. Overview

8.10.2. Product/Service Offering

8.10.3. Strategy

8.11. Interserve Plc. (UK)

8.11.1. Overview

8.11.2. Product/Service Offering

8.11.3. Strategy

8.12. Trimble, Inc. (U.S.)

8.12.1. Overview

8.12.2. Product/Service Offering

8.12.3. Strategy


LIST OF TABLES
TABLE 1 GLOBAL FACILITY MANAGEMENTMARKET, BY SERVICES

TABLE 2 GLOBAL FACILITY MANAGEMENTMARKET, BY DEPLOYMENT

TABLE 3 GLOBAL FACILITY MANAGEMENT DISPLAYMARKET, BY END-USER

TABLE 4 GLOBAL FACILITY MANAGEMENT DISPLAYMARKET, BY REGIONS

TABLE 5 NORTH AMERICA FACILITY MANAGEMENT DISPLAYMARKET, BY SERVICES

TABLE 6 NORTH AMERICA FACILITY MANAGEMENTMARKET, BY DEPLOYMENT

TABLE 7 NORTH AMERICA FACILITY MANAGEMENT DISPLAYMARKET, BY END-USER

TABLE 8 U.S. FACILITY MANAGEMENT DISPLAYMARKET, BY SERVICES

TABLE 9 U.S. FACILITY MANAGEMENTMARKET, BY DEPLOYMENT

TABLE 10 U.S. FACILITY MANAGEMENT DISPLAYMARKET, BY END-USER

TABLE 11 CANADA FACILITY MANAGEMENT DISPLAYMARKET, BY SERVICES

TABLE 1 2 CANADA FACILITY MANAGEMENTMARKET, BY DEPLOYMENT

TABLE 13 CANADA FACILITY MANAGEMENT DISPLAYMARKET, BY END-USER

TABLE 14 EUROPE FACILITY MANAGEMENT DISPLAYMARKET, BY COUNTRY

TABLE 15 EUROPE FACILITY MANAGEMENT DISPLAYMARKET, BY SERVICES

TABLE 1 6 EUROPE FACILITY MANAGEMENTMARKET, BY DEPLOYMENT

TABLE 17 EUROPE FACILITY MANAGEMENT DISPLAYMARKET, BY END-USER

TABLE 18 GERMANY FACILITY MANAGEMENT DISPLAYMARKET, BY SERVICES

TABLE 1 9 GERMANY FACILITY MANAGEMENTMARKET, BY DEPLOYMENT

TABLE 20 GERMANY FACILITY MANAGEMENT DISPLAYMARKET, BY END-USER

TABLE 21 FRANCE FACILITY MANAGEMENT DISPLAYMARKET, BY SERVICES

TABLE 22 FRANCE FACILITY MANAGEMENTMARKET, BY DEPLOYMENT

TABLE 23 FRANCE FACILITY MANAGEMENT DISPLAYMARKET, BY END-USER

TABLE 24 U.K. FACILITY MANAGEMENT DISPLAYMARKET, BY SERVICES

TABLE 25 UK FACILITY MANAGEMENTMARKET, BY DEPLOYMENT

TABLE 26 U.K. FACILITY MANAGEMENT DISPLAYMARKET, BY END-USER

TABLE 27 REST OF EUROPE FACILITY MANAGEMENT DISPLAYMARKET, BY SERVICES

TABLE 28 REST OF EUROPE FACILITY MANAGEMENTMARKET, BY DEPLOYMENT

TABLE 29 REST OF EUROPE FACILITY MANAGEMENTMARKET, BY END-USER

TABLE 30 ASIA-PACIFIC FACILITY MANAGEMENT DISPLAYMARKET, BY COUNTRY

TABLE 31 ASIA-PACIFIC FACILITY MANAGEMENT DISPLAYMARKET, BY SERVICES

TABLE 32 ASIA-PACIFIC FACILITY MANAGEMENTMARKET, BY DEPLOYMENT

TABLE 33 ASIA-PACIFIC FACILITY MANAGEMENT DISPLAYMARKET, BY END-USER

TABLE 34 MIDDLE EAST & AFRICA FACILITY MANAGEMENTMARKET, BY SERVICES

TABLE 35 MIDDLE EAST & AFRICA FACILITY MANAGEMENTMARKET, BY DEPLOYMENT

TABLE 36 MIDDLE EAST & AFRICA FACILITY MANAGEMENT DISPLAYMARKET, BY END-USER

LIST OF FIGURES
FIGURE 1 RESEARCH PROCESS

FIGURE 2 GLOBAL FACILITY MANAGEMENT DISPLAYMARKET: BY SERVICES (%)

FIGURE 3 GLOBAL FACILITY MANAGEMENTMARKET, BY DEPLOYMENT (%)

FIGURE 4 GLOBAL FACILITY MANAGEMENT DISPLAYMARKET: BY END-USER (%)

FIGURE 5 GLOBAL FACILITY MANAGEMENT DISPLAYMARKET: BY REGION

FIGURE 6 NORTH AMERICA FACILITY MANAGEMENT DISPLAYMARKET, BY SERVICES (%)

FIGURE 7 NORTH AMERICA FACILITY MANAGEMENTMARKET, BY DEPLOYMENT (%)

FIGURE 8 NORTH AMERICA FACILITY MANAGEMENT DISPLAYMARKET, BY END-USER (%)

FIGURE 9 NORTH AMERICA FACILITY MANAGEMENT DISPLAYMARKET, BY COUNTRIES (%)

FIGURE 10 EUROPE FACILITY MANAGEMENT DISPLAYMARKET, BY SERVICES (%)

FIGURE 11 EUROPE FACILITY MANAGEMENTMARKET, BY DEPLOYMENT (%)

FIGURE 12 EUROPE FACILITY MANAGEMENT DISPLAYMARKET, BY END-USER (%)

FIGURE 13 EUROPE FACILITY MANAGEMENT DISPLAYMARKET, BY COUNTRIES (%)

FIGURE 14 ASIA-PACIFIC FACILITY MANAGEMENT DISPLAYMARKET, BY SERVICES (%)

FIGURE 15 ASIA-PACIFIC FACILITY MANAGEMENTMARKET, BY DEPLOYMENT (%)

FIGURE 16 ASIA-PACIFIC FACILITY MANAGEMENT DISPLAYMARKET, BY END-USER (%)

FIGURE 17 ASIA-PACIFIC FACILITY MANAGEMENT DISPLAYMARKET, BY COUNTRIES (%)

FIGURE 18 ROW FACILITY MANAGEMENT DISPLAYMARKET, BY SERVICES (%)

FIGURE 19 ROW FACILITY MANAGEMENTMARKET, BY DEPLOYMENT (%)

FIGURE 20 ROW FACILITY MANAGEMENT DISPLAYMARKET, BY END-USER (%)