Energy Harvesting Trees Market Forecast
Energy harvesting trees market is expected to grow at~14% CAGR with a USD 1,126 Million during the forecast period.

Energy harvesting trees market has been segmented into four different regions, namely North America, Europe, Asia-Pacific, and Rest of the World.
Asia-Pacific is the fastest-growing region followed by North America and Europe. It helps fulfill energy demand while saving space and also ensures continuous supply of electricity. For instance, it has been implemented in India to provide electricity without the problem of power cut and the extra energy provided to the grid. Moreover, factors such as large population, and the problem of energy supply coupled with the increasing investment for solar trees drive the market during the forecast period.
Solar panels are eco-friendly in nature and are considered one of the green electricity resources, because they are operated by interacting with a renewable energy resource such as sunlight and wind. Whereas, installation of large solar trees requires expensive manufacturing and its high installation & maintenance costs act as a major barrier for the growth of the market.
The Energy harvesting trees market is segment based on component, technology, application and regions. On the basis of technology, Piezovoltaic (PZ) is expected account for the largest share in this segment. As compared to technologies of energy harvesting, the piezoelectric energy harvesting industry is growing rapidly. Leaves, stems, and twigs comprise nano-piezovoltaic material, which can generate electrical energy from solar, wind, tides and rain energy. Many countries are adopting this method of energy harvesting, which is used in areas of high traffics such as highways, city roads, and footpaths, which gives big output. Furthermore, Photovoltaic panels are placed at different levels on branches, which are made of steel and can dramatically reduce the amount of land needed for developing solar parking. The falling cost of photovoltaic panels in recent years has made solar power much more viable, which attracts more investment in the growing regions.
Key Players
The key players in global energy harvesting trees market are Solar Botanic, Creative Smart Innovations, Lucid Management Group, Green World Investor, Envision Solar, Spotlight Solar and Others.

Market Segmentation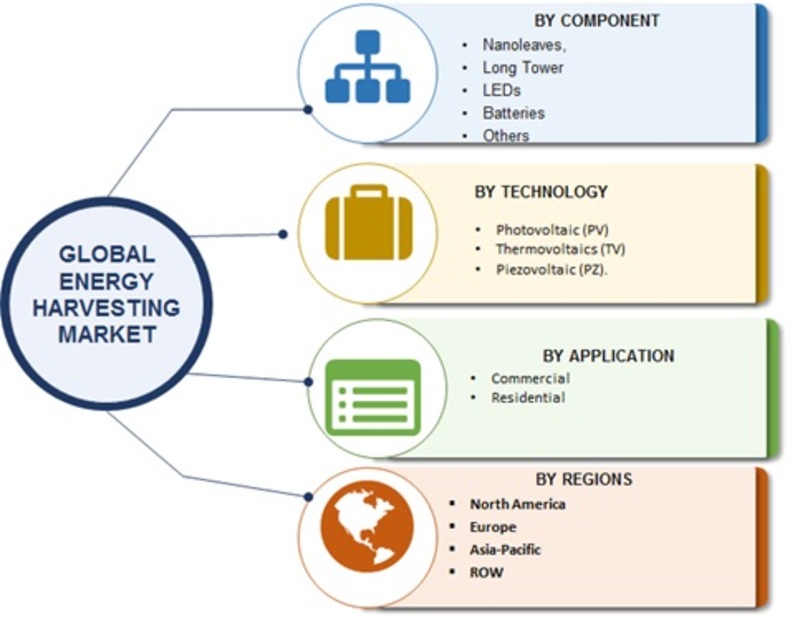 The report for Energy Harvesting Trees Market of Market Research Future comprises of extensive primary research along with the detailed analysis of qualitative as well as quantitative aspects by various industry experts, key opinion leaders to gain the deeper insight of the market and industry performance. The report gives the clear picture of current market scenario which includes historical and projected market size in terms of value, technological advancement, macro economical and governing factors in the market. The report provides details information and strategies of the top key players in the industry. The report also gives a broad study of the different market segments and regions.
Report Scope:
| Report Attribute/Metric | Details |
| --- | --- |
| Market Size | 2027: USD 1,126 Million |
| CAGR | 14% CAGR(2020-2027) |
| Base Year | 2019 |
| Forecast Period | 2020-2027 |
| Historical Data | 2018 |
| Forecast Units | Value (USD Million) |
| Report Coverage | Revenue Forecast, Competitive Landscape, Growth Factors, and Trends |
| Segments Covered | Component , Technology and Application |
| Geographies Covered | North America, Europe, Asia-Pacific, and Rest of the World (RoW) |
| Key Vendors | Solar Botanic, Creative Smart Innovations, Lucid Management Group, Green World Investor, Envision Solar, Spotlight Solar and Others. |
| Key Market Opportunities | New product launches and R&D Amongst major key Players |
| Key Market Drivers | Increasing investment for solar trees |
Frequently Asked Questions (FAQ) :
---