Electrostatic Precipitator Market Scenario:
Electrostatic Precipitator market is expected to grow at ~4.00% CAGR during the forecast period.
Global Electrostatic Precipitator Market:
Global Electrostatic Precipitator market is expected to witness a moderate growth during the forecast period owing to tightening air pollution control regulations. Government regulations in Asian countries related to environment conservation are likely to drive the demand for electrostatic precipitator. For instance, Beijing set the target for improving the number of days to improve the air to 80%. Thus, driving the market for new Electrostatic Precipitator. To reduce smog, Beijing has also planned and asked the cement as well as steel plants to suspend or lower down their production. It also conducted frequent environmental inspections of local authorities and households in the country's north to switch from coal to natural gas for heating. On the other hand, China's ministry exceeded its target set for air pollution action plan in 2013. Similarly, in its five-year plan until 2020. China's national air pollution plan has brought tremendous reductions in pollution levels and associated health risks. 2017 in the country, witnessed the slowest air quality improvement on record.
Key Players:
The key players of global Electrostatic Precipitator market are Siemens AG (Germany), General Electric (US), Mitsubishi Hitachi Power Systems (Japan), Babcock & Wilcox (US), AMEC Foster Wheeler (UK), Thermax Global (India), Ducon Technologies (US), Fujian Longking (China), Hamon Group (Belgium), and Trion (US), among others.
Market Segmentation:
Global electrostatic precipitator market has been segmented based on type, component, end-user, and region. Based on type, the market has been classified into dry ESP and wet ESP. The dry ESP segment dominates the market as the growth of these types of electrostatic precipitators can be attributed to its ability to withstand high temperatures and high particulate volumes, low electricity consumption, and cost-effectiveness.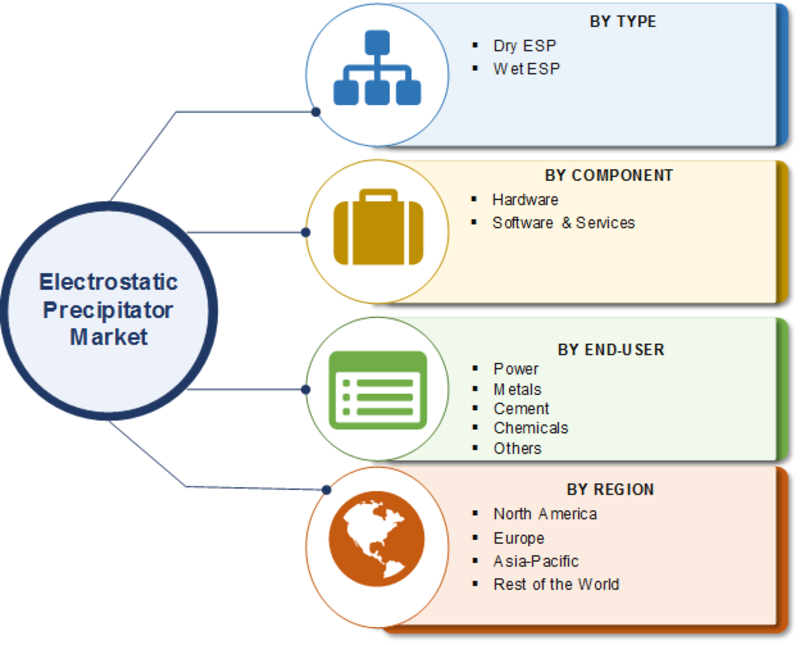 Electrostatic precipitator is a particle control device used in industries in order to minimize air pollution. It uses electrical forces to move the particles out of the flowing gas stream and onto collector plates. There are various component of an electrostatic precipitator including inlet, insulator chamber, collecting rapping, inspection door, screw conveyor, rapper drive station, among others. Moreover, it is designed to trap and remove the dust particles from the exhaust gas stream in the industries such as chemical, paper, and power, among others.
Tightening air pollution control regulations will drive the electrostatic precipitator market. Moreover, growth of coal-fired power plants and growth of cement industry present significant opportunities for electrostatic precipitator market. Also, Asia-Pacific in collaboration with China's Ministry of Environmental Protection (MEP) is focusing on key areas such as improving air quality, reducing water pollution, improving environmental enforcement, and enhancing environmental cooperation. In line with this initiative, in August 2017, two-day workshop was organized on environmental inspections.
The global Electrostatic Precipitator market is projected to grow at a moderate growth rate during the forecast period, mainly due to growing environmental concerns. For instance, in October 2016, Manila Declaration on Health and Environment was signed in order to commit and take the action to address environment and health in the context of the sustainable development goals. All these factors are likely to drive the demand for Electrostatic Precipitator.
Report Scope:
Report Attribute/Metric
Details
Market Size
2027: Significant Value
CAGR
4.0% CAGR (2020-2027)
Base Year
2019
Forecast Period
2020-2027
Historical Data
2018
Forecast Units
Value (USD Million)
Report Coverage
Revenue Forecast, Competitive Landscape, Growth Factors, and Trends
Segments Covered
Type, Component and End-User
Geographies Covered
North America, Europe, Asia-Pacific, and Rest of the World (RoW)
Key Vendors
Siemens AG (Germany), General Electric (US), Mitsubishi Hitachi Power Systems (Japan), Babcock & Wilcox (US), AMEC Foster Wheeler (UK), Thermax Global (India), Ducon Technologies (US), Fujian Longking (China), Hamon Group (Belgium), and Trion (US)
Key Market Opportunities
Growth of coal-fired power plants
Growth of cement industry
Key Market Drivers
Tightening air pollution control regulations
Frequently Asked Questions (FAQ) :
---