Global Electronic Flight Bag Market by Type (Portable (Class 1, & Class 2), & Installed), Component (Hardware (Class 1, Class 2, & Class 3), Software (Type A, Type B & Type C), Platform (Commercial and Military), and Region – Global Forecast Till 2023.
Market Scenario
An electronic flight bag (EFB) is an electronic information management device, that improves the performance of flight crew in flight management tasks, by increasing their efficiency in carrying out these tasks. An EFB electronically stores and retrieves documents needed for flight operations such as operating manuals, aeronautical charts, airport information, route information, weather information, the flight log and other information which is required. The electronic flight bag is used for safety purposes by pilots, and it also provides latest operational data which improves fuel efficiency. The rise in popularity of fuel-efficient aircrafts, and factors such as reduction in aircraft maintenance cycle, decreasing the pilot's workload, and real-time access to information, are expected to drive the market during the forecast period. However, there are some shortcomings in operating performance of the electronic flight bag market, for example the costs involved with the implementation of EFBs is very high. Additionally, the cost of maintaining and updating the EFB software also increases the financial burden of airlines.
The documents that can be synchronized to an EFB for a particular flight are flight log, METAR and TAF narrow route briefing, NOTAM narrow route briefing, winds aloft, icing, significant weather, surface weather, flight plan and vertical icing chart. For instance, Rockwell Collins signed an agreement with Airbus to provide the electronic flight bag interface and communication unit for the airbus A320 and A330 aircraft families. The EFB is to connect with onboard and external networks, such as maintenance systems, the aircraft's avionics and airline operating centers.
The major factor responsible for the growth of electronic flight bag market is the safety aspect associated with its use, as it helps the pilots stay up-to-date with live weather information, and also assists in route management to avoid discretionary fuel burn. Also, EFBs can replace all paper-based manuals, which is another factor contributing to this market's growth. Eliminating paper from the flight deck reduces the aircraft weight, and is also more convenient for the crew.
The electronic flight bag market is segmented based on by type, component, platform, and regions. On the basis of type, portable EFBs are most widely used and have the largest market share, as they can be used in all phases of flight. The portable EFB is considered as a Commercial-Off-The-Shelf (COTS) laptop that specifies the preferred communication system for each EFB application. For instance, an airplane information management system update is required to allow access to the existing cabin terminal port, communication addressing and reporting system, and communications management unit's cabin terminal port. On the basis of platform, commercial application is estimated to grow at the highest CAGR during the forecast period.
Global Electronic Flight Bag Market, By Segmentation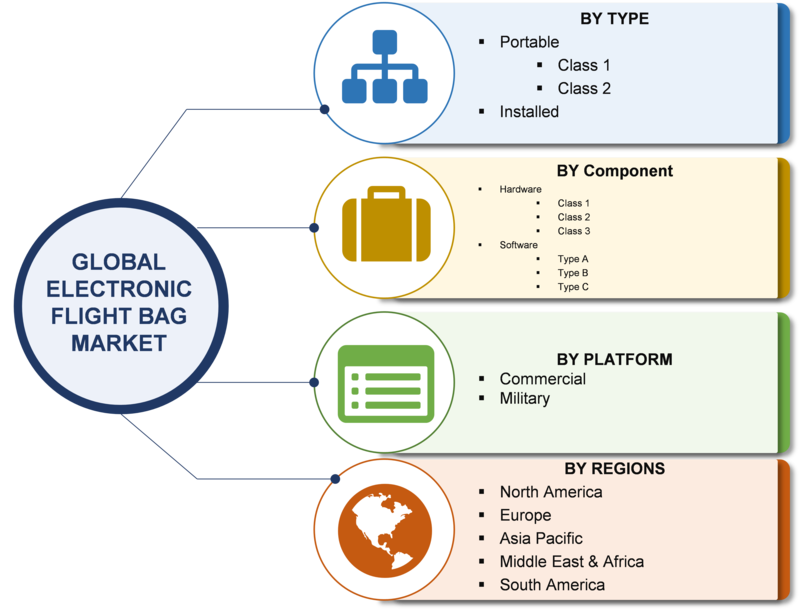 The market is segmented based on regions, into North America, Asia Pacific, Europe, Middle East & Africa, and South America. The North American region is expected to dominate the market in future due to the growth in commercial aircraft sales volume and reduction in the costs associated with maintenance of aircraft. Europe is second to the North America market in electronic flight bag market due to increased spending on advancement of cockpit and need for more accurate in flight operation manuals. Thus, the global electronic flight bag market is estimated to witness a CAGR of 12.8% during the period of 2017-2023.
Key Players
The key players in the global electronic flight bag market are UTC Aerospace Systems (U.S.), International Flight Support (Denmark), Astronautics Corporation of America (U.S.), The Boeing Company (U.S.), Esterline CMC Electronics (Canada), NavAero AB (Sweden), Airbus Group SE (France), Rockwell Collins Inc. (U.S.), L-3 Communications Holdings Inc. (U.S.), Teledyne Controls LLC (U.S.), Thales Group (France), DAC International Inc. (U.S.), Lufthansa Systems (Germany), Flightman (Ireland).
The report for Global Electronic Flight Bag Market of Market Research Future comprises of extensive primary research, along with the detailed analysis of qualitative as well as quantitative aspects by various industry experts and key opinion leaders. It can be used to gain deeper insight of the market and industry performance. The report gives a clear picture of current market scenario, including historical and projected market size in terms of value and volume, technological advancement, macroeconomic and governing factors in the market. The report provides detailed information and strategies of the key players in the industry. The report also contains a broad study of the different market segments and regions.