Market Snapshot
The Global Door Intercom Market is expected to register a 7.92% CAGR, exhibiting substantial growth during the forecast period. The market was valued at USD 2,155.4 Million in 2018; it is expected to reach USD 3,663.6 Million by 2025. Asia-Pacific accounted for the largest market value of USD 938.9 Million in 2018; the market is expected to register a CAGR of 9.63% during the forecast period.
Door intercom systems or door phone is a stand-alone voice communications system that is used within a building or small collection of buildings, functioning independently of the public telephone network. These systems usually comprise a camera installed outside the door. Video intercom equipment is widely installed as audiovisual communication systems at the entry-exit points of offices, societies, and commercial buildings, among others. These devices transmit the audio and visual information by using loudspeakers, camera and other components to enable the communication between the visitor and user. Rapid urbanization in various economies coupled with increased building automation is driving the adoption of door intercom systems for residential and commercial applications.
Global Door intercom, Market, by Product (2018 Vs 2025)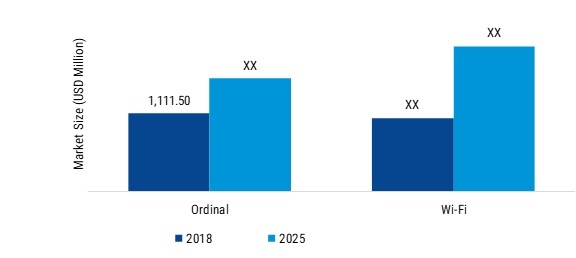 Source: MRFR Analysis
Based on product, the market has been classified as ordinal intercom system and Wi-Fi intercom system. The ordinal intercom system segment accounted for the largest market share in 2018, with a market value of USD 1,111.50 Million. The Wi-Fi intercom system segment is expected to register the highest CAGR during the forecast period. Ordinal intercom systems are the most common type of door intercom systems and are usually built by professionals during the construction phase. This type of intercom system is usually hidden inside the walls of a house and slightly expensive as compared to other types of intercom systems. Wi-Fi intercom systems use different types of radio frequencies to send intercom signals within the property. Wi-Fi intercom systems are less expensive as compared to ordinal intercom systems. These devices do not require any installation. In most cases, Wi-Fi intercom systems are battery-powered, and these batteries can last for a long time. Some intercom systems send out notifications when the battery needs to be replaced. Also, some indoor or outdoor wireless intercom systems are equipped with portable receivers. These devices can be accessed from different locations according to the user's convenience.
Nowadays, door intercoms have become an essential part of security measures for both security and convenience purposes. Door intercom systems enable individuals to enhance the security of homes as well as helps in avoiding unwanted or unwelcome visitors. Door intercoms have wide application in apartments, houses, hotels, offices, hospitals, schools, and airports among others
Regional Analysis
The global door intercom market, by region, has been segmented into Asia-Pacific, North America, Europe, Middle East & Africa, and Central & South America. Asia-Pacific is expected to dominate the global door intercom market during the forecast period.
Companies Covered
The Key Players of the Global Door Intercom Market are Aiphone Corporation (Japan), Guangdong Anjubao Digital Technology Co., Ltd (China), Panasonic Corporation (Japan), Fujian Aurine Technology Co., Ltd (China), COMMAX (South Korea), Samsung Electronics Co., Ltd (South Korea), Legrand SA (France), Shenzhen Soben (China), Honeywell International, Inc. (US), Kocom Co., Ltd (South Korea), Schneider Electric SE (France), Dahua Technology Co., Ltd (China), ABB Group (Switzerland), Fermax (Spain), TCS AG (Germany).
Key Developments


In February 2019, Aiphone Corporation introduced an updated JO Series video intercom which enables homeowners and small businesses to control front-door access onsite or from virtually anywhere using a cloud-based mobile app.




In January 2019, Honeywell introduced Pro Watch 4.5, a connected security platform. Key features of this platform include web-based alarm and event handling and access and vendor management portals.




In November 2018, Legrand SA acquired Netatmo, a home automation specialist. This acquisition forms part of the Group's external growth strategy and strengthens Legrand's position in the Internet of Thing (IoT) market. This agreement also provides new opportunities to speed up the development of Legrand's Eliot program.




In October 2018, Panasonic introduced a new range of video systems in VL-VM series for the Middle East market. This series covers 170 degrees horizontal and 110 degrees vertical angles.


Segmentation



By Product: Ordinal Intercom System and Wi-Fi Intercom System




By Application: Apartments, Houses, Hotel, Office, and Others




By Region: North America, Asia-Pacific, Europe, South America, and Middle East & Africa



Key questions addressed by the report



What was the historic market size (2018)?




Which segmentation (Component/Solution/Industry) is driving the market?




What will be the growth rate by 2025?




Who are the key players in this market?




What are the strategies adopted by key players?



Frequently Asked Questions (FAQ) :
---