Market Synopsis of Global Data Center Interconnect Market: Market Scenario: The key players in the global data center interconnect market include- Huawei Technologies Co., Ltd. (China), Ciena Corporation (US), ADVA Optical Networking SE (Germany), Nokia Corporation (Finland), Juniper Networks, Inc. (US), Cisco Systems, Inc. (US), Extreme Networks, Inc. (US), Fujitsu Ltd. (Japan), and Infinera Corporation (US).
The study indicates that various international brands and new entrants form a competitive landscape in datacenter interconnect market. The key players of the market are indulged into the strategic partnerships, development of new product, acquisitions, and agreements to increase their revenues. The Datacenter Interconnect market has become competitive due to the presence of several established vendors.
For instance, recently in March 21, 2017, the Juniper Networks an American multinational corporation had extended their data center interconnect services. These services incudes open cloud interconnect package that includes dense wavelength division multiplexing optical boards for its QFX10000 Layer 3 spine switch, BTI7800 optical transport switch families and software to manage those systems.
Regionally, Asia-Pacific accounted to have a highest CAGR from countries such China, Japan and India among others. The reason is attributed to rapid adoption of cloud infrastructure and internet. Moreover, increasing R&D and increasing adoption of new technologies with respect to demand for datacenter to manage the high data generated is expected to drive the market in the region. However, North American region is expected to grow over the forecast period, 2017-2023. The reason is attributed to presence of new technologies and increasing investments in the region.
The market is further bifurcated on the basis of type, application, end user and region. On the basis of type the market can be segmented into service, software and product. Out of these, service is expected to show the highest growth rate during the forecast period.
Datacenter interconnect allows organizations to connect their datacenters using cloud services and also to support applications such as disaster recovery and business continuity. Various organizations are indulged in virtualizing their datacenter in need of efficiency and cost reduction. Also, moving to the cloud infrastructure for flexibility and agility which in turn expected to boost the market for DCI during the forecast period.
For instance, Nokia is providing "Nokia professional services" that help organizations to achieve business success by reducing risk for DCI buildup as well as providing various services regarding deployment and implementation process of designing, consulting, integration, deployment, maintenance and consulting. Furthermore, company's consulting services provides financial analysis, high level networks, certification as a service and architecture design.
The factors contributing to the growth of the data center interconnect market are growing demand for disaster recovery, data backup, and business continuity; and rapid migration to cloud-based services. However, factors such as requirement of high initial investment are hindering the growth of the datacenter interconnect market.
Global Data Center Interconnect Market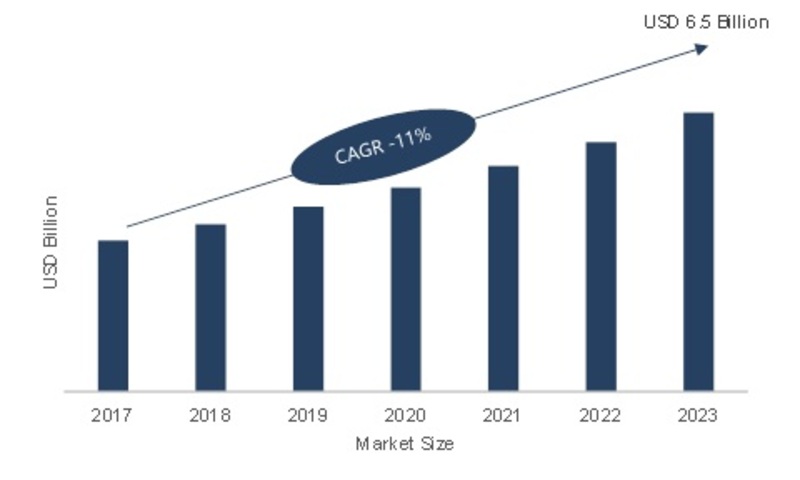 The global data center interconnect market is expected to reach approximately USD 6.5 billion by the end of 2023 with 11% CAGR during forecast period 2017-2023.
Segments For the purpose of this study, Market Research Future has segmented the market of Data Center Interconnect into device software, tools, application and region.
Type-



Service




Professional services




Managed services




Software




Hardware



Application-



Workload & data storage mobility




Real-time disaster recovery and business continuity




Shared data and resources/server high-availability clusters



End User-



Enterprise




Utility and power




Banking and finance




Media and entertainment




Healthcare




Retail and E-commerce




Others




CSPs




CNPs/ICPs




Government




Others



Region



North-America




Europe




Asia-Pacific




RoW



Intended Audience
Report Scope:
| Report Attribute/Metric | Details |
| --- | --- |
| Market Size | USD 6.5 Billion (2023) |
| CAGR | 11% (2017-2023) |
| Base Year | 2019 |
| Forecast Period | 2020-2027 |
| Historical Data | 2018 |
| Forecast Units | Value (USD Billion) |
| Report Coverage | Revenue Forecast, Competitive Landscape, Growth Factors, and Trends |
| Segments Covered | By Type, By Application |
| Geographies Covered | North America, Europe, Asia-Pacific, and Rest of the World (RoW) |
| Key Vendors | Huawei Technologies Co., Ltd. (China), Ciena Corporation (US), ADVA Optical Networking SE (Germany), Nokia Corporation (Finland), Juniper Networks, Inc. (US), Cisco Systems, Inc. (US), Extreme Networks, Inc. (US), Fujitsu Ltd. (Japan), and Infinera Corporation (US). |
| Key Market Opportunities | The factors contributing to the growth of the data center interconnect market are growing demand for disaster recovery, data backup, and business continuity; and rapid migration to cloud-based services. |
| Key Market Drivers | Increasing R&D and increasing adoption of new technologies with respect to demand for datacenter to manage the high data generated is expected to drive the market in the region. |
Frequently Asked Questions (FAQ) :
---
TABLE OF CONTENTS

1 MARKET INTRODUCTION

1.1 INTRODUCTION

1.2 SCOPE OF STUDY

1.2.1 RESEARCH OBJECTIVE

1.2.2 ASSUMPTIONS

1.2.3 LIMITATIONS

1.3 MARKET STRUCTURE

2 RESEARCH METHODOLOGY

2.1 RESEARCH NETWORK TOOLS SOFTWARE

2.2 PRIMARY RESEARCH

2.3 SECONDARY RESEARCH

2.4 FORECAST MODEL

2.4.1 MARKET DATA COLLECTION, ANALYSIS & FORECAST

2.4.2 MARKET SIZE ESTIMATION

3 MARKET DYNAMICS

3.1 INTRODUCTION

3.2 MARKET DRIVERS

3.3 MARKET CHALLENGES

3.4 MARKET OPPORTUNITIES

3.5 MARKET RESTRAINTS

4 EXECUTIVE SUMMARY

5. MARKET FACTOR ANALYSIS

5.1 PORTER'S FIVE FORCES ANALYSIS

5.2 SUPPLY CHAIN ANALYSIS

6 DATA CENTER INTERCONNECT SOFTWARE MARKET, BY SEGMENTS

6.1 INTRODUCTION

6.2 MARKET STATISTICS

6.2.1 BY TYPE

6.2.1.1 SERVICE

6.2.1.2 SOFTWARE

6.2.1.3 HARDWARE

6.2.2 BY APPLICATION

6.2.2.1 WORKLOAD & DATA STORAGE MOBILITY

6.2.1.2 REAL-TIME DISASTER RECOVERY AND BUSINESS CONTINUITY

6.2.1.3 SHARED DATA AND RESOURCES/SERVER HIGH-AVAILABILITY CLUSTERS

6.2.3 BY End User

6.2.3.1 ENTERPRISE

6.2.3.2 CSPs

6.2.3.3 CNPs/ICPs

6.2.3.4 GOVERNMENT

6.2.3.5 OTHERS

6.2.3 BY GEOGRAPHY

6.2.3.1 NORTH AMERICA

6.2.3.2 EUROPE

6.2.3.3 ASIA-PACIFIC

6.2.3.4 REST OF THE WORLD

7 COMPETITIVE ANALYSIS

7.1 MARKET SHARE ANALYSIS

7.2 COMPANY PROFILES

7.2.1 Huawei Technologies Co., Ltd. (China)

7.3.2 Ciena Corporation (US)

7.3.3 ADVA Optical Networking SE (Germany)

7.3.4 Nokia Corporation (Finland)

7.3.5 Juniper Networks, Inc. (US)

7.3.6 Cisco Systems, Inc. (US)

7.3.7 Extreme Networks, Inc. (US)

7.3.8 Fujitsu Ltd. (Japan)

7.3.9 Infinera Corporation (US)

7.3.10 OTHERS

LIST OF TABLES

TABLE 1 DATA CENTER INTERCONNECT SOFTWARE MARKET, BY TYPE

TABLE 2 DATA CENTER INTERCONNECT SOFTWARE MARKET, BY APPLICATION

TABLE 3 DATA CENTER INTERCONNECT SOFTWARE MARKET, BY END USER

TABLE 4 DATA CENTER INTERCONNECT SOFTWARE MARKET, BY GEOGRAPHY

TABLE 5 NORTH AMERICA DATA CENTER INTERCONNECT SOFTWARE MARKET, BY TYPE

TABLE 6 NORTH AMERICA DATA CENTER INTERCONNECT SOFTWARE MARKET, BY APPLICATION

TABLE 7 NORTH AMERICA DATA CENTER INTERCONNECT SOFTWARE MARKET, BY END USER

TABLE 8 U.S DATA CENTER INTERCONNECT SOFTWARE MARKET, BY TYPE

TABLE 9 U.S. DATA CENTER INTERCONNECT SOFTWARE MARKET, BY APPLICATION

TABLE 10 U.S. DATA CENTER INTERCONNECT SOFTWARE MARKET, BY END USER

TABLE 11 CANADA DATA CENTER INTERCONNECT SOFTWARE MARKET, BY TYPE

TABLE 12 CANADA DATA CENTER INTERCONNECT SOFTWARE MARKET, BY APPLICATION

TABLE 13 CANADA DATA CENTER INTERCONNECT SOFTWARE MARKET, BY END USER

TABLE 14 EUROPE DATA CENTER INTERCONNECT SOFTWARE MARKET, BY TYPE

TABLE 15 EUROPE DATA CENTER INTERCONNECT SOFTWARE MARKET, BY APPLICATION

TABLE 16 EUROPE DATA CENTER INTERCONNECT SOFTWARE MARKET, BY END USER

TABLE 17 GERMANY DATA CENTER INTERCONNECT SOFTWARE MARKET, BY TYPE

TABLE 18 GERMANY DATA CENTER INTERCONNECT SOFTWARE MARKET, BY APPLICATION

TABLE 19 GERMANY DATA CENTER INTERCONNECT SOFTWARE MARKET, BY END USER

TABLE 20 FRANCE DATA CENTER INTERCONNECT SOFTWARE MARKET, BY TYPE

TABLE 21 FRANCE DATA CENTER INTERCONNECT SOFTWARE MARKET, BY APPLICATION

TABLE 2 2 FRANCE DATA CENTER INTERCONNECT SOFTWARE MARKET, BY END USER

TABLE 23 U.K. DATA CENTER INTERCONNECT SOFTWARE MARKET, BY TYPE

TABLE 24 U.K. DATA CENTER INTERCONNECT SOFTWARE MARKET, BY APPLICATION

TABLE 2 5 U.K DATA CENTER INTERCONNECT SOFTWARE MARKET, BY END USER

TABLE 26 REST OF EUROPE DATA CENTER INTERCONNECT SOFTWARE MARKET, BY TYPE

TABLE 27 REST OF EUROPE DATA CENTER INTERCONNECT SOFTWARE MARKET, BY APPLICATION

TABLE 2 8 REST OF EUROPE DATA CENTER INTERCONNECT SOFTWARE MARKET, BY END USER

TABLE 29 ASIA-PACIFIC DATA CENTER INTERCONNECT SOFTWARE MARKET, BY TYPE

TABLE 30 ASIA-PACIFIC DATA CENTER INTERCONNECT SOFTWARE MARKET, BY APPLICATION

TABLE 31 ASIA-PACIFIC DATA CENTER INTERCONNECT SOFTWARE MARKET, BY END USER

TABLE 32 REST OF THE WORLD DATA CENTER INTERCONNECT SOFTWARE MARKET, BY TYPE

TABLE 33 REST OF THE WORLD DATA CENTER INTERCONNECT SOFTWARE MARKET, BY APPLICATION

TABLE 34 REST OF THE WORLD DATA CENTER INTERCONNECT SOFTWARE MARKET, BY END USER

LIST OF FIGURES

FIGURE 1 RESEARCH METHODOLOGY

FIGURE 2 DATA CENTER INTERCONNECT SOFTWARE MARKET, BY TYPE (%)

FIGURE 3 DATA CENTER INTERCONNECT SOFTWARE MARKET, BY APPLICATION (%)

FIGURE 4 DATA CENTER INTERCONNECT SOFTWARE MARKET, BY END USER (%)

FIGURE 5 DATA CENTER INTERCONNECT SOFTWARE MARKET, BY REGIONS (%)

FIGURE 6 NORTH AMERICA DATA CENTER INTERCONNECT SOFTWARE MARKET, BY TYPE (%)

FIGURE 7 NORTH AMERICA DATA CENTER INTERCONNECT SOFTWARE MARKET, BY APPLICATION (%)

FIGURE 8 NORTH AMERICA DATA CENTER INTERCONNECT SOFTWARE MARKET, BY END USER (%)

FIGURE 9 EUROPE DATA CENTER INTERCONNECT SOFTWARE MARKET, BY TYPE (%)

FIGURE 10 EUROPE DATA CENTER INTERCONNECT SOFTWARE MARKET, BY APPLICATION (%)

FIGURE 11 EUROPE DATA CENTER INTERCONNECT SOFTWARE MARKET, BY END USER (%)

FIGURE 12 ASIA-PACIFIC DATA CENTER INTERCONNECT SOFTWARE MARKET, BY TYPE (%)

FIGURE 13 ASIA-PACIFIC DATA CENTER INTERCONNECT SOFTWARE MARKET, BY APPLICATION (%)

FIGURE 14 ASIA-PACIFIC DATA CENTER INTERCONNECT SOFTWARE MARKET, BY END USER (%)

FIGURE 15 REST OF THE WORLD DATA CENTER INTERCONNECT SOFTWARE MARKET, BY TYPE (%)

FIGURE 16 REST OF THE WORLD DATA CENTER INTERCONNECT SOFTWARE MARKET, BY APPLICATION (%)

FIGURE 17 REST OF THE WORLD DATA CENTER INTERCONNECT SOFTWARE MARKET, BY END USER (%)