Global contrast media market research report by type (Intravenous Contrast Materials, Iodine-based), by procedure (X-ray, computed tomography, Magnetic Resonance Imaging, ultrasound), by application (cardiovascular disorders, oncology, nephrological disorders), by route of administration (Rectal, Oral, Injectable) - Forecast till 2023


Study objectives global contrast media research report



Complete analysis of the parent market.




Detail overview of various driver and restrains of the market.




Present, past and projected size of the market from standpoints of value and volume.




Detail overview of key players and their current market share and strategy.




SWOT analysis of major segments of the market.




Porter's five forces framework incorporating the factors influencing each force to determine the intensity of competition




Segment and sub-segment level analysis of the market over the forecast period




Identification of key factors responsible for changing the market scenario, exploiting new opportunities and gaining competitive edge



Intended Audience



Contrast media manufacturers, suppliers, and providers.




Biotechnology Companies




Research and Development (R&D) Companies




Government Research Laboratories




Medical Research Institutes




Pharmaceutical & biotechnology companies




Hospitals and diagnostic centers




Figure 1-
Global
contrast media
market
, by region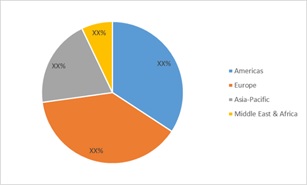 Market Scenario:
Contrast media is a substances which is used to enhance the contrast of fluids in the body during medical imaging. It is basically used to enhance the visibility of blood vessels and GI tract. Global contrast media market is growing continuously due to increasing prevalence of different diseases like GIT diseases and cardiac diseases, increasing cancer population are the major factor for the growth of the market. Introduction of innovative techniques and development in medical imaging techniques has provided fuel for the growth of the market. While risk of side effects and adverse effects of the contrast media may hinder the growth of the market.
Global contrast media market is expected to grow at a CAGR of 6.3 % during forecasted period 2017-2023.

Segmentation
Global contrast media market is segmented on the basis of type into intravenous contrast materials, iodine-based and other. On the basis of procedures they are segmented into X-ray, computed tomography, magnetic resonance imaging, ultrasound and other. On the basis of application they are cardiovascular disorders, oncology, nephrological disorders and by route of administration they are rectal, oral, injectable and other.

Regional Analysis
On regional basis, contrast media market is dominated by North America which is followed by Europe. Presence of major players in North America and Europe and increasing prevalence of GI disease are the major factor for the growth of the market in this region. Asia Pacific is the third largest market and the fastest growing contrast media market. Rising awareness regarding product benefits among consumers and a huge population base in this region is the major factor for the growth of the market.

Key players for global contrast media market
GE Healthcare (US), Daiichi (Japan), Bayer Healthcare Pharmaceuticals (Germany), AMAG Pharmaceuticals (US), NanoScan Imaging (US), Medrad Inc (US), Targeson (US), Guerbet (Japan), Bracco Diagnostic Inc. (Italy), Guerbet Group (France), Covidien (Ireland), Lantheus Medical Imaging (U.S.), ), Bracco Imaging S.p.A. (Italy), Subhra Pharma Private Limited (India), nanoPET Pharma GmbH (Germany), CMC Contrast AB (Sweden), Mallinckrodt Pharmaceuticals (UK)
Market Assessment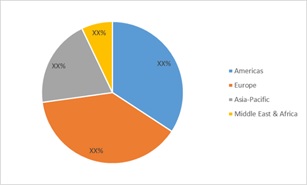 The report for global contrast media market of Market Research Future comprises of extensive primary research along with the detailed analysis of qualitative as well as quantitative aspects by various industry experts, key opinion leaders to gain the deeper insight of the market and industry performance. The report gives the clear picture of current market scenario which includes historical and projected market size in terms of value and volume, technological advancement, macro economical and governing factors in the market. The report provides details information and strategies of the top key players in the industry. The report also gives a broad study of the different markets segments and regions.

1 INTRODUCTION


1.1 DEFINITION


1.2 SCOPE OF STUDY


1.2.1 RESEARCH OBJECTIVE


1.2.2 ASSUMPTIONS & LIMITATIONS


1.2.2.1 ASSUMPTIONS


1.2.2.2 LIMITATIONS


1.3 MARKET STRUCTURE:


2 RESEARCH METHODOLOGY


2.1 RESEARCH PROCESS:


2.2 PRIMARY RESEARCH


2.3 SECONDARY RESEARCH:


3 MARKET DYNAMICS


3.1 DRIVERS


3.2 RESTRAINTS


3.3 OPPORTUNITIES


3.4 MACROECONOMIC INDICATORS


4 MARKET FACTOR ANALYSIS


4.1 PORTERS FIVE FORCES MODEL


4.2 BARGAINING POWER OF SUPPLIERS


4.3 BARGAINING POWER OF BUYERS


4.4 THREAT OF NEW ENTRANTS


4.5 THREAT OF SUBSTITUTES


4.6 INTENSITY OF RIVALRY


5. GLOBAL CONTRAST MEDIA MARKET, BY TYPE


5.1 INTRAVENOUS CONTRAST MATERIALS


5.2 IODINE-BASED


5.3 OTHER


6. GLOBAL CONTRAST MEDIA MARKET, BY PROCEDURES


6.1 X-RAY


6.2 COMPUTED TOMOGRAPHY


6.3 MAGNETIC RESONANCE IMAGING


6.4 ULTRASOUND


6.5 OTHER


7. GLOBAL CONTRAST MEDIA MARKET, BY APPLICATION


7.1 CARDIOVASCULAR DISORDERS


7.2 ONCOLOGY


7.3 NEPHROLOGICAL DISORDERS


8. GLOBAL CONTRAST MEDIA MARKET, BY ROUTE OF ADMINISTRATION


8.1 RECTAL


8.2 ORAL


8.3 INJECTABLE


8.4 OTHER


9. GLOBAL CONTRAST MEDIA MARKET, BY REGION


9.1 INTRODUCTION


9.2 NORTH AMERICA


9.2.1 US


9.2.2 CANADA


9.3 EUROPE


9.3.1 WESTERN EUROPE


9.3.1.1 GERMANY


9.3.1.2 FRANCE


9.3.1.3 ITALY


9.3.1.3 SPAIN


9.3.1.5 UK


9.3.1.6 REST OF WESTERN EUROPE


9.3.2 EASTERN EUROPE


9.4 ASIA


9.4.1 JAPAN


9.4.2 CHINA


9.4.3 INDIA


9.4.4 AUSTRALIA


9.4.5 REPUBLIC OF KOREA


9.4.6 REST OF ASIA-PACIFIC


9.5 MIDDLE EAST & AFRICA


9.5.1 UNITED ARAB EMIRATES


9.5.2 SAUDI ARABIA


9.5.3 OMAN


9.5.4 KUWAIT


9.5.5 QATAR


9.5.6 REST OF MIDDLE EAST & AFRICA


10. COMPETITIVE LANDSCAPE


10.1 MAJOR STRATEGIES ADOPTED BY MARKET PLAYERS


10.1.1 STRATEGIC PARTNERSHIP


10.1.2 MERGER & ACQUISITION


11 COMPANY PROFILE


11.1 GE HEALTHCARE


11.1.1 OVERVIEW


11.1.2 PRODUCT OVERVIEW


11.1.3 FINANCIALS


11.1.4 KEY DEVELOPMENTS


11.2 DAIICHI


11.2.1 OVERVIEW


11.2.2 PRODUCT OVERVIEW


11.2.3 FINANCIALS


11.2.4 KEY DEVELOPMENTS


11.3 BAYER HEALTHCARE PHARMACEUTICALS


11.3.1 OVERVIEW


11.3.2 PRODUCT OVERVIEW


11.3.3 FINANCIALS


11.3.4 STRATEGY


11.3.5 KEY DEVELOPMENT


11.4 NANOSCAN IMAGING


11.4.1 OVERVIEW


11.4.2 PRODUCT OVERVIEW


11.4.3 FINANCIALS


11.4.4 KEY DEVELOPMENTS


11.5 AMAG PHARMACEUTICALS


11.5.1 OVERVIEW


11.5.2 PRODUCT OVERVIEW


11.5.3 FINANCIALS


11.5.4 KEY DEVELOPMENTS


11.6 OTHERS


12 CONCLUSION


12.1 KEY FINDINGS


12.1.1 FROM CEO'S VIEWPOINT


12.1.2 UNMET NEEDS OF THE MARKET


12.2 KEY COMPANIES TO WATCH


12.3 PREDICTION OF INDUSTRY


13 APPENDIX