Global Market Information by Type (Polyvinyl Acetate, Acrylic, Epoxy, Polyurethane and others), by Technology (Reactive, Waterborne, Solvent Borne, and others) by End-use (Waterproofing, Insulation, Walls & panels, Roof & Floors, and others), and Region - Forecast to 2022



Market Synopsis of Market
The global construction adhesive and sealant market is significantly penetrating in the commercial, housing, and infrastructure applications. The characteristics of the end products are different according to requirement of end-user industries for different applications. The key influencing factors for this market are increase in the demand in ceramic tile, pre-finished panels, roofing, wall covering, concrete, pipe cements, flooring underlayment, countertop lamination, drywall lamination, HVAC, and other applications. The leading global companies invest & expand by way of partnerships & agreements, and mergers & acquisitions. The global construction adhesive & sealant market size is expected to cross USD 12 billion and is projected to grow at a CAGR of approximately 6% in the forecasted period.
Study Objectives of Construction Equipment Market



To provide detailed analysis of the market structure along with forecast for the next 6 years of various segments and sub-segments of the Global Construction Adhesive and sealant Market .




To provide insights about factors affecting the market growth.




To analyze the Global Construction Adhesive and sealant Market based on various factors- price analysis, supply chain analysis, porters five force analysis etc.




To provide historical and forecast revenue of the market segments and sub-segments with respect to four main geographies and their countries- North America, Europe, APAC, and Rest of the World (ROW).




To provide country level analysis of the market with respect to the current market size and future prospective.




To provide country level analysis of the market for segment by type, technology, application, and regions.




To provide strategic profiling of the key players in the market, comprehensively analyzing their core competencies, and drawing a competitive landscape for the market.




To track and analyze competitive developments such as joint ventures, strategic alliances, mergers and acquisitions, new product developments, and research and developments in the Global Construction Adhesive and sealant Market.



Segmentation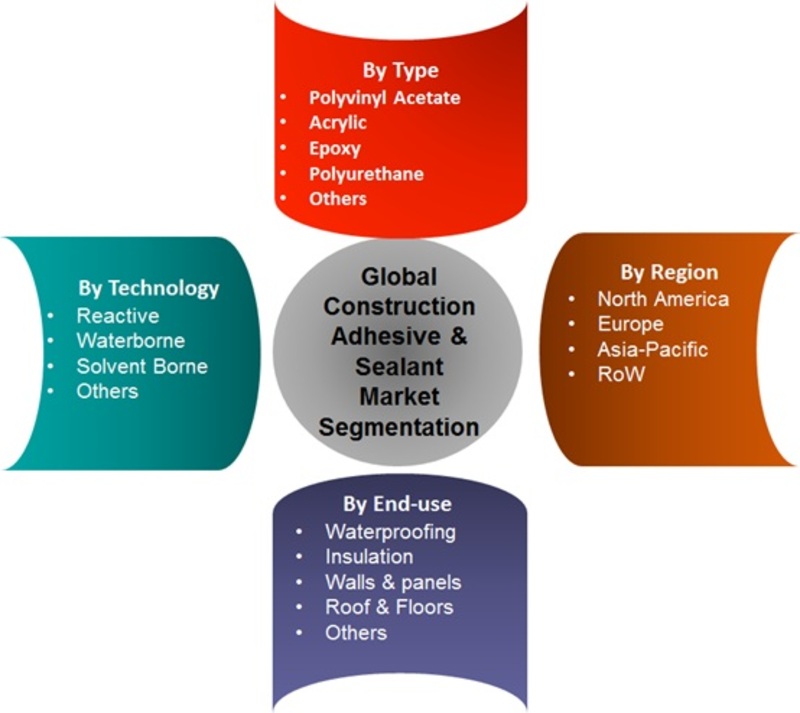 Regional Analysis of Construction Equipment Market
The regional analysis of Construction Equipment market is being studied for areas such as Asia pacific, North America, Europe and rest of the world. APAC would be the largest growing market in terms of revenue generation because of increased investment in construction and infrastructure to support the economic development and rapid population growth.
Market Size of Construction Adhesive and sealant Market by Regions (USD Billion)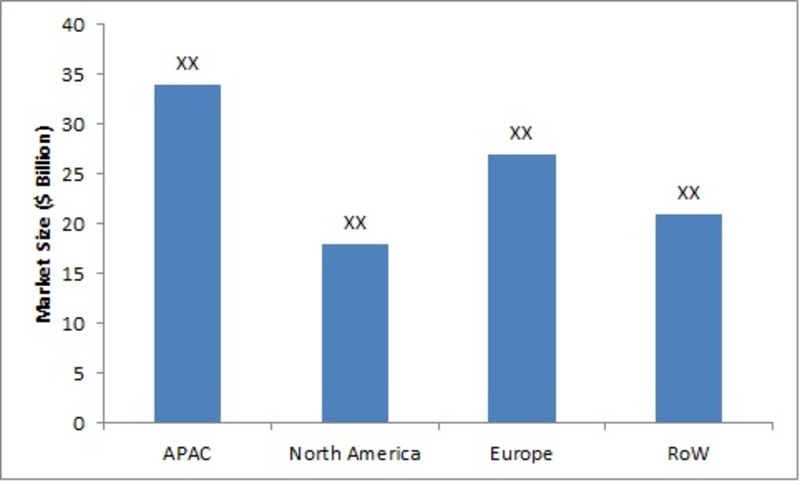 Key Players
The key players of global Construction Adhesive and sealant market report include- 3M Company, Henkel A&G, Bostik SA, Sika AG, H.B. Fuller, Franklin International, ITW Polymers Sealants North America, DAP Products Inc., Avery Dennision Corporation, and The Dow Chemical Company.
Target Audience



Manufactures




Raw Materials Suppliers




Aftermarket suppliers




Research Institute / Education Institute




Potential Investors




Key executive (CEO and COO) and strategy growth manager



Product Analysis
Additional Information



Regulatory Landscape




Pricing Analysis




Macroeconomic Indicators



Geographic Analysis
Company Information



Profiling of 10 key market players




In-depth analysis including SWOT analysis, and strategy information of related to report title




Competitive landscape including emerging trends adopted by major companies





The report for Global Construction Adhesive and sealant Market of Market Research Future comprises of extensive primary research along with the detailed analysis of qualitative as well as quantitative aspects by various industry experts, key opinion leaders to gain the deeper insight of the market and industry performance. The report gives the clear picture of current market scenario which includes historical and projected market size in terms of value and volume, technological advancement, macro economical and governing factors in the market. The report provides details information and strategies of the top key players in the industry. The report also gives a broad study of the different market segments and regions.
1 Executive Summary

2 Scope Of The Report

2.1 Market Definition

2.2 Scope Of The Study

2.2.1 Research Objectives

2.2.2 Assumptions & Limitations

2.3 Markets Structure

3 Market Research Methodology

3.1 Research Process

3.2 Secondary Research

3.3 Primary Research

3.4 Forecast Model

4 Market Landscape

4.1 Five Forces Analysis

4.1.1 Threat Of New Entrants

4.1.2 Bargaining power of buyers

4.1.3 Threat of substitutes

4.1.4 Segment rivalry

4.2 Value Chain of Global Construction Adhesive & Sealant Market

5 Industry Overview of Global Construction Adhesive & Sealant Market

5.1 Introduction

5.2 Growth Drivers

5.3 Impact analysis

5.4 Market Challenges

5.5 Impact analysis

6 Market Trends

6.1 Introduction

6.2 Growth Trends

6.3 Impact analysis

7. Global Construction Adhesive & Sealant Market by Region

8. Global Construction Adhesive & Sealant Market by Type

9. Global Construction Adhesive & Sealant Market by Technology

10. Global Construction Adhesive & Sealant Market by End-use

11. Company Profiles

11.1 3M Company

11.1.1 Overview

11.1.2 Financials

11.1.3 Product Portfolio

11.1.4 Business Strategies

11.1.5 Recent Development

11.2 Henkel A&G

11.2.1 Overview

11.2.2 Financials

11.2.3 Product Portfolio

11.2.4 Business Strategies

11.2.5 Recent Development

11.3 Bostik SA

11.3.1 Overview

11.3.2 Financials

11.3.3 Product Portfolio

11.3.4 Business Strategies

11.3.5 Recent Development

11.4 Sika AG

11.4.1 Overview

11.4.2 Financials

11.4.3 Product Portfolio

11.4.4 Business Strategies

11.4.5 Recent Development

11.5 H.B. Fuller

11.5.1 Overview

11.5.2 Financials

11.5.3 Product Portfolio

11.5.4 Business Strategies

11.5.5 Recent Development

11.6 Franklin International

11.6.1 Overview

11.6.2 Financials

11.6.3 Product Portfolio

11.6.4 Business Strategies

11.6.5 Recent Development

11.7 ITW Polymers Sealants North America

11.7.1 Overview

11.7.2 Financials

11.7.3 Product Portfolio

11.7.4 Business Strategies

11.7.5 Recent Development

11.8 DAP Products Inc.

11.8.1 Overview

11.8.2 Financials

11.8.3 Product Portfolio

11.8.4 Business Strategies

11.8.5 Recent Development

11.9 Avery Dennision Corporation

11.9.1 Overview

11.9.2 Financials

11.9.3 Product Portfolio

11.9.4 Business Strategies

11.9.5 Recent Development

11.10 The Dow Chemical Company

11.10.1 Overview

11.10.2 Financials

11.10.3 Product Portfolio

11.10.4 Business Strategies

11.10.5 Recent Development

12 Conclusion
LIST OF TABLES
Table 1 World Population By Major Regions (2015 To 2030) (Million)

Table 2 Global Construction Adhesive & Sealant Market: By Region, 2014-2022 (Usd Million)

Table 3 Global Construction Adhesive & Sealant Market: By Region, 2014-2022 (Kt)

Table 4 North America Global Construction Adhesive & Sealant Market: By Country, 2014-2022 (Usd Million)

Table 5 Europe Global Construction Adhesive & Sealant Market: By Country, 2014-2022 (Usd Million)

Table 6 Asia-Pacific Global Construction Adhesive & Sealant Market: By Country, 2014-2022 (Usd Million)

Table 7 RoW Global Construction Adhesive & Sealant Market: By Country, 2014-2022 (Usd Million)

Table 8 Global Construction Adhesive & Sealant for Type: By Regions, 2014-2022 (Usd Million)

Table 9 North America Global Construction Adhesive & Sealant for Type: By Country, 2014-2022 (Usd Million)

Table 10 Europe Global Construction Adhesive & Sealant for Type Market: By Country, 2014-2022 (Usd Million)

Table 11 Asia-Pacific Global Construction Adhesive & Sealant for Type Market: By Country, 2014-2022 (Usd Million)

Table 12 RoW Global Construction Adhesive & Sealant for Type Market: By Country, 2014-2022 (Usd Million)

Table 13 Global Construction Adhesive & Sealant for Technology: By Regions, 2014-2022 (Usd Million)

Table 14 North America Global Construction Adhesive & Sealant for Technology: By Country, 2014-2022 (Usd Million)

Table 15 Europe Global Construction Adhesive & Sealant for Technology Market: By Country, 2014-2022 (Usd Million)

Table 16 Asia-Pacific Global Construction Adhesive & Sealant for Technology Market: By Country, 2014-2022 (Usd Million)

Table 17 RoW Global Construction Adhesive & Sealant for Technology Market: By Country, 2014-2022 (Usd Million)

Table 18 Global Construction Adhesive & Sealant for End-use: By Regions, 2014-2022 (Usd Million)

Table 19 North America Global Construction Adhesive & Sealant for End-use Market: By Country, 2014-2022 (Usd Million)

Table 20 Europe Global Construction Adhesive & Sealant for End-use Market: By Country, 2014-2022 (Usd Million)

Table 21 Asia-Pacific Global Construction Adhesive & Sealant for End-use Market: By Country, 2014-2022 (Usd Million)

Table 22 RoW Global Construction Adhesive & Sealant for End-use Market: By Country, 2014-2022 (Usd Million)

Table 23 Global Type Market: By Region, 2014-2022 (Usd Million)

Table 24 Global End-use Market: By Region, 2014-2022 (Usd Million)

Table 25 North America Global Construction Adhesive & Sealant Market, By Country (Usd Million)

Table 26 North America Global Construction Adhesive & Sealant Market, By Type (Million Usd)

Table 27 North America Global Construction Adhesive & Sealant Market, By Technology (Million Usd)

Table 28 North America Global Construction Adhesive & Sealant Market, By End-use (Million Usd)

Table 29 Europe: Global Construction Adhesive & Sealant Market, By Country (Usd Million)

Table 30 Europe: Global Construction Adhesive & Sealant Market, By Type (Usd Million)

Table 31 Europe: Global Construction Adhesive & Sealant Market, By Technology (Usd Million)

Table 32 Europe: Global Construction Adhesive & Sealant Market, By End-use (Usd Million)

Table 33 Asia-Pacific: Global Construction Adhesive & Sealant Market, By Country (Usd Million)

Table 34 Asia-Pacific: Global Construction Adhesive & Sealant Market, By Type (Usd Million)

Table 35 Asia-Pacific: Global Construction Adhesive & Sealant Market, By Technology (Usd Million)

Table 36 Asia-Pacific: Global Construction Adhesive & Sealant Market, By End-use (Usd Million)

Table 37 RoW: Global Construction Adhesive & Sealant Market, By Country (Usd Million)

Table 38 RoW: Global Construction Adhesive & Sealant Market, By Type (Usd Million)

Table 39 RoW: Global Construction Adhesive & Sealant Market, By Technology (Usd Million)

Table 40 RoW: Global Construction Adhesive & Sealant Market, By End-use (Usd Million)



LIST OF FIGURES
FIGURE 1 Global Construction Adhesive & Sealant market segmentation

FIGURE 2 Forecast Methodology

FIGURE 3 Five Forces Analysis of Global Construction Adhesive & Sealant Market

FIGURE 4 Value Chain of Global Construction Adhesive & Sealant Market

FIGURE 5 Share of Global Construction Adhesive & Sealant Market in 2014, by country (in %)

FIGURE 6 Global Construction Adhesive & Sealant Market, 2015-2022, (USD billion)

FIGURE 7 Sub-segments of Global Construction Adhesive & Sealant Market

FIGURE 8 Global Construction Adhesive & Sealant Market size by Type

FIGURE 9 Share of as Polyvinyl Acetate in Global Construction Adhesive & Sealant industry, 2012 to 2022

FIGURE 10 Share of Acrylic in Global Construction Adhesive & Sealant industry, 2012 to 2022

FIGURE 11 Share of Epoxy in Global Construction Adhesive & Sealant industry, 2012 to 2022

FIGURE 12 Share of Polyurethane in Global Construction Adhesive & Sealant industry, 2012 to 2022

FIGURE 13 Global Construction Adhesive & Sealant Market size by Technology

FIGURE 14 Share of Reactive in Global Construction Adhesive & Sealant industry, 2012 to 2022

FIGURE 15 Share of Waterborne in Global Construction Adhesive & Sealant industry, 2012 to 2022

FIGURE 16 Share of Solvent Borne in Global Construction Adhesive & Sealant industry, 2012 to 2022

FIGURE 17 Global Construction Adhesive & Sealant Market size by End-use

FIGURE 18 Share of Waterproofing in Global Construction Adhesive & Sealant industry, 2012 to 2022

FIGURE 19 Share of Insulation in Global Construction Adhesive & Sealant industry, 2012 to 2022

FIGURE 20 Share of Walls & Panels in Global Construction Adhesive & Sealant industry, 2012 to 2022

FIGURE 20 Share of Roof & Floors in Global Construction Adhesive & Sealant industry, 2012 to 2022