CNG Compressor Market Scenario
CNG compressor market is projected to rise at a CAGR of ~5.0% during the forecast period. The market for CNG is expected to grow at USD ~200.0 Billion in 2023. It witnesses high growth because of adoption of CNG as an alternative to gasoline and diesel, which ultimately helps rise the CNG compressor market.
One of the primary reasons behind the growth of this market is the increase the number of natural gas vehicle, NGV operating on low cost, less carbon emissions in environment. So, OEMs (Original Equipment Manufacturers) such as Volvo, Ford, Fiat and GM offer vehicles and other fleet that are also CNG-powered.
The main drivers of this global CNG compressor market are growing natural gas pipeline network, across the world, consumption of natural gas in power plant in search of economic efficient energy source, and reduction of consumption of coal in emerging countries. Low pollution and emission levels, abundant gas reserves, technological advancements in the technology, and widening application of natural gas in industry are also some of them.
The CNG compressor market is further segmented on the basis of technology as Positive Displacement and Dynamic, on the basis of applications as Industrial, Residential and Transportation, and on the basis of regions as North America, Europe, Asia Pacific, and Rest of the World.
Key Players
The major key player in global CNG compressor market are Ariel Corporation (U.S.), Atlas Copco (Sweden), P C Mc Kenzie C (U.S.), J-W Energy Company (U.S.), Bauer Compressors, Inc. (U.S.), Wärtsilä (Finland), and CIMC Enric (China). Kobelco Compressors America, Inc. (U.S.), Elliott Company (U.S.), Associated Compressor Engineers (U.K), C&B Pumps and Compressors, LLC. (U.S.), Gas Compressor Consultants Inc (U.S.), and GE Oil & Gas (U.S.) are among others. They are highly capable of offering the finest service in the industry.
Market Segmentation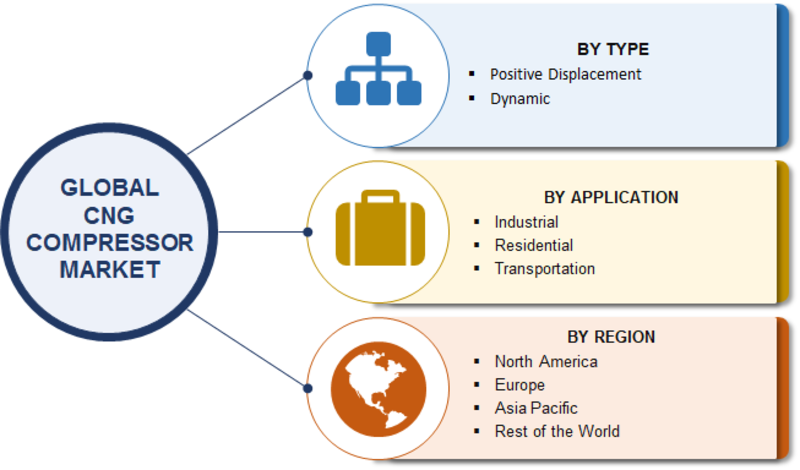 Global CNG Compressor Market
The global CNG compressor market is projected to progress at a CAGR of more than ~5.0% during the forecast period. The share of natural gas in global energy mix will grow at ~23.0% in 2025, which is mainly driven by the growth of India, China and South East Asia, as the countries have had an increased concern regarding air quality, growth in industrial and transportation sector.
Based on type, this segment includes positive displacement and dynamic technology, among which positive displacement is a device used to compress the natural gas so that it can be transported to longer distances through pipelines. This device increases the pressure of natural gas by decreasing its volume while, dynamic compressor is a flow machine where pressure increases take place at the same time as gas flows.
Based on application, transportation sector accounts for major market share than industrial and residential as developing nations are switching their vehicles run by natural gas.
Based on region, Asia Pacific was leading in CNG market and is expected to continue its dominance during the forecast period. China and India are expected to drive the CNG compressor market at a CAGR of ~ 10.0%, which is the fastest.
A CNG compressor is a mechanical device used widely in natural gas industry for transportation purposes. The device compresses the total volume of the gas, thereby increasing its pressure. This helps the natural gas move easily in long distances within the pipelines without any pressure drop. CNG compressors are chosen over fleet because of their reliability and performance range. Location of CNG station is strategically determined with the help of gathering as well as with the help of pipeline network to maintain the pressure and flow of natural gas. CNG compressors can be used in the set up of gas stations, fueling of vehicles, pumping gas into high-pressure CNG tanks and in pipeline transmission as a compressor station to transfer gas from one to another.
Report Scope:
Report Attribute/Metric
Details
Market Size
2023: USD ~200.0 Billion
CAGR
5.0% CAGR (2020-2027)
Base Year
2019
Forecast Period
2020-2027
Historical Data
2018
Forecast Units
Value (USD Billion)
Report Coverage
Revenue Forecast, Competitive Landscape, Growth Factors, and Trends
Segments Covered
Technology and Applications
Geographies Covered
North America, Europe, Asia-Pacific, and Rest of the World (RoW)
Key Vendors
Ariel Corporation (U.S.), Atlas Copco (Sweden), P C Mc Kenzie C (U.S.), J-W Energy Company (U.S.), Bauer Compressors, Inc. (U.S.), Wärtsilä (Finland), and CIMC Enric (China). Kobelco Compressors America, Inc. (U.S.), Elliott Company (U.S.), Associated Compressor Engineers (U.K), C&B Pumps and Compressors, LLC. (U.S.), Gas Compressor Consultants Inc (U.S.), and GE Oil & Gas (U.S.)
Key Market Opportunities
New product launches and R&D amongst major key players
Key Market Drivers
Growing natural gas pipeline network, across the world
Consumption of natural gas in power plant in search of economic efficient energy source
Reduction of consumption of coal in emerging countries
Frequently Asked Questions (FAQ) :
---