Market Synopsis of Circulating Fluid Bed Boilers Market.
Energy management is a worldwide project nowadays and in the foreseeable future. Boilers generate steam which is then used to provide space heat, process heat and other. Steam boiler is as an equipment used for generation of heat through the heat transfer from a working fluid or water. Air supply with high pressure lifts the material and coal particles and keeps it in suspension. The thermal energy from water is converted into electricity through passage of steam into turbines in power plants. Circulating Fluid bed boilers has given boilers and power plant operators a greater flexibility in burning wide range of coal and other fuels. The circulating fluidized bed is a clean process with the ability to achieve lower emission pollutants. By using this technology more than 80% pollutants will be absorbed before released in the atmosphere.Global Circulating Fluid Bed Boilers market is expected to grow with the CAGR of approximately 2.5 % from 2017 to 2023.
Factors such as wide fuel flexibility, excellent emission performance and large range of load adjustment, CFB boiler technology developed rapidly and becomes one of the clean coal combustion technologies commercially applied in large scale operations. Surging demand for cost efficient and cleaner combustion technology coupled with stringent environmental regulations, has insisted to look for energy efficient ways of power generation. Moreover, as compared to conventional boilers, minimum capital costs involved in the setup and operation of CFB boilers acts as major driving factor for the growth of the market.
The size of CFB's designed for lignite or coal which can vary in a range of steam capacity, from industrial to large-scale utility boilers. Additionally, many of the boilers designed for coal feature and others which adds fuels such as biomass and various types of waste which are co-fired simultaneously. Major industries that benefit from this technology include textiles, paper, fertilizer, chemicals and petroleum refining. Additionally, benefits such as solving energy crisis and decreased dependence on grid power push the market towards growth. Continuous depletion of these resources on a large scale, high degree of carbon emission into the atmosphere, and rising quantity of hazardous waste from energy generation processes are some of the important factors affecting the energy generation market.
Global Circulating Fluid Bed Boilers Market: Segmentation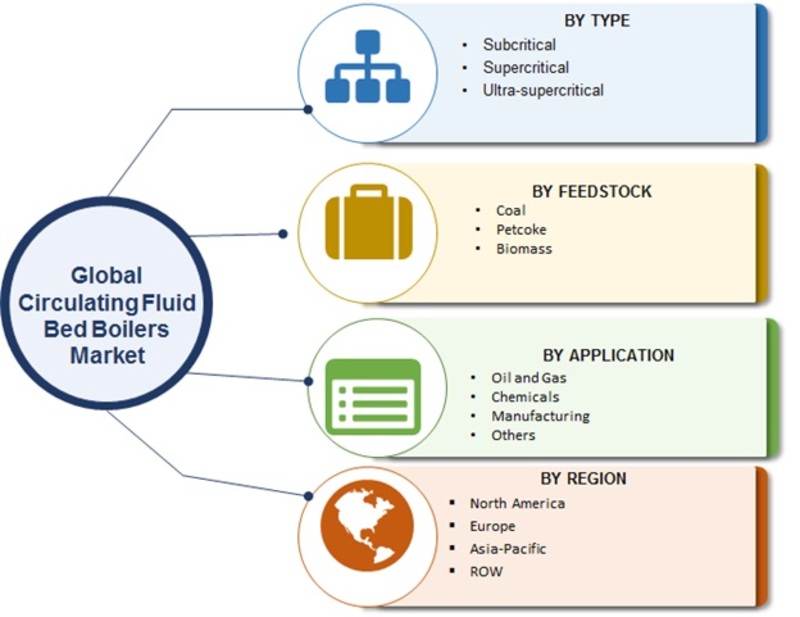 Regional Analysis The geographic market is segmented as North America, Europe, Asia-Pacific and Rest of the World (RoW).North America region is the leading market for Circulating Fluid Bed Boilers market and is followed by Europe. Rising awareness for the need to control gas emission and increase operational efficiency are some of the factor driving the market towards growth.
Countries located in Asia Pacific is expected to account for higher share in the globally installed capacity base of CFB boilers. Moreover, rapid industrial development in the countries such as India and China where there are issues with continuous reliable electricity supply, is driving the demand for circulating fluid bed boilers. Also R&D activities will drive circulating fluid bed boilers market
Key Players The major players operating in the market of global circulating fluid bed boilers are Alfa Laval AB (Sweden), Alstom SA (France), Dongfang Boiler Group Co., Ltd. (China), AE&E Nanjing Boiler Co., Ltd (China), Babcock & Wilcox Enterprises (U.S.), Bharat Heavy Electricals Limited (India), Mitsubishi Heavy Industries, Ltd (Japan), Shanghai Boiler Works Co., Ltd (China), Thermax. D Ltd (India) and Doosan Heavy Industries & Construction Company Limited (UAE)
The report for Global Circulating Fluid Bed Boilers Market of Market Research Future comprises of extensive primary research along with the detailed analysis of qualitative as well as quantitative aspects by various industry experts, key opinion leaders to gain the deeper insight of the market and industry performance. The report gives the clear picture of current market scenario which includes historical and projected market size in terms of value and volume, technological advancement, macro economical and governing factors in the market. The report provides details information and strategies of the top key players in the industry. The report also gives a broad study of the different market segments and regions.
Frequently Asked Questions (FAQ) :
---
1... Executive Summary

2 Research Methodology

2.1 Scope of the Study

2.1.1 Definition

2.1.2 Research Objective

2.1.3 Assumptions

2.1.4 Limitations

2.2 Research Process

2.2.1 Primary Research

2.2.2 Secondary Research

2.3 Market size Estimation

2.4 Forecast Model

3... Market Dynamics

3.1 Market Drivers

3.2 Market Inhibitors

3.3 Supply/Value Chain Analysis

3.4 Porter's Five Forces Analysis

4... Global Circulating Fluid Bed Boilers Market, By Type

4.1 Introduction

4.2 Subcritical

4.3 Supercritical

4.4 Ultra-supercritical

5... Global Circulating Fluid Bed Boilers Market, By Feed stock

5.1 Introduction

5.2 Coal

5.3 Petcoke

5.4 Biomass

6... Global Circulating Fluid Bed Boilers Market, By Application

6.1 Introduction

6.2 Oil & Gas

6.3 Chemicals

6.4 Manufacturing

6.5 Others

7 Regional Market Analysis

7.1 Introduction

7.2 North America

7.2.1 U.S.

7.2.2 Canada

7.3 Europe

7.3.1 U.K

7.3.2 France

7.3.3 Germany

7.3.4 Spain

7.3.5 Rest of Europe

7.4 Asia-Pacific

7.4.1 China

7.4.2 Japan

7.4.3 India

7.4.4 Rest of Asia-Pacific

7.5 Rest of the World

8... Competitive Analysis

8.1 Introduction

8.2 Competitive Scenario

8.2.1 Market Share Analysis

8.2.2 Market Development Analysis

8.2.3 Type /Service Benchmarking

8.3 Alfa Laval AB (Sweden)

8.3.1 Overview

8.3.2 Type /Service Offering

8.3.3 Strategy

8.4 Alstom SA (France)

8.4.1 Overview

8.4.2 Type /Service Offering

8.4.3 Strategy

8.5 Dongfang Boiler Group Co., Ltd. (China)

8.5.1 Overview

8.5.2 Type /Service Offering

8.5.3 Strategy

8.6 AE&E Nanjing Boiler Co., Ltd (China)

8.6.1 Overview

8.6.2 Type /Service Offering

8.6.3 Strategy

8.7 Babcock & Wilcox Enterprises (U.S.)

8.7.1 Overview

8.7.2 Type /Service Offering

8.7.3 Strategy

8.8 Bharat Heavy Electricals Limited (India)

8.8.1 Overview

8.8.2 Type /Service Offering

8.8.3 Strategy

8.9 Mitsubishi Heavy Industries, Ltd (Japan)

8.9.1 Overview

8.9.2 Type /Service Offering

8.9.3 Strategy

8.10 Shanghai Boiler Works Co., Ltd (China)

8.10.1 Overview

8.10.2 Type /Service Offering

8.10.3 Strategy

8.11 Thermax. D Ltd (India)

8.11.1 Overview

8.11.2 Type /Service Offering

8.11.3 Strategy

8.12 Doosan Heavy Industries & Construction Company Limited (UAE)

8.12.1 Overview

8.12.2 Type /Service Offering

8.12.3 Strategy