Biomass Gasification Market Scenario
Biomass Gasification market is expected to grow at 8.50% CAGR during the forecast period.
The global Biomass Gasification market is projected to grow at a high rate during the forecast period as many projects related to Biomass gasification are going across globe. Asia-Pacific region is expected to demonstrate significant growth mostly driven by industrialized countries in the region including Japan, South Korea, India, and China. The impact of this rapid growth is increased by changes in energy consumption, as half of the world population resides in this region of which almost 2/3rd lives in rural areas, where biomass has been a predominant energy source, mostly for domestic use. All these factors will drive the market for biomass gasification.
The global Biomass Gasification market is projected to grow at a high rate during the forecast period, Due to rising environmental concerns and increasing green-house gas emissions, companies are now turning towards environment-friendly energy sources. There are various active programs across the globe with involvement of independent power producers (IPPs), Energy Service Companies (ESCOs), industries, Co-operatives, SHGs, NGOs, and promoters & developers.
Key Players
The key players of global Biomass Gasification market are Air Liquide, Thyssenkrupp AG, Synthesis Energy Systems Inc., Siemens, Sedin Engineering Company Limited, Royal Dutch Shell Plc, Mitsubishi Heavy Industries Ltd, Kbr Inc, General Electric, and Cb&I
Market Segmentation
Global Biomass gasification market has been segmented based on fuel type, application, and region. Based on application, the market is classified into chemicals, liquid fuels, and power & gas fuels. There are various CHP plants based on the integration of an ORC-process into a CFB steam gasification process. Biomass has become important energy resource for generating the electricity.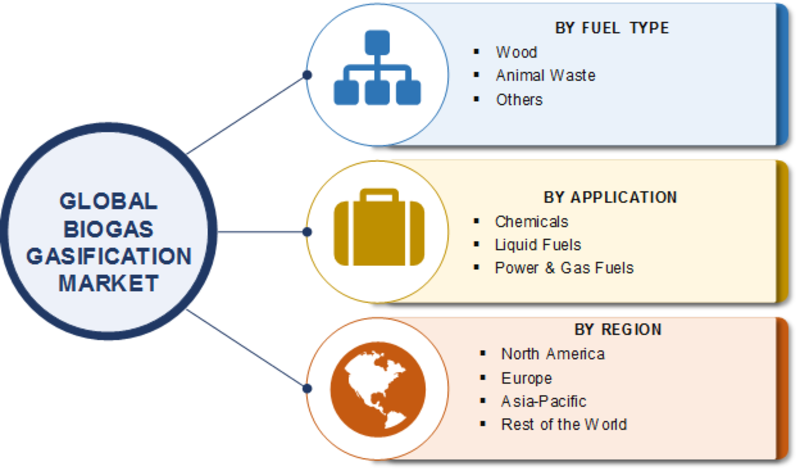 Global Biomass Gasification Market
Biomass gasification is a process which involves a thermo-chemical conversion of biomass into a combustible gas mixture through a partial combustion route with air supply restricted to less than that theoretically needed for full combustion. It also provides a means of deriving more diverse forms of energy from the thermochemical conversion of biomass than conventional combustion. The gasification process includes devolatilization, combustion, and reduction. During devolatilization, methane and other hydrocarbons are produced from the biomass by the action of heat which leaves a reactive char. During combustion, the volatiles and char are partially burned in air/oxygen to generate heat and carbon dioxide. Whereas, in reduction phase, carbon dioxide absorbs heat and reacts with the remaining char to produce carbon monoxide. The main type of gasifiers used to carry out the conversion process are fixed bed gasifiers and fluidized bed gasifiers.
Government's support through various policies and regulations along with abundant availability of biomass, rising environmental concerns, and increasing green-house gas emissions due to which the companies are now turning towards environment-friendly energy resources. These are some of the factors which will drive the growth of the global Biomass gasification market. Moreover, governments of various countries are promoting multifaceted Biomass gasifier-based power plants for producing electricity using locally available biomass resources such as wood chips, cotton stalks, and rice husk. For instance, In India, about 150 MW Biomass gasifier systems have been set up for grid and off-grid projects. Also, more than 300 rice mills and other industries are utilizing gasifier systems for meeting their captive power and thermal applications. Additionally, almost 70 biomass gasifier systems are providing electricity to more than 230 villages in India. All these factors are likely to drive the Biomass gasification market.
Global Biomass gasification market is expected to witness substantial growth during the forecast period. The gasification industry has been witnessing a substantial growth across the globe with 272 operating gasification plants worldwide with 686 gasifiers as per Global Syngas Technologies Council. Biomass and waste feed currently hold a smaller share while there are still gasification plants using oil as feedstock. However, this market is expected to foresee a significant growth in the coming years.
Report Scope:
Report Attribute/Metric
Details
Market Size
2027: Significant Value
CAGR
8.50% CAGR (2020-2027)
Base Year
2019
Forecast Period
2020-2027
Historical Data
2018
Forecast Units
Value (USD Million)
Report Coverage
Revenue Forecast, Competitive Landscape, Growth Factors, and Trends
Segments Covered
Fuel Type and Application
Geographies Covered
North America, Europe, Asia-Pacific, and Rest of the World (RoW)
Key Vendors
Air Liquide, Thyssenkrupp AG, Synthesis Energy Systems Inc., Siemens, Sedin Engineering Company Limited, Royal Dutch Shell Plc, Mitsubishi Heavy Industries Ltd, Kbr Inc, General Electric, and Cb&I
Key Market Opportunities
New product launches and R&D amongst major key players
Key Market Drivers
Abundant availability of biomass
Rising environmental concerns
Increasing green-house gas emissions
Frequently Asked Questions (FAQ) :
---