Market Scenario
Biofortification is the process of enhancing the nutrient content of crops through conventional breeding, agronomy, or a transgenic-based approach. It is a potential strategy used to curb the increasing incidences of undernutrition. The global biofortification market can capitalize with an impressive CAGR of 8% and be valued, worth USD 160 Million by 2027. owing to the surging demand for nutritional food and increasing investments in agrigenomics. Government authorities, private agriculture research institutes, and agri-based firms are investing in public health programmes to provide biofortified crops to undernourished people, especially children. Moreover, technological advancements in agriculture and biotechnology are fuelling market growth as advanced transgenic techniques help in producing biofortified crops in a short duration of time with assured results.
The major factors hampering the growth of the global biofortification market are the lack of awareness about the benefits of nutritionally improved crops and presence of stringent regulations pertaining to the production and commercialization of transgenic crops. Owing to such regulations, the biofortification industry in Europe and North America are registering limited growth.
Segmentation
The global biofortification market has been segmented based on targeted crop, approach, targeted nutrient, and region.
Based on targeted crop, the global market has been divided into cereals and grains, fruits and vegetables, legumes and pulses, oilseeds, and others.
The global market has been classified, on the basis of approach, as transgenic, conventional breeding, and agronomy.
By targeted nutrient, the global market has been categorized as vitamins, minerals, amino acids, and others.
The global biofortification industry has been studied with regard to four key regions—Latin America, Africa, Asia-Pacific, and the rest of the world.
The Latin American biofortification market has further been segmented into Brazil, Guatemala, Mexico, Colombia, and the rest of Latin America. The African biofortification market has been classified as Nigeria, Malawi, Ghana, Congo, and the rest of Africa. The biofortification market in Asia-Pacific has been divided into China, India, Bangladesh, and the rest of Asia-Pacific. The biofortification market in the rest of the world has been segmented into North America, the Middle East, and Europe.
Key Players
DowDuPont (US), HarvestPlus (US), Syngenta (Switzerland), Bayer (Germany), and BASF SE (Germany) are some of the key players in the global biofortification market.
Regional Market Summary
Global Biofortification Market Share (%), by Region, 2019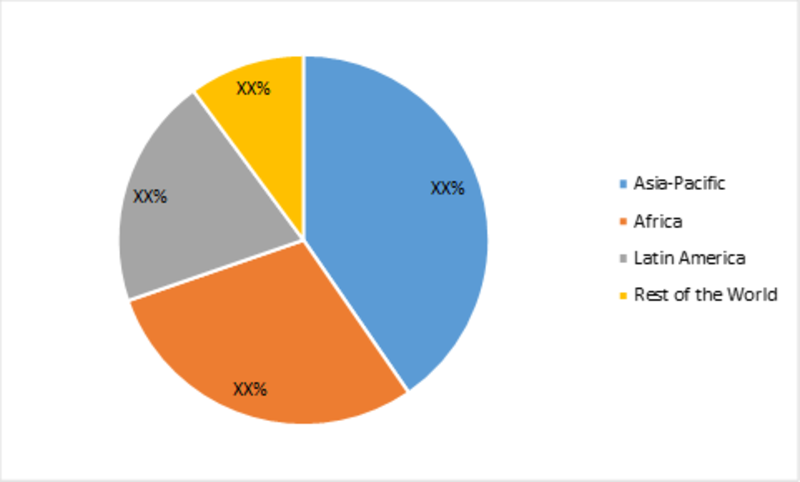 Source: Secondary Sources and MRFR Analysis
Asia-Pacific is projected to dominate the biofortification market during the forecast period due to the increased cultivation and consumption of biofortified crops in food processing and direct consumption. The growth of the agriculture industry in Asia-Pacific and increasing R&D investments in agricultural operations are also fuelling regional market growth. However, the African market is expected to register the highest CAGR during the forecast period owing to the increasing government initiatives in the region and rising awareness regarding the importance of nutrient-rich food to curb nutritional disorders.
Global Market, by Targeted Crop



Cereals and Grains




Fruits and Vegetables




Legumes and Pulses




Oilseeds




Others



Global Market, by Approach



Transgenic




Conventional Breeding




Agronomy



Global Market, by Targeted Nutrient



Vitamins




Minerals




Amino Acids




Others



Global Market, by Region



Latin America







Guatemala




Mexico




Colombia




Rest of Latin America











Africa







Nigeria




Malawi




Ghana




Congo




Rest of Africa











Asia-Pacific







China




India




Bangladesh




Rest of Asia-Pacific











Rest of the World (RoW)







North America




Middle East




Europe








Key Players in the Global Market



DowDuPont (US)




Syngenta (Switzerland)




HarvestPlus (US)




Bayer (Germany)




BASF SE (Germany)



Intended Audience



Biotechnology companies




Food & beverage processors




Agriculture associations




Feed manufacturers




Agriculture research institutes




Traders, exporters, and importers



Report Scope:
Report Attribute/Metric
Details
Market Size
USD 160 Million
CAGR
8% (2019-2027)
Base Year
2018
Forecast Period
2027
Historical Data
2015-2017
Forecast Units
Value (USD Million)
Report Coverage
Revenue Forecast, Competitive Landscape, Growth Factors, and Trends
Segments Covered
Targeted Crop, Approach, and Targeted Nutrient
Geographies Covered
North America, Europe, Asia-Pacific, and Rest of the World (RoW)
Key Vendors
DowDuPont (US), HarvestPlus (US), Syngenta (Switzerland), Bayer (Germany), and BASF SE (Germany)
Key Market Opportunities
Rising initiatives by government and non-government organizations to lower nutrition deficiency is a major determinant driving market growth.
Key Market Drivers
Massive demand for nutritional food.
Rising health awareness among people, increasing government initiatives, and surging prevalence of nutritional disorders
Frequently Asked Questions (FAQ) :
---