Big Data as a Service Market Overview:
What is Big Data? A question that revolves around all the professionals dealing will the increasing amount of data around the world in all the industries. Big Data Analytics is the solution to all this raw data revolving around us. It is the real-time data processing and extracting meaning out of this raw and metadata and find hidden patterns and relationships between the correlated data. Big data is the collection of data sets for which we cannot create buffer queries to process all this data so artificial intelligence with data analytics is being used to work on this cloud-based storage.
With an increased data volume and complex data sets, a 60% increase in adaptation of big data is recorded by business professionals in recent times. Data Science, machine learning, and artificial intelligence have filtered the use of increasingly raw data in form of big data. W; its once storing a small amount of data hardware servers were used, but it could no longer be possible due to increased data traffic of about multimillion bytes of data transfer per second of the day so Industry became a reliable Big Data as a Service Market trend.
Global Big Data as a Service Market, USD Billion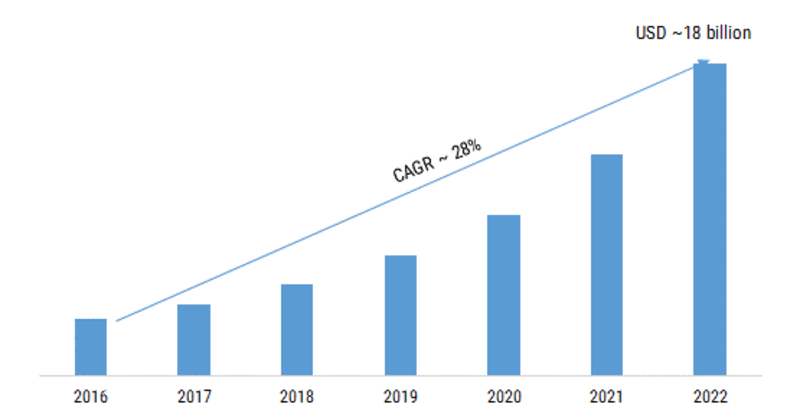 Source: MRFR Analysis


Big Data as a Service Market COVID-19 Analysis:
COVID-19 has impacted businesses and the world population around the globe; it is known to be one of the scariest viruses known to mankind as the treatment, source, and medicine are unknown to medical officials. Applying big data service to analyze the impact and areas the virus is spread has been helpful to humans and helped describe a pattern to follow for prevention against the virus. Hospitals from all over have maintained a track of all the affected people in coordination with the local government has made it easier to contain the virus at local levels. Segregating patients on the symptoms with fatal and non-fatal one's big data collection with statistical analysis has improved in the face of mankind.
Big Data as a Service Market Dynamics:
Drivers:
With an increased amount of raw data that cannot be processed using old scientific methods is no longer easier thus big data paved its way into the world of data science. Decision-making is the key holder of big data as a service as analyzing data and identifying patterns has become easier. Identifying hidden insights by using the data discovery method has given raw data meaningful answers. Big data has helped the media and entertainment departments attract more consuming customer patterns and suggesting them their desired media. Data extraction was time-consuming in traditional times but high-tech algorithms being used in big data technology have been a beneficial strategy in time preserving.
Opportunities:
The efficient and productive workaround by building models that produce effective decision-making techniques using Big Data Analysis has enhanced the access and continuous availability of information by creating new data sets on the data and creating test cases to increase the supply chain. Corporates have found Big Data an evolving technology by creating a deep understanding of real-time data and identifying patterns and enhance customer engagement for better productivity and scalability. Big Data markets better product designs by using minimal hardware and involving cost-effective technologies to develop real-time machines.
Technology Analysis:
Big Data as a Service Market trends have popular Cloud-based usage of artificial intelligence and data science making the world of data the largest source of semi constructed dataset which can be further used to discover meaningful insights by summarizing and accumulating these data sets. Data mining and diagnostic analysis are means he performs data recovery in the source of lost or fragmented data to analytics intelligence in predicting the latest Big Data as a Service Market trends and products. Big data in form of prescriptive analytics is the latest addition to the market trend to maximize profit in industrial fields. It works on the solution-building techniques and algorithms of the recurring problems by the means of machine learning and artificial intelligence. Hadoop, Cassandra, MongoDB, Talend are the tools involved in extracting meaningful information out of Big data by creating an open-source streaming platform for storing and analyzing the chunks of the dataset. Banking, telecommunication industry, healthcare and hospitals, entertainment and media platforms, educational platforms are the places where BIG DATA has evolved and optimized and marketed the latest trends.
Big Data as a Service Market Segment Overview:
By Service:
Big Data as Service is segmented as Cloud-based and On-premise. On-premise works on the functionality of evaluating data by building algorithms of stored data used for industrial purposes. Cloud-based functions more on multiple functions like Hadoop for data storage and analyzing multi-user data. Kafka uses big data as a service to in popular cloud-tolerance of streaming online patterns. AaaS (Analytical Data Service) used to analyze frequently changing data and developing patterns to segregate relatable data.
By Technology:
By technology, Big Data as a Service Market is segmented as hardware and software. Hardware in terms of servers for storing devices and hubs and switches connecting the servers in regions worldwide. Software segmentation is related more to the combination of all the data science machinery i.e. deep learning, python, Hadoop, Machine Learning, analytical reasoning, and cloud computing. A combination of all these helps develop and identify the patterns of raw data and accumulate progressive analysis for future use.
By Vertical:
Big Data as a Service Market is segmented by vertical in terms of small and large enterprises. Small enterprises as small as music apps like YouTube, Spotify, iTunes, etc. where who record and analyze the type and pattern of music listened to and videos played for different users and suggesting them a consolidated list of their liked music, and videos. Larger enterprises like shopping apps that use algorithms and internet surfing data to suggest products to users as per their requirements.
Regional Analysis:
With the everlasting increase in the data volume, it has been tough to store and record data physically thus, cloud computing was introduced which led to virtual storage of data. Internet services, artificial intelligence and other data science methods have shown a progressive growth to businesses and enterprises around the world. Globally more than 60% of the world's largest industries like telecom, healthcare, education, media, and entertainment have inclined their way in the big data market. Rural and urban areas have emerged profitable by making use of big data services as analysis. Hospitals have developed systems to store and analyze human disease and being proactive about it. IT companies have attracted more customers in the last decade in outsourcing services more than ever using the analytics to decode human behavior and extract valued information for meaningful purposes.
Big Data as a Service Market Competitive Landscape:
Big Data has transformed the world of data global age and analytic in the past decade as shown in the latest Big Data as a Service Market Forecast. The lobal industrial market is forecasted to show a growth in the big data market by 90% by the year 2022 with an expected expenditure of more than 180 billion US dollars. Many large vendors have invested in the data analytics methods of big data creating a global platform for data mining and refining for future industrial growth. North America and Canada's market size has grown impeccably in recent years as most American companies have invested in big data assets. Europe has emerged as a promising leader by improving technology use and changing to a constructive approach. Asia-Pacific (China, Japan, India, Australia) have shown developments in the big data market making them prominent players in the latest big data trends.
Big Data as a Service Market Recent Developments:
IBM using DB2 and latest cloud technology has been dominating Big Data as a Service Market since the year 2016 followed by Oracle(US) who has been automating the database services by decreasing the cost of storing data by making use of Oracle cloud and autonomous dB (19c) which predicts the data growth and helps in fragmentation of similar data and providing companies with the insight of meaningful data to increase their value and customers globally. Google (US), Amazon (US), and Microsoft (US) have added a total revenue of 35% to their country's market by digitalizing technology and adapting to the human interactive approach. SAP-HANA (Germany) is working on Europe's sustainable industrial growth. Hewlett-Packard (HP) (US), VMWare (US), Data Torrent (US) are other leading key players in the big data industry. Infosys (India) and HCL (India) have provided extreme outsourcing business to India by attracting high revenue-generating customers.
Big Data as a Service Market Report Overview:
IBM, Microsoft, Oracle, AWS, DELL, Cisco are the world leaders in analyzing and segmenting data and driving industrial business to new heights using big data statistics. Adapting to data analytics, machine learning and artificial intelligence all come at the hand of big data services that help in revenue growth.
Frequently Asked Questions (FAQ) :
---