Benzodiazepine Market Information, By Applications (anxiety, insomnia, agitation, seizures, muscle spasms, alcohol withdrawal symptoms), By time of action (Long acting, Short acting), - Forecast Till 2022

Market Synopsis of Benzodiazepine Market:
Market Scenario:
Benzodiazepines (BZD) are a class of psychoactive drugs with sedative, hypnotic (sleep-inducing), anti-anxiety, anticonvulsant, and muscle relaxant properties. Benzodiazepines (BZD) are useful in treating anxiety, insomnia, agitation, seizures, muscle spasms and alcohol withdrawal symptoms.
The prescribing of BZD's as a whole had diminished greatly since their heyday of the 1970s. After the late 1980s, the initial decline of BZD's was further hastened by the rise of the Selective Serotonin Reuptake Inhibitors (SSRIs) and the shift of psychiatry from anxiety to depression. However the tide turned in favor of BZD's by the year 2000.
Between 2005 and 2008, 11% of all Americans over the age of 12 took an anti-anxiety medication. This along with the development of Xanax and the inclusion of anti-anxiety medication in health care programs in the U.S. has led to revival of benzodiazepines. Other factor in favor of BZD's is the weak pipeline of novel anti-anxiety drugs and sluggish growth of 2.5 % CAGR in general anxiety disorder market.
The BZD are proving themselves as a middle ground as compared to other drugs, which has placed them in favorable positions once again, albeit in a declining market. Unless there is discovery of newer safer alternative drugs the BZD's are here to stay as they have lesser side effects as compared to barbiturates and the lack of efficacy and late onset of action of Selective Serotonin Reuptake Inhibitor (SSRI's).
Thus taking all these factors together, we expect the Benzodiazepine market to grow at a CAGR of 1.5% to 2.3% by 2022. The International Narcotics Control Board (INCB) reported that Italy (32 %), India (19 %), China (11 %) and Germany (10 %) were the leading manufacturers between 1997 and 2006.

Study Objectives Global Benzodiazepine Market:



To provide detail analysis of the market structure along with forecast for the next 7 years of the various segments and sub-segments of the global Benzodiazepine market




To provide insights about factors affecting the market growth




To analyze the market based on various factors- price analysis, supply chain analysis, porters five force analysis etc.




To provide historical and forecast revenue of the market segments and sub-segments with respect to four main geographies and their countries- Americas, Europe, Asia-Pacific, and Middle East & Africa.




To provide country level analysis of the market with respect to the current market size and future prospective.




To provide overview of key players and their strategic profiling in the market, comprehensively analyzing their core competencies, and drawing a competitive landscape for the market




To track and analyze competitive developments such as joint ventures, strategic alliances, mergers and acquisitions, new product developments, and research and developments globally.



Global Benzodiazepine Market, by Region 2015 (%):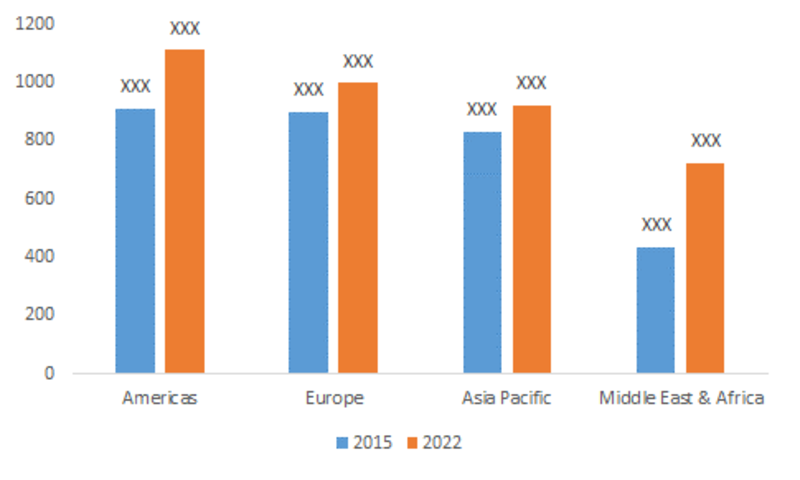 Intended Audience



Benzodiazepine manufacturers




Benzodiazepine suppliers




Private Research Laboratories




Research and Development (R&D) Companies




Market Research and Consulting Service Providers




Government Research Laboratories




Key Players for Global Benzodiazepine Market:
Some of the key players of this market are AstraZeneca plc, Eli Lilly and Company, Forest Laboratories, Inc., GlaxoSmithKline plc, H. Lundbeck A/S, Johnson & Johnson, Merck & Co., Inc., Pfizer, Inc. and Sanofi S.A.

Segments:
Global Benzodiazepine market has been segmented on the basis of applications (anxiety, insomnia, agitation, seizures, muscle spasms and alcohol withdrawal symptoms and as anesthesia supplements. On the basis of time of action the market is segmented into long acting and short acting Benzodiazepines.

Regional Analysis of Global Benzodiazepine Market:
Globally North America is the largest market for Benzodiazepine. The North American market for Benzodiazepine is expected to reach at USD 2.4 billion by the end of the forecast period of 2016-2022. Europe is the second-largest market for Benzodiazepine. Asia pacific region is expected to be fastest growing region in Benzodiazepine market.


The report for Global Benzodiazepine Market of Market Research Future comprises extensive primary research along with the detailed analysis of qualitative as well as quantitative aspects by various industry experts, key opinion leaders to gain the deeper insight of the market and industry performance. The report gives the clear picture of current market scenario which includes historical and projected market size in terms of value and volume, technological advancement, macro economical and governing factors in the market. The report provides detail information and strategies of the top key players in the industry. The report also gives a broad study of the different market segments and regions.
1 Introduction

1.1 Definition

1.2 Scope of Study

1.3 Research Objective

1.4 Assumptions & Limitations

1.5 Market Structure:

2 Research Methodology

2.1 Research Process

2.2 Primary Research

2.3 Secondary Research

3 Market Dynamics

3.1 Drivers

3.2 Restraints

3.3 Opportunities

3.4 Challenges

3.5 Macroeconomic Indicators

4 Market Factor Analysis

4.1 Porter's five forces model

4.1.1 Bargaining Power of suppliers

4.1.2 Bargaining Power of Customer

4.1.3 Intensity of Competitor's

4.1.4 Threat of New Entrants

5 Global Benzodiazepine Market, by Application

5.1 Introduction

5.1.1 Anxiety

5.1.2 Insomnia

5.1.3 Agitation

5.1.4 Seizures

5.1.5 Muscle spasms

5.1.6 Alcohol withdrawal symptoms

5.1.7 Anaesthesia supplements

7 Global Benzodiazepine Market, by Time of Action

7.1 Introduction

7.1.1 Long acting

7.1.3 Short acting

8 Global Benzodiazepine Market, by Regions

8.1 Introduction

8.1.1 Americas

8.1.1.1 North America

8.1.1.2 South America

8.1.2 Europe

8.1.2.1 Germany

8.1.2.2 France

8.1.2.3 UK

8.1.2.4 Italy

8.1.2.5 Spain

8.1.2.6 Rest of Europe

8.1.3 Asia Pacific

8.1.3.1 Japan

8.1.3.2 China

8.1.3.3 India

8.1.3.4 Republic of Korea

8.1.3.5 Rest of Asia Pacific

8.1.4 Middle East & Africa

9 Company Landscape

9.1 Introduction

9.1.1 Mergers Acquisitions

9.1.2 Collaborations

9.1.3 Release/New Product Launches

9.1.4 Other (Expansion, Updates, Partnership)

10 Company Profile

10.1 AstraZeneca plc

10.1.1 Company Overview

10.1.2 Product/Business Segment Overview

10.1.3 Financials

10.1.4 Key Developments

10.1.5 SWOT Analysis

10.2 Eli Lilly and Company

10.2.1 Overview

10.2.2 Product/Business Segment Overview

10.2.3 Financials

10.2.4 Key Developments

10.2.5 SWOT Analysis

10.3 GlaxoSmithKline plc

10.3.1 Overview

10.3.2 Product/Business Segment Overview

10.3.3 Financials

10.3.4 Key Developments

10.3.5 SWOT Analysis

10.4 Pfizer, Inc.

10.4.1 Overview

10.4.2 Product/Business Segment Overview

10.4.3 Financials

10.4.4 Key Developments

10.4.5 SWOT Analysis

10.5 Sanofi S.A.

10.5.1 Overview

10.5.2 Product/Business Segment Overview

10.5.3 Financials

10.5.4 Key Developments

10.5.5 SWOT Analysis

10.6 Merck & Co., Inc.

10.6.1 Overview

10.6.2 Product/Business Segment Overview

10.6.3 Financials

10.6.4 Key Developments

10.6.5 SWOT Analysis

10.7 Others

11 Appendix
List of Tables

TABLE 1 GLOBAL BENZODIAZEPINE MARKET, 2013-2022 (USD MILLION)

TABLE 2 GLOBAL BENZODIAZEPINE MARKET, BY APPLICATION, 2013-2022 (USD MILLION)

TABLE 3 GLOBAL BENZODIAZEPINE MARKET, BY TIME OF ACTION, 2013-2022 (USD MILLION)

TABLE 4 GLOBAL BENZODIAZEPINE MARKET, BY REGION, 2013-2022 (USD MILLION)
List of Figures
FIGURE 1 RESEARCH PROCESS

FIGURE 2 PORTERS FIVE FORCES MODEL

FIGURE 3 GLOBAL BENZODIAZEPINE MARKET, BY APPLICATION

FIGURE 4 GLOBAL BENZODIAZEPINE MARKET, BY TIME OF ACTION

FIGURE 5 GLOBAL BENZODIAZEPINE MARKET, BY REGION

FIGURE 6 GLOBAL BENZODIAZEPINE MARKET: COMPANY SHARE ANALYSIS, 2015 (%)