Market Scenario:
Gastrointestinal (GI) diseases affects stomach, large intestine and rectum, small intestine, oesophagus, liver, gallbladder and pancreas. The symptoms of GI diseases are heartburn, indigestion, bloating, constipation and many more. According to a report by the World Gastroenterology Organization, 35-40% of world's total population is suffering from acute or chronic GI complication. Increasing patient having GI diseases and disorders, due to change in dietary pattern are the major factor for increasing the Americas GI drug market. The exact cause for inflammatory bowel disease and Irritable bowel syndrome are still unknown due to which permanent cure for this disease is not available which may slow down the market growth.
The Americas gastrointestinal drug market is expected to grow at CAGR of 5% during forecasted period 2017- 2023. The market will be growing in the coming future, as the sale of the OTC (over the counter) drugs for gastrointestinal diseases are more.
Study Objectives Americas Gastrointestinal Drugs Market Research Report


To provide thorough understanding of various segment and sub segments of the gastrointestinal drugs market.



To provide detail analysis of the various regulatory rules on the growth of market.




To provide the detail overview of parent market.




To provide the detail information about drivers and restraints of the market.




To provide competitive landscape and key players in the market.




To analyze the market based on various factors- price analysis, supply chain analysis, porters five force analysis etc.




To provide detail trends and opportunities for the market.




To provide historical and forecast revenue of the market segments and sub-segments with respect to geography and their sub regions- North America and South America




To track and analyze competitive developments such as joint ventures, strategic alliances, mergers and acquisitions, new product developments, and research and developments in the Americas gastrointestinal drugs Market.



Market Synopsis for Americas Gastrointestinal Drug Market.
Market Assessment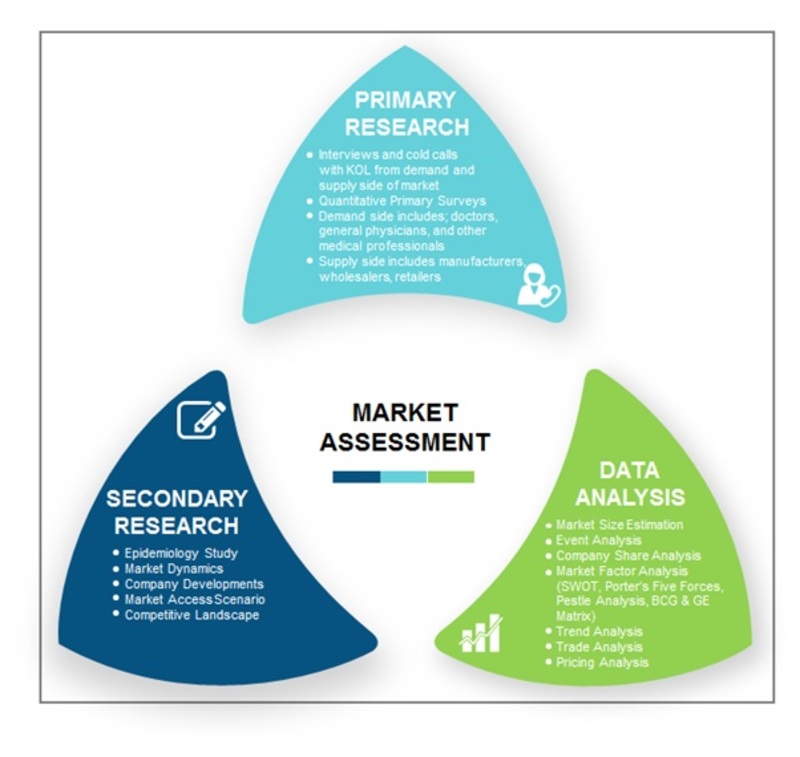 Segmentation
The Segmentation for Americas gastrointestinal drug market is done on the basis of drug category, route of administration, disease type, and by end users. On the basis of the drug category it comprises of Acid Neutralizers, Laxatives & Antidiarrheal, Anti-inflammatory, Antiemetic and others. Further the Acid Neutralizers are sub-segmented into Antacid, H2 antagonists, Proton Pump Inhibitors and others. On the basis of route of administration the segments includes oral, parental and rectal. On the basis of disease type it includes gastroesophaeal reflux diseases, inflammatory bowel diseases and others. The inflammatory diseases are further segmented into two types Crohn's diseases and ulcerative disease. The Ulcerative diseases are further sub segmented into ulcerative protitis, proctosigmoiditis, left sided colitis, pancolitis and acute severe ulcerartive colitis. The end user segment includes hospital pharmacies, retail pharmacies and others.
Figure: Americas Gastrointestinal Drugs Market by End Users, 2016 (%)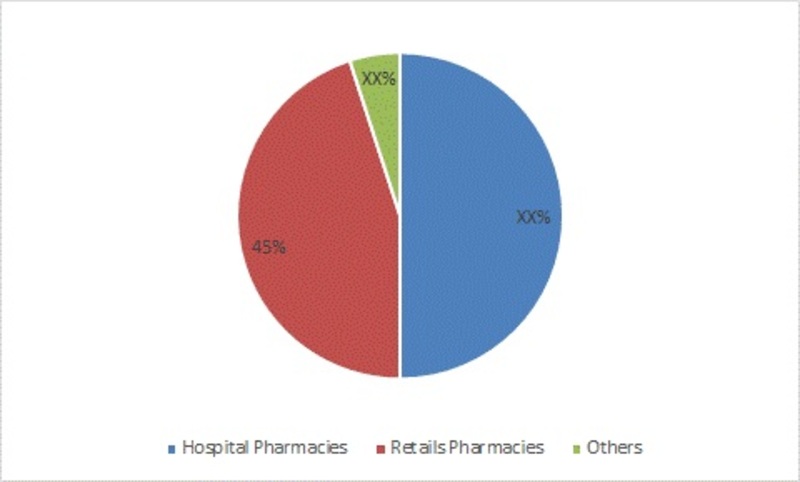 Regional Analysis
On regional basis America gastrointestinal drug market is segmented into two main region- North America, and South America. North America has the highest market for the gastrointestinal drug market. Increasing Geriatric Population is the major driving factor for the market of GI drugs in North America. While the major cause of the gastrointestinal diseases is stress full life and eating habit.
Players for Americas Gastrointestinal Drugs market
The players in global and local gastrointestinal drug market are AbbVie Inc. (US), AstraZeneca (UK), Valeant (US), Abbott Laboratories(US), Allergan Plc (US), Bayer AG (Germany), Janssen Biotech Inc. (US), Takeda Pharmaceutical Company Limited (Japan), Eisai Co., Ltd. (Japan), Valeant Pharmaceuticals (US), Sanofi (France), GlaxoSmithKline Plc. (UK), Boehringer Ingelheim GmbH (Germany). Evoke Pharma (US), Valent Pharmaceuticals(US)

The report for Americas Gastrointestinal Drugs Market Research Report of Market Research Future comprises of extensive primary research along with the detailed analysis of qualitative as well as quantitative aspects by various industry experts, key opinion leaders to gain the deeper insight of the market and industry performance. The report gives the clear picture of current market scenario which includes historical and projected market size in terms of value and volume, technological advancement, macro economical and governing factors in the market. The report provides details information and strategies of the top key players in the industry. The report also gives a broad study of the different markets segments and regions.
Intended Audience



Gastrointestinal Drug Manufacturers.




Pharmaceutical Industry.




Biotechnology Companies




Research and Development (R&D) Companies



TABLE OF CONTENTS

1 INTRODUCTION

1.1 DEFINITION

1.2 SCOPE OF STUDY

1.2.1 RESEARCH OBJECTIVE

1.2.2 ASSUMPTIONS & LIMITATIONS

1.2.2.1 ASSUMPTIONS

1.2.2.2 LIMITATIONS

1.3 MARKET STRUCTURE:

2 RESEARCH METHODOLOGY

2.1 RESEARCH PROCESS:

2.2 PRIMARY RESEARCH

2.3 SECONDARY RESEARCH:

3 MARKET DYNAMICS

3.1 DRIVERS

3.2 RESTRAINTS

3.3 OPPORTUNITIES

3.4 MACROECONOMIC INDICATORS

4 MARKET FACTOR ANALYSIS

4.1 PORTERS FIVE FORCES MODEL

4.2 BARGAINING POWER OF SUPPLIERS

4.3 BARGAINING POWER OF BUYERS

4.4 THREAT OF NEW ENTRANTS

4.5 THREAT OF SUBSTITUTES

4.6 INTENSITY OF RIVALRY

5. AMERICAS GASTROINTESTINAL DRUG MARKET, BY DRUG CATEGORY

5.1 ACID NEUTRALIZERS

5.1.1 ANTACID

5.1.2 H2 ANATAGONISTS

5.1.3 PROTON PUMP INHIBITORS

5.1.4 OTHERS

5.2 LAXATIVES & ANTIDIARRHEAL

5.3 ANTINFLAMMATORY

5.4 ANTIEMETIC

5.5 OTHER

6. AMERICAS GASTROINTESTINAL DRUG MARKET, BY ROUTE OF ADMINISTRATION

6.1 ORAL

6.2 PARENTAL

6.3 RECTAL

7. AMERICAS GASTROINTESTINAL DRUG MARKET, BY DISEASES TYPE

7.1 GASTROESPHAGEAL REFLUX DISEASES

7.2 INFLAMMATORY BOWEL DISEASES

7.2.1 CHRON'S DISEASE

7.2.2 ULCERTAVIE COLITIS

7.2.2.1 ULCERATIVE PROCTITIS

7.2.2.2 PROCTOSIGMOIDITIS

7.2.2.3 LEFT SIDED COLITIS

7.2.2.4 PANCOLITIS

7.2.2.5 ACUTE SEVERE ULCERTATIVE COLITIS

7.3 OTHER.

8. AMERICAS GASTROINTESTINAL DRUG MARKET, BY END USERS

8.1 HOSPITAL PHARMACIES

8.2 RETAIL PHARMACIES

8.3 OTHERS

9. AMERICAS GASTROINTESTINAL DRUG MARKET, BY REGION

9.1 INTRODUCTION

9.1.2 NORTH AMERICA

91.3. SOUTH AMERICA

10. COMPETITIVE LANDSCAPE

10.1 MAJOR STRATEGIES ADOPTED BY MARKET PLAYERS

10.1.1 STRATEGIC PARTNERSHIP

10.1.2 MERGER & ACQUISITION

11 COMPANY PROFILE

11.1 ABBVIE INC.

11.1.1 OVERVIEW

11.1.2 PRODUCT OVERVIEW

11.1.3 FINANCIALS

11.1.4 KEY DEVELOPMENTS

11.2 ABBOTT LABORATORIES

11.2.1 OVERVIEW

11.2.2 PRODUCT OVERVIEW

11.2.3 FINANCIALS

11.2.4 KEY DEVELOPMENTS

11.3 ALLERGEN PLC.

11.3.1 OVERVIEW

11.3.2 PRODUCT OVERVIEW

11.3.3 FINANCIALS

11.3.4 STRATEGY

11.3.5 KEY DEVELOPMENT

11.4 BAYER AG

11.4.1 OVERVIEW

11.4.2 PRODUCT OVERVIEW

11.4.3 FINANCIALS

11.4.4 KEY DEVELOPMENTS

11.5 BOEHRINGER INGELHEIM GMBH

11.5.1 OVERVIEW

11.5.2 PRODUCT OVERVIEW

11.5.3 FINANCIALS

11.5.4 KEY DEVELOPMENTS

11.6 GALXOSMITHKLINE

11.6.1 OVERVIEW

11.6.2 PRODUCT OVERVIEW

11.6.3 FINANCIALS

11.6.4 KEY DEVELOPMENTS

11.7 JASSEN PHARMACEUTICALS INC

11.7.1 OVERVIEW

11.7.2 PRODUCT OVERVIEW

11.7.3 FINANCIALS

11.7.4 KEY DEVELOPMENTS

11. 8 OTHERS