All-Terrain Vehicle (ATV) Market Scenario:
All-terrain vehicle market, which is expected to expand at 3% CAGR in the forecast period.
All-terrain vehicles also called as quad bikes, or quadricycles are vehicles with large and robust tires with low tire pressure, a wide seat that assists the driver to be seated in a comfortable position and are is fitted with a wide length handlebar allowing easy control and maneuverability to the driver. This automobile is designed to be ridden preferably as a single seater or with a pillion rider. The vehicle is designed to handle a large variety of terrains compared to other automobiles, which is not legal to be ridden on the streets of majority of countries, and thus, requires special permission for driving on the streets. All-terrain vehicles are generally designed to be ridden by a single operator, though some manufacturers design these vehicles to be ridden by the operator as well as the pillion riding passenger. The vehicle is to be operated more or less like a motorcycle, but the four wheels give it extra stability and control along with the scope to be easily maneuvered in difficult and unpredictable terrains. These vehicles are highly customizable and have an engine capacity ranging from 100CC to as high as 1000CC according to need and application. The all-terrain vehicle since its inception in the 1960s was a three-wheeler till the late 1980s. Suzuki Motor Corporation from Japan, was the first company to introduce the four-wheeled ATVs in 1982. Due to greater stability, engine efficiency and vehicle performance of the four-wheeler variant, the three-wheeled ATVs gradually phased out post 1987. After the trend of four-wheeled ATVs globally, the engine capacity by the manufacturers was increased sharply along with the ability to ride the vehicle in the most difficult of terrains and extreme riding conditions.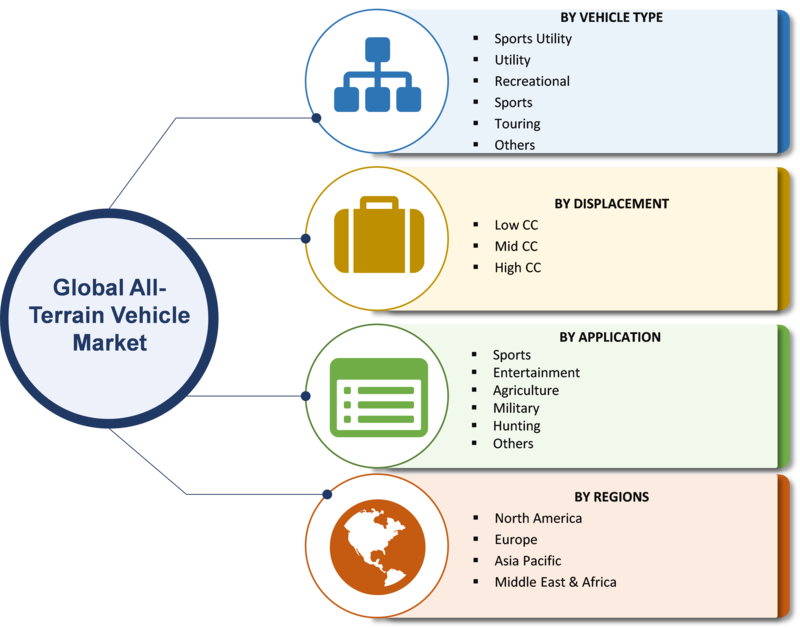 There are several factors responsible for the growth of the global all-terrain vehicle market. Firstly, the growing economy of the country is leading to higher purchasing power and spending capacity of individuals and societies for these leisure and adventure vehicles. Secondly, competitions involving all-terrain vehicles in the developed nations lead to greater tourism, which further drives this market. Thirdly, all-terrain vehicles present an easier option to people with disabilities or physical shortcomings to explore the natural terrain, which otherwise would have been a problem. All these reasons, justify the consistent expected growth of the global all-terrain vehicle market, which is expected to expand at 3% CAGR (2020 to 2027).
All-Terrain Vehicle Market by Segmentation:
On the basis of vehicle type, the sports utility category is the most widely sold and popular among customers. The sports utility ATVs are generally used explicitly for racing purpose. These vehicles thus tend be lighter, smaller and faster than other ATVs. These vehicles are easy to maneuver and thus, sudden and swift actions such as accelerating, and cornering become easier with their use. These are generally rear wheel drive, which in rare cases can be custom made and converted into a four-wheel drive vehicle. They are installed with robust and strong suspension system to ease the jerks while speeding or landing on the racing track. The utility ATVs are built with either four-wheel drive or two-wheel drive. They are generally used for towing large and heavy loads and thus, are often fitted with hooks, fenders and other accessories to help in the cargo transport. The touring ATVs have the same application as cruiser motorcycles. They are mainly used for touring over long distances. They can be maneuvered through multiple surfaces such as smooth roads, rocky terrains, uneven & muddy patches, and forest trails. These vehicles thus have larger engine capacity and a decent engine fuel mileage to aid long-distance travel. These are quite large in size compared to the sports utility vehicle but require less maintenance comparatively since the engine is not subjected to extreme and differential load over a short duration
On the basis of region, the market is segmented into North America, Asia Pacific, Europe, and Rest of the World. North America region leads the global production and sales of all types of ATVs. Countries such as U.S. and Canada have a vast and diverse landscape ranging from mountain ranges to huge forest spaces. ATV manufacturers thus, develop different vehicles, which can be used in different scenarios and landscapes. The biggest attraction in regards to ATVs in the U.S. is the annual ATV motorsport competition involving different formats such as snow racing, mountain terrain, rocky terrain, plain surface terrain. Thus, ATV competition causes significant growth in the tourism adding to the economy, which ultimately leads to the growth of this market.
Key Players
The key players in global all-terrain vehicle market are Honda Motor Company, Ltd. (Japan), Polaris Industries Inc. (U.S.), Yamaha Motor Company Limited (Japan), Bombardier Recreational Products (Canada) and Arctic Cat (U.S.). Kawasaki Heavy Industries Ltd. (Japan), Suzuki Motor Corporation (Japan), CFMOTO Powersports Inc. (U.S.), KTM AG (Austria) and BMW (Germany) are the other main players in this market.
The report for Global All-Terrain Vehicle Market of Market Research Future comprises extensive primary research along with the detailed analysis of qualitative and quantitative aspects by various industry experts, key opinion leaders to gain the deeper insight of the market and industry performance. The report gives the clear picture of current market scenario which includes historical and projected market size in terms of value and volume, technological advancement, macro economical and governing factors in the market. The report provides details information and strategies of the top key players in the industry. The report also gives a broad study of the different market segments and regions.
Report Scope:
| Report Attribute/Metric | Details |
| --- | --- |
| Market Size | 2027: USD 5 billion Value |
| CAGR | 3% CAGR (2018 to 2027) |
| Base Year | 2019 |
| Forecast Period | 2020-2027 |
| Historical Data | 2018 |
| Forecast Units | Value (USD Million) |
| Report Coverage | Revenue Forecast, Competitive Landscape, Growth Factors, and Trends |
| Segments Covered | Vehicle Type, Displacement and Application |
| Geographies Covered | North America, Europe, Asia-Pacific, and Rest of the World (RoW) |
| Key Vendors | onda Motor Company, Ltd. (Japan), Polaris Industries Inc. (U.S.), Yamaha Motor Company Limited (Japan), Bombardier Recreational Products (Canada) and Arctic Cat (U.S.). Kawasaki Heavy Industries Ltd. (Japan), Suzuki Motor Corporation (Japan), CFMOTO Powersports Inc. (U.S.), KTM AG (Austria), BMW (Germany) |
| Key Market Opportunities | Higher purchasing power and spending capacity of individuals and societies |
| Key Market Drivers | Increasing investments in recreational activities |
Speak to Analyst
Ask for Customization
Frequently Asked Questions (FAQ) :
---