Global Alkyd Resin Market Information: By Type (Oil Based, Modified, Water Reducible, Others) End-Use Industry (Building & Construction, Automotive, Industrial, Furniture, Others) Region (North America, Europe, Asia Pacific, Latin America, Middle East & Africa)- Forecast Till 2023
Synopsis of Alkyd Resin Market
Alkyd resins are produced by reacting dibasic acid or their anhydrides with polyols and drying oil. These resins are highly compatible with various synthetic paints owing to its versatility and good weathering properties. With different specific characteristics, polymer structure of alkyd resins is suitable to be used as a basis for enamels and paints production. Moreover, incorporation of volatile organic solvents and their low durability on exterior surfaces, yield high preeminence to newer polymer systems.
Market Research Future analyzed some of the protuberant factors that are propelling the market growth such as increasing demand for paints & coatings along with growing consumption of printing inks in packaging sectors. Furthermore, growing demand for the automotive refinishes is projected to drive the market growth. According to OICA, automotive refinishes occupies 26% of the global market share. Automotive refinishes provides excellent surface protection, visual appearance, and resistance to extreme weather, temperature, and water. Thus, factors such as high insurance cost, replacement demand from household swapping their old vehicles and increasing investment in vehicle refinish are contributing to the market growth.
However, stringent regulation laid by EPA and REACH owing to high VOC emission in coatings industry is likely to hinder the market growth. Alkyd resins are solvent borne containing 50% of VOC in the paint formulation. The main environmental issue with alkyd resin-based paints is a high usage of cobalt-based driers. Thus, shifting preference towards water-based latex paints are likely to provide an opportunity to the market players.
As per the MRFR analysis, the global alkyd resin market was valued at USD 2,610 million in 2016 and is projected to reach USD 3,257.7 million by 2023. The global market is expected to grow at CAGR 3.32% in terms of value and 3.07% in terms of volume.

Global Alkyd Resin Market, by End-Use Industry 2016 (%)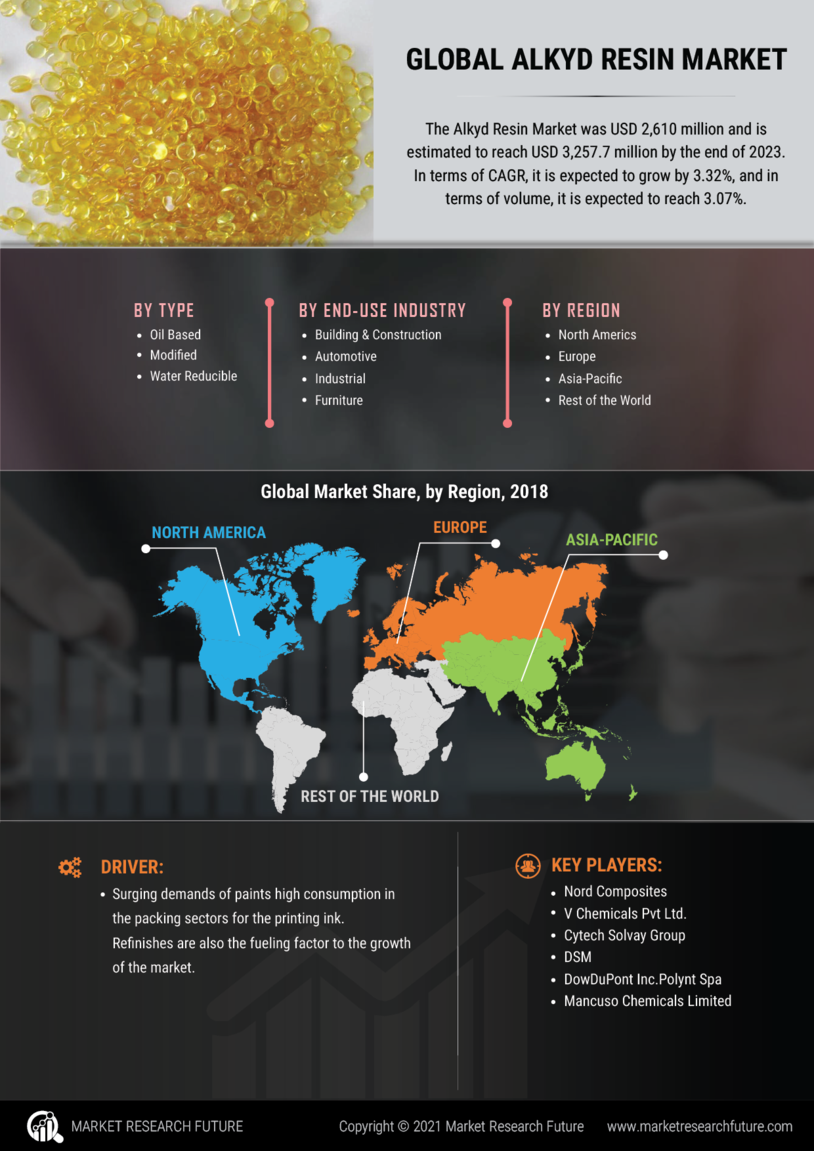 Source: MRFR Analysis
Regional Analysis
According to MRFR analysis, the global alkyd resin market is segmented into North America, Europe, Asia Pacific, Latin America, and the Middle East & Africa. Asia Pacific is leading the global market with 36% of market share and is estimated to reach USD 1213.5 million by 2023. The robust manufacturing base of automotive in China, South Korea, Japan, and India are likely to drive the sales of a passenger car, which, in turn, is expected to drive the alkyd resin market. Rehabilitation of old paint shops coupled with faster access to latest OEM digital color solution is expected to drive trend towards waterborne alkyd-based coating. Thus, advance technology and government efforts to reduce VOC emission is providing a lucrative opportunity to the alkyd resin manufacturers. Moreover, established construction industry and construction repair activities have driven the demand in this market.
The Middle East & Africa is the fastest growing market and is estimated to grow at a CAGR of 3.44% during the forecast period, 2017-2023. Rising demand for luxury cars and performance customization along with huge expenditure on infrastructure development are likely to drive the regional demand for alkyd resin market.
Russia, Germany, and the U.K are the most promising country level markets in Europe and led the second position of this region. Regulatory bodies such as REACH has specific norms on carbon emission driven by the rising awareness of the alkyd resin and its benefits on energy-saving operations. Germany holds the major part of this region with more than one-third regional market shares and is expanding at a significant CAGR of 3.29%. Large automotive hubs and supportive government regulations are likely to drive the automotive coatings market, which, in turn, may drive the alkyd resin market growth. The region has acquired 28% share of the global market and is expected to witness market growth at a CAGR of 3.04% during forecast period.
The emergence of China as a global manufacturing hub, proximity of cheap labor force, abundance of raw material, and emerging industrial economies are some of the factors pushing the growth of paints & coatings market, thereby, driving the alkyd resin market growth. Moreover, China market has generated the largest revenue of USD 586.3 million in 2016 and is likely to grow at a dynamic CAGR of 3.83% over the forecast period.
Segmentation
The alkyd resin market is segmented on the basis of type, end-use industry, and region. On the basis of the type, the market is segmented into oil-based, modified, water reducible, others. Oil based segment is leading the market with 42.0% market share and is estimated to reach USD 1,062.4 million by 2023. Market segmentation based on end-use industry includes building & construction, automotive, industrial, furniture, and others. Among these application industries, building & construction is leading the market growth owing to rising demand for water-based alkyd resins from the paints & coating industry. On the basis of the region, the global market is spanned across North America, Europe, Asia Pacific, Latin America, and the Middle East & Africa
Key Players.
Some of the key players operating in the global alkyd resin market are Polynt SpA, Nord Composites, Mancuso Chemicals Limited, D.S.V Chemicals Pvt Ltd., Macro Polymers, BASF SE, Spolchemie, DowDuPont Inc., DSM, Arkema SA, and Cytech Solvay Group.
Geographic Analysis
The report covers brief analysis of geographical region such as:
North America
Europe


Germany


K


Russia


France


Spain


Italy


Rest of Europe


Asia Pacific


China


India


Japan


Australia


Rest of Asia Pacific


Latin America


Brazil


Mexico


Argentina


Rest of Latin America


Middle East & Africa


Turkey


Israel


C.C.


North Africa


Rest of Middle East & Africa


Key Findings


Global alkyd resin market is projected to reach USD 3,257.7 million by 2023 at a CAGR of 3.32%


Asia Pacific emerged as the global leader in this market and has acquired 36% of the global share, expanding at CAGR of 3.82%


As per the analysis, the U.S., China, Germany, and Mexico was the most promising country-level market, which generated largest revenue due to the high presence of automotive refinishes producers, strong growth of the packaging industry along with large printing inks industry.


On the basis of the type, the oil-based alkyd resin dominated the global market in 2016, with significant market shares of 41.8% and is expected to witness an expanding CAGR of 3.07% during the forecast period. Similarly, the end-use industry is dominated by building & construction and is estimated to reach USD 1,192.3 million by 2023


Asia Pacific is likely to be the highly focused market for key industry participant over the assessment period. Increasing industrial investment, industrial automation, and industrial expansion have increased the importance of this region among the industry players


Intended Audience


Alkyd resin manufacturers


Traders and distributors of Alkyd resin manufacturers


Production process industries


Potential investors


Raw material suppliers