Market Snapshot
The Global Advanced Process Control Market is expected to expand at 12.09% CAGR during the forecast period 2017–2023.
Advanced process control is an optimization technique that is used by industries such as oil & gas, petrochemicals, pharmaceutical, and chemicals, to improvise the profitability and efficiency of their operational process. Process control plays a crucial role in process industries as its stabilized control loops, big process dead time, and process interactions. Model predictive control, inferential control, and regulatory control are the major types of advanced process control. There are various industrial sectors such as water & wastewater, oil and gas, power, paper & pulps, pharmaceuticals, petrochemicals, chemicals, food & beverages, and others, which are using and applying advanced process control in their process due to their ability to enhance the plant performance and stabilize the operations by reducing the process variable. There are several benefits associated with the APC such as it improves the production capacity, improves monitoring of process parameter, reduces energy consumption, offers predictive maintenance, and improved process safety. The growth of the advanced process control market is attributed to the increasing demand for the energy-efficient process control solution. The APCs curb energy loses during the processes such as furnaces, distillation, heat recovery, and steam power optimization. The industry experts can analyze the past energy consumption and energy profiles, which allows them to evaluate the thermal and energy losses, using APC these losses can be reduced which results in energy and cost-saving. Additionally, the increasing security and safety concerns in the process industries is also driving the APC market globally. However, the implementation cost for these techniques is high, which eventually, hampers the growth of the market.
Based on type, the global market has been segmented as advanced regulatory control, multivariable model predictive control, inferential control, sequential control, and compressor control. The multivariable model predictive control dominated the market in 2017 with a share of 33.2% and is expected to grow with 14.19% CAGR during the forecast period. Multivariable model predictive control technology can meet the requirements for specialized control for energy plants and petroleum refineries. Many industries, such as chemicals, oil & gas, food processing, and petrochemical, have adopted multivariable model predictive control strategies. Similarly, based on revenue source, the global market has been bifurcated as software and services. The software sub-segment dominated the market in 2017, growing with a CAGR of 12.25% during the forecast period.
Regional Analysis
Global Advanced Process Control Market Share, by Region, 2018 (%)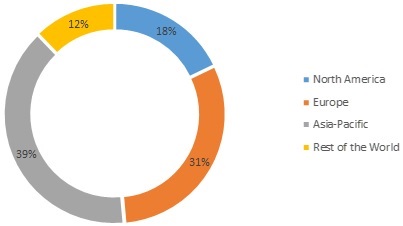 Source: - MRFR Analysis
The global advanced process control market by region has been segmented into North America, Europe, Asia-Pacific, and the rest of the world.
Asia-Pacific accounted for the largest market share of 39.2% in 2017, with a market value of USD 386.10 million; the global market is expected to register 13.79% CAGR during the forecast period. Europe was the second-largest market in 2017, valued at USD 302.87 million; it is projected to grow at the highest CAGR of 10.36%. The growth in the Asia-Pacific market is driven by the increasing power plants, manufacturing industries, and the growing requirement for industrial automation is fueling the growth of the market.
Companies Covered
The key players of global advanced process control market are General Electric Company (US), Siemens AG (Germany), ABB Ltd (Switzerland), Emerson Electric Corporation (US), Rockwell Automation, Inc. (US), Honeywell International (US), Yokogawa Electric Corporation (Japan), Schneider Electric (France), Aspen Technology, Inc. (US), and Rudolph Technologies, Inc. (US),
Key Developments



In July 2016

, Rudolph Technologies, Inc. revealed their new patent, Clearfind technology, that detects organic defects in advanced packaging inspection, which is impossible to be detected through conventional white-light imaging techniques.






In December 2017

,

Honeywell Process Solutions announced their advanced process control at the Bashneft oil refining complex. This advanced process control helped in increasing the output of products and decrease energy usage.






In October 2017

Rockwell Automation announced their collaboration with Cuyahoga Community College (Tri-C) on an industrial training program to provide training on advanced manufacturing to combat challenges faced by manufacturers.






In June 2017

, Aspen Technology, Inc. launched new aspenONE Version 10 software. This software includes aspenONE Asset Performance Management for processing and measuring equipment performance management.





June 2017

, Honeywell acquired Nextnine, a privately held provider of security management solutions and technologies for industrial cybersecurity. With this acquisition, they offered a comprehensive portfolio of cybersecurity solutions to protect and defend their industrial control systems and process control network.






In February 2018

, AspenTech acquired Apex Optimization, which is a European company specializing in dynamic optimization and advanced process control. With this acquisition, they introduced advanced process control with planning & scheduling, enabling unified production optimization for refineries and petrochemical companies.






In April 2018

, Yokogawa announced their plant resource management software tools for managing and monitoring a large volume of data that provides statistical data to identify the overall status of the devices in the manufacturing industry



Market Segmentation



By Type – Advanced Regulatory Control, Multivariable Model Predictive Control, Inferential Control, Sequential Control, and Compressor Control




By Revenue Source – Software and Services




By Application – Oil & Gas, Pharmaceuticals, Power, Food & Beverages, Petrochemicals, Chemicals, and Semiconductors



Key questions addressed by the report



What was the historic market size (2017)?



Which segmentation (

Type

/

Software Type

/

Revenue Source/ Application

) is driving market?



What will be the growth rate by 2023?




Who are the key players in this market?




What are the strategies adopted by key players?



Frequently Asked Questions (FAQ) :
---
Process manufacturing is a central manufacturing category, its importance can be felt across several industries including food & beverage, chemical, consumer package good and biotechnology among others. However, process manufacturing can often become precarious owing to its nature. Over the years, pressure has been constantly mounting on the process manufacturing industry to enhance operational standards and deploy systems that can increase the level of labor safety. At the same time, extensive energy requirement from the process manufacturing industry has been a major area of concern, grabbing the attention of environmental organizations and controlling authorities. Factors as such has been instrumental in driving the adoption of advanced process control (APC) across industries. In 2017, the global market for advanced process control was valued at over USD 984 Mn and is expected to surpass USD 1,900 Mn by the end of 2023.
Several advanced process control systems have come in recent years in part due to increasing regulatory pressure on the manufacturing sector. The growing trend of industrial process optimization as a measure to reach cost saving, safety and efficiency goals has partly guided the global market for advanced process control. Deployment of advanced process control not only lowers energy consumption but also checks thermal losses. APC is curbing energy loses in processes such as furnaces, distillation columns, reactors, heat recovery, and steam power optimization. Reduction in thermal losses eventually results in energy and cost saving, as well as achieve reduction in CO2 emissions. Nevertheless, high deployment cost remains an impediment for the market. Many of the small and mid-scale manufacturing plants continue to find it unviable to deploy APC systems. Another major factor currently undermining the market opportunities is the lack of knowledge and expertise pertaining to advanced process control system.
At this point, the future looks bright for the global APC market. Additionally, technologies such as big data analysis, cloud computing and industrial automation will play an important in ushering success for the market in the forthcoming years. Advanced big data analytics helps in data virtualization using cloud technology. Data virtualization helps in data integration by retrieving and manipulating data collected from various nodes, tiers, and clusters of industrial machines. Industrial processes are being revved up by leveraging data analytics. Manufacturers, investing in APC systems are likely to reap the benefits of improved data management and analysis capabilities in the years to come.
By type, the multivariable model segment currently command for the dominant share of the market and is expected to exhibit a relatively higher CAGR during forecast period 2017-2023. Multivariable model predictive control systems are extremely efficient and mainly used in specialized controls for energy plants and petroleum refineries. It is also being rapidly adopted in oil & gas chemical, and petrochemical processing plants.
By revenue source, the software segment in expected to remain highly lucrative in 2018 and beyond. During the review period, the segment is set to witness a double-digit CAGR. Relentless advancement in software and coding has led to development leading-edge software modules for APC that facilitate greater control and optimization of process manufacturing.
By application, the oil & gas industry segment is expected to retain its leading position over 2023. The oil and gas industry is among the early adopters of process control solutions. The oil & gas industry account for major percent of the overall market revenue. The changing regulatory framework makes process control systems an obligatory solution for the oil & gas sector. Furthermore, APC system also aiding the industry in bringing down production, transportation, and gasification costs. The oil & gas application segment is projected to post 12% CAGR during the forecast period.
Regional Analysis
Asia Pacific is the largest market for advanced process control followed by North America and Europe. Boom in the manufacturing sector in APAC has augured well for market players operating in the region. China's unchallenged leadership in manufacturing makes it a prime destination for players plotting to expand operations in the region. Apart from China, Australia, South Korea and India are other bright spots in Asia Pacific. Local policies makers are stepping up efforts to industrialization, which expected reflect favourably on the region's market. North America holds the second spot in the global advanced process control market. The region's dominance over the technology sector and presence of a robust manufacturing industry in the U.S. is having a positive impact of the North America APC market.
Competitive Analysis
Some of the key players operating in the global advanced process controls market include Aspen Technology, Inc., General Electric Co., Rockwell Automation, Inc., Schneider Electric SE, Yokogawa Corporation, ABB Ltd., Emerson Electric Co., Honeywell International, Inc., Rudolph Technologies, Inc., and Siemens AG.
Global Advanced Process Control Market: Competitive Landscape
The market for Advanced Process Control has attracted a number of industry giants, which include ABB Ltd., Honeywell International Inc., Siemens AG, Emerson Electric Corporation, Aspen Technology Inc. to name a few, who have collectively accounted for more than 51% of the market share of the global market, in 2017. These companies continue to retain their global presence through expansion, merger & acquisition, and extensive product portfolio.
In 2017, ABB Ltd. was the leading player in the market. The company pursued a strategy of product and technology innovation in close collaboration with the end-users by focusing on specialties and system solutions. ABB offers multivariable model predictive control (MPC) and inferential modeling platform to provide better process control and faster disturbance rejection to diverse end-use industries such as oil & gas, petrochemicals, cement and pulp & paper. The company has a strong global presence with close to 1,32,000 working employees. The company has strong corporate as well as government network worldwide, which facilitates in expanding their business as well as in strengthening their market position. This is in line with its strategy of optimizing its product portfolio and structures, according to different regional markets and trends.
Honeywell International Inc. held the second position in terms of market share, in 2017. Honeywell is a well-established multinational conglomerate, offering a wide range of products & services including aerospace products & services, turbochargers, energy efficient product solutions for home and businesses, specialty chemicals, and process technology for petrochemical refineries. The company has around 150 R&D institutes & centers around the globe and has 22,000 engineers working for them globally. For advanced process control, the company offers "OptiComp" software which works as model predictive control, regulatory control, and inferential control solution and predominantly serves oil & gas and petrochemical industries. The company is investing extensively in research & development activities to develop effective solutions to meet the consumer demand.
Siemens AG is a leading technology provider specialized in electrification, automation, and digitalization, acquiring the third spot in terms of market share. Siemens operates through the following reportable - Wind Power and Renewables, Energy Management, Building Technologies, Mobility, Digital Factory, and Process Industries & drives. The company has 3,51,000 working employees around the globe. Based on Advanced process control, the company offers model-predictive multivariable controller and serves refineries, petrochemical, oil & gas, chemical, and pharmaceutical industries. Furthermore, they are continuously acquiring and merging with technology companies to improvise their expertise with innovation. This also increases their physical strength which further is expected to impact the company's sustainable growth positively.
Emerson Electric Corporation is one of the most competitive players in this market and a leading manufacturer of process control systems, valves, and analytical instruments. Other than the U.S., the company operates through their offices located in China, India, Latin America, and Southeast Asia. The company has focussed on the execution of its strategies without losing focus on its key areas. Emerson focuses on leveraging its investments, technical expertise, and resources to build a strong market position. The company sees its key strategy as focusing on expanding its manufacturing capabilities to enhance efficiency and create new products. With a strong research & development team, they are building a firm market position by expanding their product portfolio, aiming to increase their customer base globally. Furthermore, they are enhancing their corporate network by expanding their business to the untapped geographies and alsocollaborating with industry experts to innovate products that are at par with the customer requirements.
Aspen Technology Inc. stands the 5th position in the global advanced process control market. Aspen is leading supplier of asset optimization software that optimizes process manufacturing for energy, chemicals, engineering & construction and other industries. The company offers solutions that help to streamline engineering, manufacturing, and supply chain operations. They have been modernizing the field of process modeling, simulation, and optimization. Company's specialties include asset optimization, asset performance management, machine learning, predictive & prescriptive analytics, and process simulation & modeling, advanced process control, planning & scheduling, manufacturing operations, supply chain management, and digital transformation. The company seeks to identify a new and innovative way to create values and improve customer experiences. The company emphasizes on acquiring other companies, developing innovative approaches, like alliances and partnerships to grow further in the existing market. The company is a global organization and executes significant efforts to grow in the current market.
The global Advanced Process Control market is characterized by the presence of global, regional, and local vendors. The market is highly competitive with all the players competing to gain a larger market share. Increasing competition, rapid advances in technology, frequent changes in government policies, and environmental regulations are the key factors challenging the market growth. The vendors compete based on cost, product quality, reliability, and aftermarket services. It is important for the vendors to provide cost-efficient and high-quality product and services, in order to survive and succeed in a rigorously competitive market environment.