Market Overview
The 5G Core ( 5GC ) is the core of a mobile network as ultra-connectivity turns into coverage differentiation and market versatility. It ensures stable and secure network connectivity and access to its facilities , defines the consistency of the infrastructure and imposes it by a strategy that allows for separation of services and controls wide area mobility within the network. 5GC uses virtualization techniques such as Cloud Native and Micro-Service to build and distribute different slices , including eMBB ( enhanced mobile broadband ) , URLLC ( ultra - reliability and low latency communication ) and mMTC ( massive machine-type communications ). It needs to support the subscription and collection of slices, separate various slices and restrict unauthorized networks from obtaining slices.
The 5GC network is developed from the baseline to support both virtualized and cloud native implementation, including pure software based networking functions and services. The 5G Core authenticates users and equipment, applies customized rules and controls the mobility of devices prior to the route of traffic to operator networks or the Internet. In the 5GC network, the UPF (user plane function) is key component of the gateway service and packet data network gateway features of the 4G LTE built packet center.
Global 5G Core Market size was valued at USD 361.053 Million in 2019 and is expected to grow at a compound annual growth rate (CAGR) of 72.00% from 2020 to 2026. Development of smart infrastructure and the growing demand for demand for cloud-native and service-based architecture is expected to propel market growth over the forecast period. However, data security concerns in the 5G core network can potentially impede the adoption of the 5G core system over the forecast period.
Global 5G Core Market, 2018–2026 (USD Million)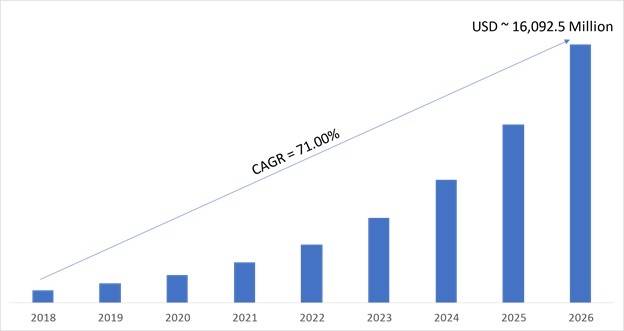 Source: MRFR Analysis
Impact of COVID-19
The outbreak of COVID-19 is undoubtedly expected to delay the deployment of the 5G system due to delays in further trials and testing needed to validate the reliability and processing performance of the 5G stand-alone networks. The global pandemic seems to have an additional effect, with telecommunications regulators suspending their 5G spectrum auction proposals, adversely affecting business growth. The pandemic of COVID-19 has infected each sector of society, including individuals and enterprises. In addition, as a result of the COVID-19 outbreak, core countries such as China and the US have seen a sharp decrease in exports of telecommunications equipment to the global market.
Synopsis
Global 5G Core Market has been segmented based on Component, Deployment Mode, Network Functions, End User, and Region.
Based on component , the 5G core market has been segmented into solutions and services. Furthermore, the solution segment sub segmented into professional services and managed services.
Based on deployment mode , the 5G core market has been segmented into cloud and on-premises.
Based on network functions , the 5G core market has been segmented into AMF ( Access And Mobility Management Function ) , SMF ( Session Management Function ) , UPF ( User Plane Function ) , PCF ( Policy Control Function ) , NEF ( Network Exposure Function ), NRF (NF Repository Function ) , UDM ( Unified Data Management ) , AUSF ( Authentication Server Function ) , AF ( Application Function ) , NSSF ( Network Slice Selection Function ) and Others.
Based on end user , the 5G core market has been segmented into telecom operators and enterprises.
Based on region, the 5G core market has been segmented into North America, Asia-Pacific, Europe, the Middle East & Africa, and South America
Regional Analysis
Geographically, the Global 5G core market has been segmented into North America, Asia-Pacific, Europe, the Middle East & Africa, and South America
North America held the largest share in the 5G core market, followed by Asia-Pacific and Europe; it is expected to continue to retain its dominance until the end of the forecast period. North America is one of the key markets for 5G technologies. The US accounted for the largest market share, followed by Canada and Mexico. The US holds an attractive market share in North America as significant companies such as Affirmed Networks , Mavenir, Cisco , HPE , Oracle , and Casa Systems register a notable emergence in the region. Asia-Pacific holds the highest CAGR during the forecast period. The region comprises major economies, such as Japan, China, and Singapore, which are likely to witness high growth rates in the 5G core market. The multitude of investments made in deploying 5G core by the aforementioned companies is anticipated to boost the market growth. Europe registered as second largest market share. Digital transformation trend across business is expected to expand at a significant market growth over the forecast period.
Companies Covered
The Key Players in the Global 5G Core Market are identified based on their country of origin, presence across different regions, recent key developments, product diversification, and industry expertise. These include Nokia ( Finland ), Ericsson ( Sweden ), Huawei ( China ), ZTE ( China ), Samsung ( South Korea ), Affirmed Networks ( US ), Mavenir( US ), NEC( Japan ), Cisco( US ), HPE ( US ), Oracle( US ), Athonet (Italy), Casa Systems ( US ), Cumucore ( Finland ), Druid Software( Ireland ), IPLOOK ( China ), and Metaswitch( UK ). The key strategies adopted by most of the players are partnerships, acquisitions, agreements, and collaborations
Key Developments
In February 2021, Nokia launched new DelOps initiative, a creative and innovative approach to resolving the complexities of core 5G software distribution and operations, and a new suite of CI/CD Services that can assist communication service providers (CSPs) understand improved operating reliability and speed of new services. Nokia's DelOps process enables CSPs to take advantage of DevOps-style product creation
In December 2020, Ericsson partnered with Rogers Communications o deploy standalone 5G network in Canada. Rogers Standalone 5G network is supported by Ericsson's dual-mode 5G core. Ericsson, Rogers and Qualcomm Technologies have jointly completed Standalone 5G testing on the latest Qualcomm Snapdragon 888 5G Mobile Platform
In February 2020, Affirmed Networks, a leader in mobile network 5G transformation collaborated with Millicom, a leading provider of cable and mobile services in Latin America for its cloud-based, 5G-ready core network solution. This solution allow a future introduction of 5G services to the region, bringing high-bandwidth, low-latency edge services such as augmented /virtual reality, real-time video streaming, and Internet of Things (IoT) applications closer to customers.
In February 2020, Mavenir 4G/5G network software provider for Communication Service Providers (CSPs) collaborated with a leader in the integration of IT and network technologies, NEC Corporation (NEC) to offer a 5G Open virtualized RAN (vRAN) Solution to the Japanese Enterprise Market. This partnership will work on 5G Open vRAN and Local 5G business developments and establish a simple and cost-efficient ecosystem in the market.
In June 2020, NEC Corporation partnered with Rakuten Mobile, Inc. to develop the containerized standalone (SA) 5G core network (5GC) to be utilized in Rakuten Mobile's fully virtualized cloud native 5G network. This partnership build a Japan-made, highly reliable 5GC, based on the 5GC software source code developed by NEC.
In February 2021, NEC, Netcracker and DigitalRoute collaborated to deliver DigitalRoute's Usage Data Platform alongside its 5G mobile core network (5GC). This partnership aim to drive innovation in global mobile technology and provide high quality 5G network technology to customers both in Japan and around the world. This joint venture also offers communications service providers (CSPs) the ability to quickly deploy 5GC with BSS functions that enable them to monetize any type of 5G business mode, including complex B2B and B2B2X scenarios.
Key Questions Addressed by the Report



What was the historic market size (2018)?




Which segmentation (Component/ Deployment Mode/ Network Functions/ And End User) are driving the market?




What will be the growth rate by 2026?




Who are the key players in this market?




What are the strategies adopted by key players?



Report Scope:
Report Attribute/Metric
Details
Market Size
USD 361.053 Million (2019)
CAGR
72.00% (2020- 2026)
Base Year
2019
Forecast Period
2020-2027
Historical Data
2018
Forecast Units
Value (USD Million)
Report Coverage
Revenue Forecast, Competitive Landscape, Growth Factors, and Trends
Segments Covered
By Component, By Deployment Mode
Geographies Covered
North America, Europe, Asia-Pacific, and Rest of the World (RoW)
Key Vendors
Nokia ( Finland ), Ericsson ( Sweden ), Huawei ( China ), ZTE ( China ), Samsung ( South Korea ), Affirmed Networks ( US ), Mavenir( US ), NEC( Japan ), Cisco( US ), HPE ( US ), Oracle( US ), Athonet (Italy), Casa Systems ( US ), Cumucore ( Finland ), Druid Software( Ireland ), IPLOOK ( China ), and Metaswitch( UK )
Key Market Opportunities
The US holds an attractive market share in North America as significant companies such as Affirmed Networks , Mavenir, Cisco , HPE , Oracle , and Casa Systems register a notable emergence in the region.\r\n
The region comprises major economies, such as Japan, China, and Singapore, which are likely to witness high growth rates in the 5G core marke
Key Market Drivers
The 5GC network is developed from the baseline to support both virtualized and cloud native implementation, including pure software based networking functions and services.\r\n
The 5G Core authenticates users and equipment, applies customized rules and controls the mobility of devices prior to the route of traffic to operator networks or the Internet
Frequently Asked Questions (FAQ) :
---