Pune, India, February 28, 2018 /press release/- Market Research Future Published a Half Cooked Research Report on Global Surfactants Market.

Market Overview:
Surfactants are widely used in the applications such as paints and coatings, textiles, institutional cleaners, food processing and agricultural chemicals among others. The global surfactants market is spanned across five regions of the world namely, Latin America, Asia Pacific, North America, Europe and the Middle East & Africa. The Asia Pacific region leads the global market and is projected to continue leading owing to the growing urbanization and industrialization in the developing countries of the region. India and China are major contributors to this growth of the region. The presence of the most populated countries has augmented the construction and automotive sector, which is expected to boost the market growth during the forecast years. Additionally, the growing demand for energy in the region has fuelled the oil and gas related activities, which, in turn, has augmented the use of surfactants. North America is a dominant region in the market of surfactants and is expected to retain its dominance during the forecast years. The developed end-user industry coupled with the increasing adoption rate is the major factor driving the market growth. The growing investment in the construction sector of the U.S. and Canada is further expected to surge the market growth over the forecast years.
European surfactants market is set to grow at a steady pace during the forecast period. The presence of the developed automobile sector and the electronics industry are the major factors driving the market growth. Furthermore, the developed pharmaceutical and personal care industry in Europe is also contributing substantially to the growth of the market. Moreover, the presence of arable land has also increased the demand for surfactants for the use of agricultural chemicals.
Access Report Details @ https://www.marketresearchfuture.com/reports/surfactants-market-1422
The global surfactants market share, by region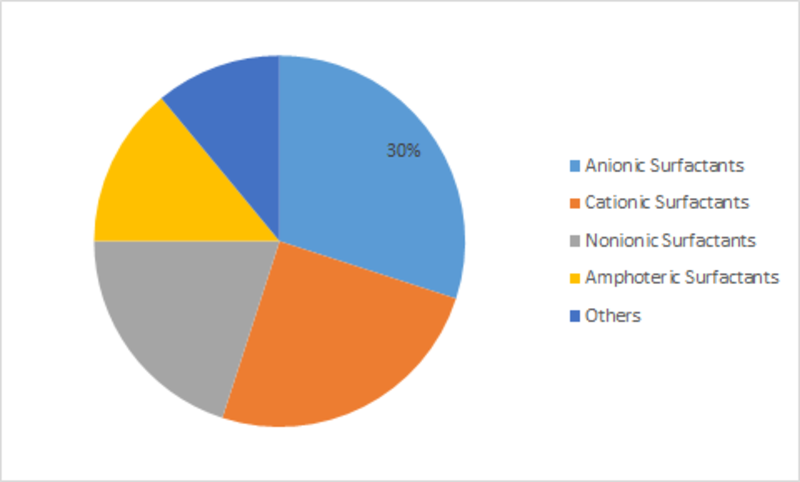 Source: MRFR analysis
Segmentation
The global surfactants market is segmented into product type and application. On the basis of the product type, the market is segregated into cationic surfactants, nonionic surfactants, anionic surfactants, amphoteric surfactants, and others. The market by application is further categorized into homecare & personal care, industrial and institutional cleaners, food processing, oil field chemicals, agricultural chemicals, textiles, emulsion polymerization, paints & coatings, building & construction, and others.
Competitive Analysis
Some of the prominent players operating in the global surfactants market: Akzonobel N.V (Netherland), Air Products and Chemicals, Inc (U.S.), Clariant AG (Switzerland), E. I. Du Pont De Nemours & Co (U.S.), Evonik Industries AG (Germany), Huntsman Corporation (U.S.), KAO Corporation (Japan), Solvay (Belgium), Stepan Company (U.S.) and Galaxy Surfactants Ltd (India) among others.