Pune, India, May, 2018/MRFR Press Release/- Market Research Future published a Half Cooked research report on global Onshore Wind Energy Market. The onshore wind energy market is expected to witness ~ 10.38% CAGR during the period 2022 to 2030.
Market Highlights
The demand for clean energy resources is increasing owing to the increased demand for electricity, and upcoming regulations unfavourable to conventional sources of energy. The continuous exploitation of renewable energy source has resulted in a higher number of wind energy projects around the globe. Innovation in the technology of wind turbines and wind parks has also added value to the onshore wind energy market. The large scale projects of power generation through wind farms and wind parks is expected to boost the onshore wind energy market.
Browse In-depth Details [Table of Content, List of Figures, List of Tables] of Onshore Wind Energy Market Research Report
Asia-Pacific onshore wind energy market dominates the global market due to the rising demand for energy and the highest focus on renewable sources. The factors for the growth of onshore wind energy market are enormous in the emerging economies of the region. Furthermore, the region is experiencing rapid industrialization and urbanization, which accounts for higher demand for electricity. The countries such as China, India, and Japan and Singapore are the most populated countries and are planning clean energy generation. Besides, there is a high potential of wind energy source from the Southeast Asian countries including Thailand and Malaysia. Thus, the region contributes the most in the onshore wind energy market share.
Global oil and gas waste heat recovery market is expected to expand at ~ 10.38% CAGR during the forecast period.
Drivers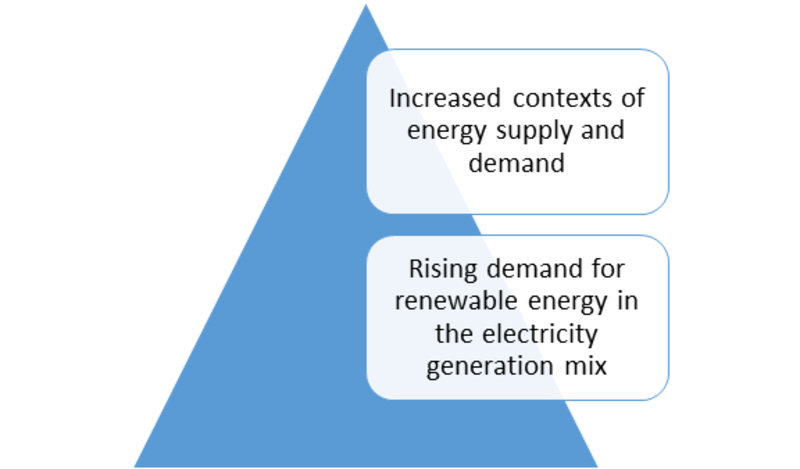 Market Research Analysis
Utilities by end-use, on-grid by connectivity, Peak power management by application and high wind speed by wind capacity are expected to hold the largest shares and expand the highest CAGR over the forecast period.
Global onshore wind energy market has been segmented on the basis of end-use, application, grid connectivity, power capacity, wind capacity and region. Based on end-use, the market is further segmented into utilities, commercial & industrial, hybrid power and others. Among these, the utilities segmented are expected to hold major market share. Since utilities are responsible to provide the electricity supply from the demanding sectors. There has been sharp increase in demand for electricity from last decade from the growing economies, thus utilities require more and more power to match the demand. Peak power management segment commands the largest market share by application type, the main reason being shortage of electricity during peak hours. Industries and factories need electricity during fixed working hours, which creates demand for energy during those hours. Onshore wind energy helps manage the power distribution at those hours making it the most dominating segment. Onshore wind energy generated is both off grid and on grid. Between these, on-grid segment is more dominating due to the fact that most electricity connections are connected to grid as power infrastructure is increasing at an exponential growth. The market is segmented as high wind speed, medium wind speed and low wind speed on the basis of wind capacity. The high wind speed project accounts for the largest number of projects as they are capable of generating power of high capacity.
Scope of the Report
This study provides an overview of the global Oil and Gas Waste Heat Recovery market, tracking four market segments across four geographic regions. The report studies key players, providing a five-year annual trend analysis that highlights market size, volume and share for North America, Europe, Asia Pacific (APAC) and Rest of the World (ROW). The report also provides a forecast, focusing on the market opportunities for the next five years for each region. The scope of the study segments the oil and gas waste heat recovery market by its sector, by application, by equipment, by end-user and by region.
By End-Use


Utilities


Commercial & Industrial


Hybrid power


Others


By Application


Peak power management


System stability


Demand responsibility


Frequency responsibility


Power storage


By Power capacity


Less than 500 KW


500 KW to 2 MW


More than 2 MW


By Grid connectivity
By Wind capacity


High wind speed


Medium speed wind


Low wind speed


By Regions


North America


Asia Pacific


Europe


Rest of the World


Key Players
The key players of global onshore wind energy market are Siemens AG (Germany), Envision energy (China), General Electric Wind Energy (U.S.), Suzlon (India), Vestas Wind System A/S (Denmark), Enercon GmbH (Germany) Mitsubishi Power Systems (Japan), Nordex S.E. (Germany), Repower (Switzerland), Gazelle Wind Turbines (U.K.), and Clipper Wind Power (UK) are among others.