Pune, India, December, 2018 /MRFR Press Release/- Market Research Future published a half-cooked research report on global digital oilfield market. The global digital oilfield market is projected to grow USD 28.61 Billion, with a CAGR of more than 6.5% in the forecast period 2022-2030.
Market Highlights
Digital oilfields encompass variety of tools, tasks and disciplines altogether. Advanced software and data analysis procedures used to improve the profitability of oil and gas operations. The main aim of digital oilfield is to minimize the non-productive time, maximize the oilfield recovery and increase the profitability. The digital oilfield includes production optimization, operational efficiency, decision support, collaboration, data integration, the melding of operation with information technology and Internet of things. It comprises a combination of network sensors, cloud computing, advanced big data analytics, and artificial intelligence.
Browse In-depth Details [Table of Content, List of Figures, List of Tables] of Digital Oilfield Market Research Report
Based on process, this segment includes Reservoir, Production, and Drilling Optimization. Among them production is estimated to have faster growth and largest market share in the forecast period because the growing demand of oil and gas. Based on solution, this segment includes Hardware, Software and Data Storage. Among these, hardware solution is projected to have faster growth and largest market share during the forecast period. As hardware solution includes smart well, distributed control system, wireless sensors, SCADA (Supervisory Control and Data Acquisition) and others and these are prime components for digital oilfield which are extensively used. Based on application this segment includes offshore and onshore.
The global digital oilfield market is projected to grow USD 28.61 billion, with a CAGR of more than 6.5% in the forecast period 2022-2030.
Drivers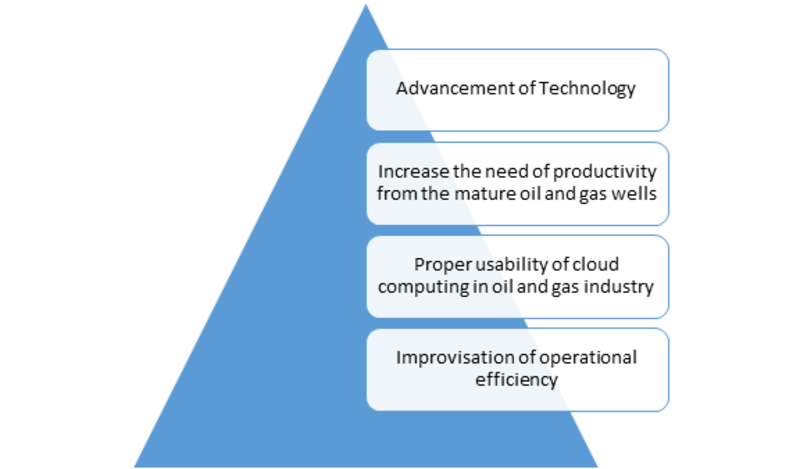 Market Research Analysis
North America accounts for the largest market share whereas Asia-Pacific is the fastest growing region.
Region wise, North America and Western Europe with their mature oilfields are having various number of project which are incorporated with digital oilfield. The main benefit of digital oilfield is wireless networking which provides high speed communication. For instance, In March 2018, BP has awarded a contract to Kongsberg Digital to design, build, install and perform the acceptance of sophisticated digital twin. The Kongsberg Digital model will be connected to Mad Dog 2 facility to create realistic simulation environment which will deliver dynamic decision support for production effciency in Gulf of Mexico region. It has been estimated that Asia-Pacific region will grow at the highest rate during the forecast period.
Scope of the Report
This report provides an in-depth analysis of the global digital oilfield market, tracking three market segments across four geographic regions. The report studies key players, providing a five-year annual trend analysis that highlights market size, and share for North America, Europe, Asia-Pacific and Middle East & Africa. The report also provides a forecast, focusing on the market opportunities for the next five years for each region. The scope of the study segments the digital oilfield market by its process, solution, application and by region.
By Process


Reservoir


Production


Drilling Optimization


By Solution


Hardware


Software


Data Storage


By Application
By Regions


North America


Asia-Pacific


Europe


Middle East & Africa


Key Players
The major key player in global digital oilfield market are Schlumberger Limited (US), Weatherford International plc (Switzerland), Halliburton (US), National Oilwell Varco (US), Baker Hughes Incorporated (US), Siemens AG (Germany), Kongsberg Oil & Gas Technologies Inc. (UK), Emerson Electric Co. (US), Rockwell Automation, Inc. (US) and they are highly capable to give finest service in the industry.