Pune, India, February 22, 2018 /press release/- Market Research Future Published a Half Cooked Research Report on Global Application Modernization Services Market
Market Overview:
According to Market Research Future, the global application modernization services market is segmented into type, organization size, industry vertical and region.
The application modernization services market is mainly impacted by certain factors. These factors help in the market growth and generating revenue. The factors include growing need of faster recognition and delivery of services in business, taking at most benefit from data analytics and related technologies, and the growing adoption of cloud computing in various industrial and enterprise applications. By type, the market is segmented into cloud application migration, application re-platforming, application integration, user interface modernization, postmodernization, and application portfolio assessment.
By organization size, the market is segmented into small and medium enterprises, and large enterprises. Among these, the large enterprises are expected to have the largest market share and will continue to dominate the market during the forecast period. The large enterprises can spend huge amounts on re-platforming, re-hosting, and operational expenses. These enterprises also possess private cloud where there is a reduced risk of security breach. However, the small and medium enterprises are expected to show a higher growth rate, as these organizations are highly adopting application transformation strategies by extensively using cloud computing.
On the basis of Industry vertical, the market is segmented into media and entertainment, healthcare, banking and financial services, IT & Telecom, manufacturing, government, retail and others. In terms of the industry vertical, the IT & Telecom and BFSI sectors highly eligible to lead the market of application modernization services market. These sectors hold sensitive customer data and also are dedicated to providing rapid customer service, for which the restructuring and modernization of applications are necessary. Apart from banking and financial services, and IT & Telecom, the application modernization is now being applied in various other industrial verticals.
Access Report Details @ https://www.marketresearchfuture.com/reports/application-modernization-services-market-5541
Global Application Modernization services Market, USD Billion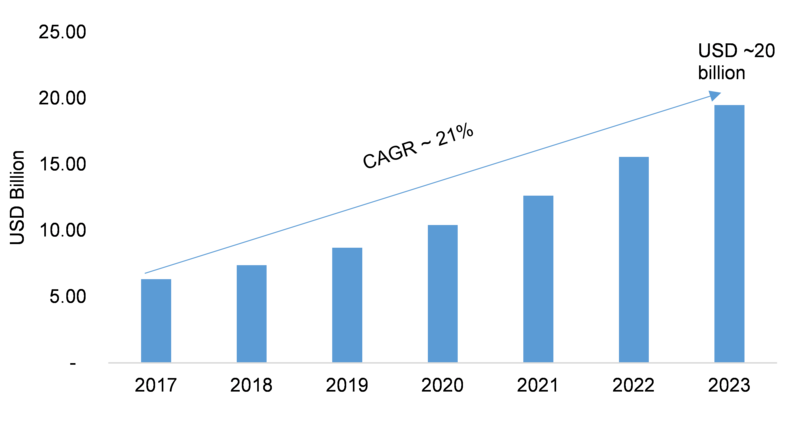 Source: MRFR Analysis
Key Players
Some of the key players in the Application Modernization Services market comprise of Accenture PLC (Ireland), Infosys Limited (India), HCL Technologies Limited (India), Sensiple (U.S.), Nous Infosystems Pvt. Ltd (India), DXC Technology Company (U.S.), Happiest Minds Technologies (India), Syntel, Inc (U.S.), Fujitsu Ltd (Japan), Avanade Inc. (U.S.), Espire Infolabs Pvt. Ltd (India), Idexcel, Inc (U.S.), Unisys Corporation (U.S.), Atos SE (France), Bell Integrator, Inc (U.S.), Tech Mahindra Limited (India), Oracle Corporation (U.S.).
The prominent players constantly keep innovating and investing in research and development to present a cost-effective portfolio. The enterprises have been going through various key developments, including mergers and acquisitions among the key players, enabling the business entities to strengthen their current outreach to their customers.