Global Shiitake Mushroom Market– Trends and Forecast till 2023
Shiitake mushroom is the third largest consumed mushroom across the globe after button and oyster mushroom. Shiitake appears as dark brown and have broad, umbrella-shaped caps, wide open veils, tan gills, and curved stems with a meaty texture. Shiitake has been a popular in the cuisine of Asia for hundreds of years, especially in Japan and China. Shiitake is known by different names in different regions. The Latin name is Lentinula edodes, although in English they're sometimes known as black forest mushrooms or Chinese black mushrooms.
Shiitake mushroom is majorly found in China, Japan and South Korea. During 1975 to 1980, Japan had major market share of more than 90% in Shiitake production followed by China. But from last three decades, market scenario has completely changed as natural disasters and increasing competition from other countries has affected the shiitake mushroom market in Japan. Increasing demand of medicinal mushroom across the globe and low pricing strategy by China has boosted the shiitake mushroom market in China to capture more than 92% of market share in shiitake mushroom market in the year 2017.
Fate of Shiitake in the Global Market
Globally, escalating demand for shiitake mushroom was backed up by diverse application of shiitake mushroom in pharmaceutical and cosmetics products. The shiitake mushroom market is projected to have a high growth rate during the corresponding period. Rising demand of shiitake from European countries especially from the Netherlands, Spain, and Poland has boosted the market. Apart from food application, shiitake mushrooms are mainly used in skin care products as it contains polysaccharides, triterpenes, proteins, lipids, phenols, and cerebrosides. These help as anti-irritants and antioxidants, and stimulate the skin's natural renewal process.
China plays major role in shiitake mushroom market, in terms of volume, and the country holds a significant share in the global market. Pharmaceutical and cosmetics application of shiitake in China collectively holds more than 40% of market share in the year 2016. In the Europe, Italy, Spain and the Netherlands have emerged as top shiitake producing countries and accounts more than 65% of market share in the year 2016. Improving the commercial value of products whether in a fresh or processed form could increase concentration of demand and encourage market orientation in Europe and Asia Pacific region.
Market share of shiitake mushroom by application in 2017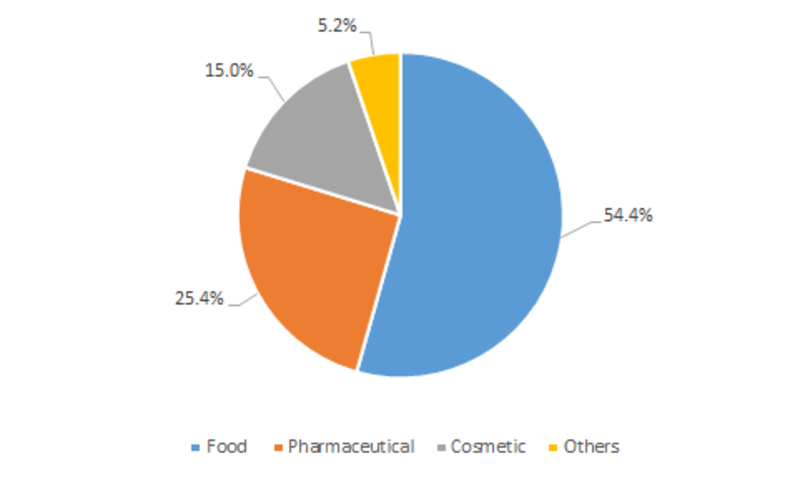 Source: MRFR Analysis
Food application of shiitake mushroom has major market share followed by pharmaceutical application. Increasing demand of shiitake extract especially for medicinal purpose will drive the pharmaceutical industry and it will witness the higher growth rate (~16.56%) during the period 2017 to 2023.
Shiitake mushroom has several applications in cosmetics, ranging from an exfoliant to an anti-inflammatory, helps in faster skin renewal, and act as a skin brightener by increasing skin elasticity. Shiitake mushroom is also used to make hair cosmetics as it helps to maintain the hygiene of the scalp and manipulate the structural properties of hair.
The other applications of shiitake includes production of organic fertilizer, water and soil purification as shiitake spent substrate which is used to remove and degrade pentachlorophenol (PCP).
Significant contribution from Asia Pacific region:
Shiitake mushrooms are highly popular in Asia Pacific region which also has maximum market share in the world which captures more than 92% of the market. Shiitake mushroom also has strong presence in the Europe region and is expected to grow at an exponential rate during 2017 to 2023. Most of the key players of shiitake mushroom are located in North America and Asia Pacific region due to increasing consumption of shiitake in the particular region. Italy, Germany, Spain and France are major specialty mushroom importers and account for more than 45% of market share in global specialty mushroom (including shiitake) imports. Italy usually imports shitake and other specialty mushrooms from China, Vietnam, Poland and Bulgaria.
Shiitake Mushroom Market Analyst View
The application of shiitake mushroom in pharmaceutical products will increase with the highest rate during the forecast period which will also increase the demand of shitake extracts by various pharmaceutical companies. With improved export channels for shiitake mushroom from Europe region, the export quantity of shiitake mushroom from China is identified to be decreased by 3.5% during 2010 to 2016. Key players are trying to penetrate the Middle East and Africa region as they have huge potential for market growth. Increasing investments by key players in Middle East will boost the market and it will grow at a significant rate. Dried shiitake mushroom will grow at a high rate in upcoming years due to its rise in demand from cosmetics and pharmaceutical industry. However, the growth of shiitake mushroom market can be influenced by some hidden factors such as climate conditions and innovations in pharmaceutical industry.