Food Safety Testing is a technical method of manufacturing, handling, and storing of food to prevent food borne diseases. Food safety testing is performed to supervise the quality and prevent the unwanted incidents of foodborne illnesses, toxicity or poisoning.
The global food safety testing market volume was 981.64 million tests in 2016, projected to grow at a CAGR of 5.5% to reach 1,353.5 million tests by 2022.
The growth due to stringent food safety regulations, increasing number of food poisoning outbreaks, and consumer awareness on food. The trend of globalization in food supply trade is expected to further create huge opportunity for food safety testing market.
The key market players include SGS SA (Switzerland), Eurofins (Europe), Intertek (U.K.), and Bureau Veritas (France) which use strategies such as new product/service launch, merger and acquisition, etc. to strengthen their position in the market. The major market players have focused in offering of new services for detection of different contaminants.
Increase in food contamination and outbreak of food poisoning to stir up demand for Food Safety Testing
The global food safety testing market has been segmented based on contaminants detection, testing technology, food types tested, and geography. Contaminants include pathogens such as salmonella, E. coli, listeria, campylobacter and other pathogens, GMOs, pesticides, toxins and other contaminants namely food allergens, chemical residues, etc. The global food safety testing market is gaining importance due to the pervasiveness of foodborne diseases worldwide. Increased stringencies of food safety rules and regulations by the government of trading countries have also been pushing the growth of this market. Other driving factors include increasing globalization of food trade and development of rapid food safety testing techniques.
Testing technology includes traditional namely culturing and assay method, and rapid testing such as convenience-based, PCR-based, immunoassay-based and other rapid methods. The food products are perishable and hence the advent of rapid testing methods is further improving the rapid food safety testing market. The food safety testing in different food includes meat & poultry, dairy, processed foods, fruit & vegetable, and other foods such as cereals, raw materials, etc.
Pathogens dominated the contaminants segment with salmonella taking the major share in food safety testing market. Nearly 50 food product recalls have been registered in U.S. during 2012, especially due to salmonella contamination. Increasing food contamination and outbreak of STEC poisoning has resulted in increasing the frequency of E. coli testing in the global market. Laboratories have been adopting rapid testing technologies to obtain faster results. PCR-based methods dominated the rapid testing market. Immunoassay-based technologies were employed usually for detection of toxins and food allergens. Other rapid detection methods offer test results with few hour of assay and thus are time & cost efficient owing to the perishable nature of food products.
Food Safety Testing: Market Share, By Contaminants, 2016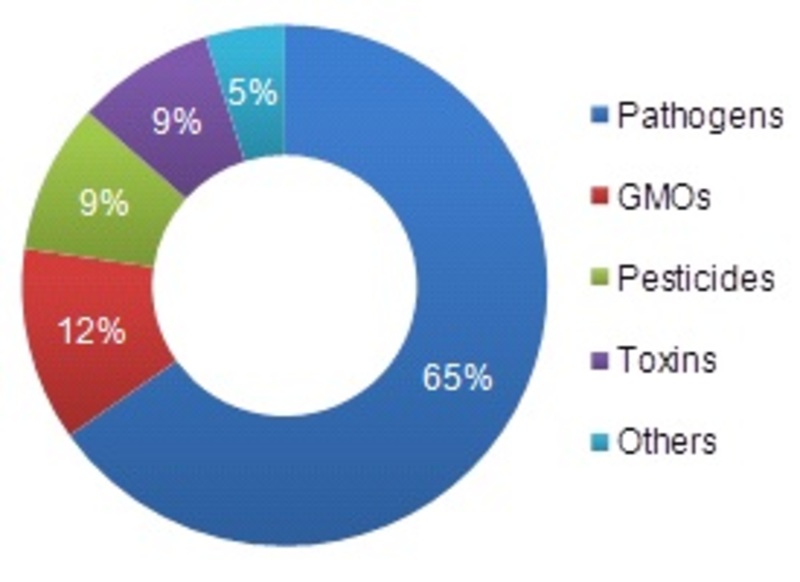 Source: MRFR Analysis
Food Safety Market Regional Analysis
In 2016, North America had the largest market share for food safety testing owing to the increasing awareness and outbreak of food borne diseases. Europe was the second largest food safety testing market projected to grow at a CAGR of 6.5% by 2022. Asia-Pacific is forecasted to be the fastest growing market with a CAGR of 9.3% through to 2022 due to increasing food export and growing domestic demand.
Food safety testing has been increasing in the global market due to increasing consumer awareness, implementation of food safety regulations, globalization of food trade, and advancement in technology. Food safety testing market in North America has been growing consistently. Increasing concern for food poisoning & toxicity and introduction of new testing service & products by key market players has expanded the food safety testing market in Europe. There has been a considerable growth in Europe food safety testing market from 2012 to 2016. Asia-Pacific market is expected to show tremendous growth in the near future.
The Government of many countries have started adopting consolidation strategy as a winning imperative to impose food safety and reduce the number of outbreaks. All this has facilitated the growth of food safety testing market in the respective countries. They have established single agency to lead food safety management or legislation and have modified their existing food safety laws. The approach, extent and purpose for consolidation among the food safety system in different countries differed.
The Government of many countries have framed food safety measures and mechanism to reduce the foodborne disease risks, and have aligned food safety testing labs in this procedure. FAO created EMPRES food safety strategic plan to provide food safety and assist timely. Besides identifying potential and emerging food safety threats, FAO provides scientific advice and builds capacity to address food safety risks. It responds promptly with technical support in food safety emergencies.
About Market Research Future (MRFR) Analysis and Reports
Market Research Future introduces about the Global Food Safety Testing Market during the forecast period 2014-2022 which mainly includes the growth drivers, trends and restrains and how the market will grow in the future across the region. In this report, Market Research Future has focused on the current market scenario which includes market segmentation, market dynamics, trade analysis and competitive landscape along with company profiles.
Every report of Market Research Future comprises of extensive primary research along with the detailed analysis of qualitative as well as quantitative aspects by various industry experts, key opinion leaders to gain the deeper insight of the market and industry performance. The report gives the clear picture of current market scenario which includes historical and projected market size in terms of value and volume, technological advancement, macro economical and governing factors in the market. The report provides details information and strategies of the top key players in the industry. The report also gives a broad study of the different market segments and regions.