Essential Oil Market Analysis, Trends & Forecast to 2022
Essential oils have been around for ages, and have proven their benefits to our health and happiness. An essential oil is a concentrated hydrophobic liquid containing volatile aroma compounds from plants. Essential oils are also identified as volatile oils, ethereal oils and aetherolea. Essential oils are extracted from different kinds of extraction process such as distillation, steam, solvent extraction, absolute oil extraction, resin tapping and cold pressing. The selection of extraction process is depend upon the type of essential oil and customized quality of essential oil. However, the purity of essential oil is also depends upon the season, geographical location, method and duration of distillation, year grown, weather and production process.
Essential oils are used for various application mainly because of its antimicrobial, antioxidant and anti-inflammatory properties. Due to unique properties of essential oil which are free from side effects, essential oils becoming popular in pharmaceutical sector. Aromatherapy is one of the trending therapies which use essential oil as major therapeutic agent to treat several diseases. This type of therapy is used across various combination to get relief on depression, indigestion, headache, muscular pain, skin ailment etc. Application of essential oil for the treatment of cancer and sleep disorder is gaining popularity in developed countries. In cosmetic aromatherapy, essential oils are used for skin, body, face and hair cosmetic products.
Essential Oil Market Information
Globally, essential oil market stood at USD 8.5 billion during the year 2012, backed by increasing awareness about health benefits of essential oil and its rising application in aromatherapy and personal care products. The essential oil market is projected to grow at CAGR of 7% during 2016 to 2022. Increasing consumer preferences for organic flavouring agent in food and beverages is supporting the growth of market. Growing demand for natural personal care products and pleasant aromatic cleaning agents is driving the market growth. Essential oils are mainly used in perfumes, soaps, cosmetics, air fresheners and other products and its application in pharmaceutical products is increasing due to its antibacterial, antifungal, antiviral and antimicrobial characteristics which will drive the growth of the market during forecast period.
Essential oils are largely used in food and beverages as consumers are replacing herbs with essential oils to get more nutritional value in their food and beverage. Other uses, such as health and wellness, cleaning products where essential oil used as sweet-smelling mixes, and healthy substitutes for synthetic drugs are anticipated to witness sustainable growth upcoming years. The natural personal care products and pleasant aromatic cleaning agent formed by using essential oil are in high demand which will boost the use of essential oil in this application sector.
Essential Oil Market: by Segments
There are different types of essential oils are available in the market. Tea tree, rosemary, peppermint and lavender are the most popular essential oils across the globe. Tea tree oil is made from leaves of the melaleuca alternifolia plant which is useful for the treatment of chest congestion, eliminate body odour and insect repellent whereas rosemary essential oil is used for cosmetic and house cleaning purpose. These essential oils are used in aromatherapy to boost the memory and to treat mood swing along with other psychological problems.
Market Share of Essential oil by Type in 2016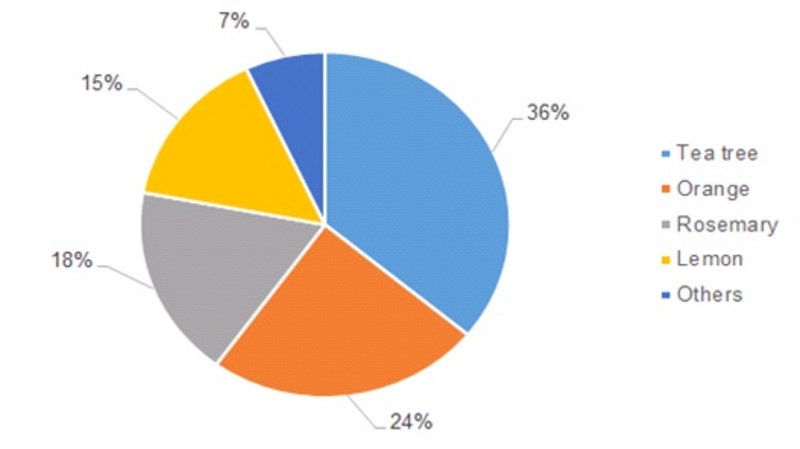 Tea tree essential oil has maximum market share followed by orange. Due to increasing popularity of aromatherapy, rosemary and lavender essential oils are growing at significant rate. The growth of particular essential oil depends upon its increasing application in different sectors and rising awareness about its health benefits among consumers.
From last few years the blended essential oil is gaining popularity among consumers as blended essential oils have more health benefits and can be used for different purposes such as aromatherapy, house cleaning and in medicines. Blended essential oils are also known for its calming effect and have characteristics to cure headache, nausea, skin and hair problems.
Essential oils contains lots of health benefits, and consumers are adopting it as an essential part of their lifestyle. Improving technology has accompanying the growing application base of essential oil in different sectors starting from medicines to personal care products. Rising trends and popularity of aromatherapy has also playing key role to make essential oil popular.
Essential Oil Market Regional Analysis:
Essential oils are highly popular in Europe which is also has maximum market share in the world which captures more than 40% of the market. Essential oils also have strong presence in North America region and growing at the rate of 8.3% during 2016 to 2022. Most of the key players of essential oil are located in North America region especially in U.S. In North America high per capita income, governmental subsidies and tax benefits are encouraging the production and application of essential oils in various field. Asia Pacific region is attracting the manufacturers of essential oils as it is the reach source of raw material and has cheap labour force. There is a lots of scope for essential oil manufacturers to penetrate Middle East and Africa region. APAC region is growing at higher rate ~9.6% which is boosting sales of essential oils especially made from different variety of herbs and spices. Innovation in extraction process will change the dynamics of essential oil market in upcoming years.
Essential Oil Market Key Player Analysis:
The key market players of essential oils include Young Living (U.S.), Sydney Essential Oils (Australia), Biolandes (France), dōTERRA (U.S.) and Farotti SRL (Italy). These key players are using strategies such as new product/service launch, merger and acquisition, etc. to strengthen their position in the market. The major market players have focused on expanding the product portfolio and they are mostly integrated along the value chain to obtain raw materials and to perform logistics operations to achieve cost benefits. Heavy investment in research and development activities is likely to provide new opportunities for pharmaceutical industry to use health benefits of different essential oils. The cost involved in extraction process of essential oil is major concern for manufacturers and they are focusing on research and development activities to overcome it.
Essential Oil Market Analyst View
The application of essential oil in pharmaceutical products will increase by 11.5% which will also increase the demand of cardamom and lemon essential oils by pharmaceutical companies. With rising export of essential oils from Asia Pacific, the export quantity of essential oils from Europe will decrease by 19% during 2016 to 2022. Key manufacturers are trying to penetrate the Middle East and Africa region as they have huge potential for market growth. Increasing investments by key players in Middle East will boost the market and it will grow at the rate of 6.7%. Orange essential oil will capture the maximum market share in upcoming years due to its rise in demand from aromatherapy, food and beverages as a fragrance and flavouring agent. However, the growth of essential oil market can be influenced by some hidden factors such as climate conditions and innovation in pharmaceutical industry.
About Market Research Future (MRFR) Analysis and Reports
Market Research Future presents information about the Global Essential Oil Market from 2015 to 2022 which mainly includes growth drivers, trends, restrains and how the market will grow in the future across the globe. In report, Market Research Future has focused on the current market scenario which includes market segmentation, market dynamics and competitive landscape along with company profiles.
Every report by Market Research Future comprises of extensive primary research along with this detail analysis of qualitative as well as quantitative aspects by various industry experts, key opinion leaders is also given to gain a deeper insight of the market and industry performance. The report gives a clear picture of current market scenario which includes past and estimated future market size in terms of value and volume, technological advancement, macro economical and governing factors in the market. The report provides detail information about and strategies used by top key players in the industry. The report also gives a broad study of different market segments and regions.