The global market in terms of value for both inhaler devices and medicines is growing hand in hand as for the inhalation of medicines inhaling devices are required. According to the study conducted by MRFR analysts, the "Global COPD inhalers market is expected to reach ~$61.3 billion by 2022 with a compound annual growth rate of ~5.3% from 2016."


COPD Inhalers Market: Segmentation & Analysis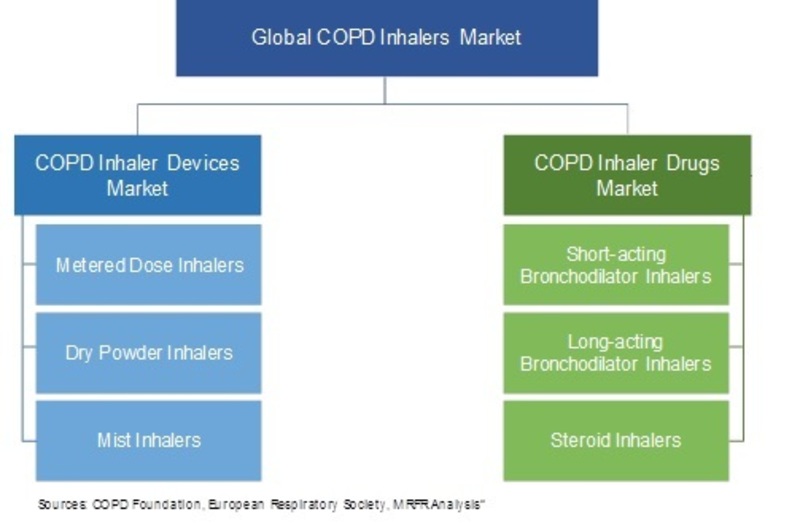 Several types of COPD Inhaler devices are prevalent amongst COPD patients such as manually actuated pressurised metered-dose inhalers, breath-actuated pressurised metered-dose inhalers (MDIs), Dry Powder Inhalers (DPI) and mist inhalers. However, majority of COPD patients use actuated pressurised metered-dose inhalers (pMDIs) and Breath-actuated pressurised metered-dose inhalers which are small and handy inhalers which require pressurised inactive gas to impel a dose of medicine. Other types such as Dry powder inhalers and mist inhalers which are comparatively uses new technology are gaining the market attention and is showing higher pace of growth in this market.
Over the years, COPD inhaler medicines market has witnessed addition of innovative medicines for the treatment. Based on the severity of disease, Inhaler medicines are classified into rescue and controller medicines. Controller medicines are prescribed every day whereas rescue medicines are to be taken once in a while under the good control of COPD. Out of these two types, controller medicines command the major market share. These medicines are usually classified into short-acting bronchodilators (each dose effective for 3-6 hours), long- acting bronchodilators (each dose effective for at least 12 hours) and steroids (given in combination with a beta-agonist long-acting inhaler). Some of the established and highest revenue generating medicine brands in this segment are GSK's Advair, AstraZeneca's Symbicort, and Boehringer Ingelheim's Spiriva.
Many of the pharmaceutical giants are spending a large amount of fund on the research and development of COPD treatment. Currently, around 42 clinical trials are enrolling patients to study the efficacy and safety of COPD inhalers devices and inhaler medicines.
COPD Inhalers Market: Regional Analysis
North America is recorded to be the largest and one of the rapidly growing markets due to increasing COPD cases. According to COPD foundation, there were around 30 million COPD people alone in America in 2015. The United States is one of the countries with highest number of COPD cases amongst other countries in North American region.
Following US Europe is the second-largest market in the world with the growing incidence of disease in the countries such as UK, France, Germany and Belgium. In Europe alone, about 55% of these total studies are conducted, UK being at the top of this list is conducting highest number of clinical trials along with Netherlands, Germany, Denmark, Belgium, Finland, Romania and other EU countries.
APAC followed by the Middle East and Africa are the growing markets in this industry due to increasing number of ageing population, a large number of COPD population, rising tobacco consumption and increased number of smoking population (COPD Foundation, 2017).
COPD Inhalers Market: Key Player Analysis
Some of the major players conducting these clinical trials comprises AstraZeneca, Boehringer Ingelheim, Teva Pharmaceutical Industries, GlaxoSmithKline, Novartis Pharmaceuticals, Teva pharmaceuticals, Merck &Co. and Chiesi Farmaceutici S.p.A. amongst others. GSK's Triple combination therapy (fluticasone furoate/umeclidinium/vilanterol), mepolizumab 961081, 961081 + fluticasone furoate, 2269557 and danirixin; AstraZeneca's PT010, PT003, benralizumab TERRANOVA GALATHEA, Teva Pharma's TEV-48107 (tidal inhaler) are promising pipeline drugs in the COPD inhaler medicines market.

MRFR Analyst View: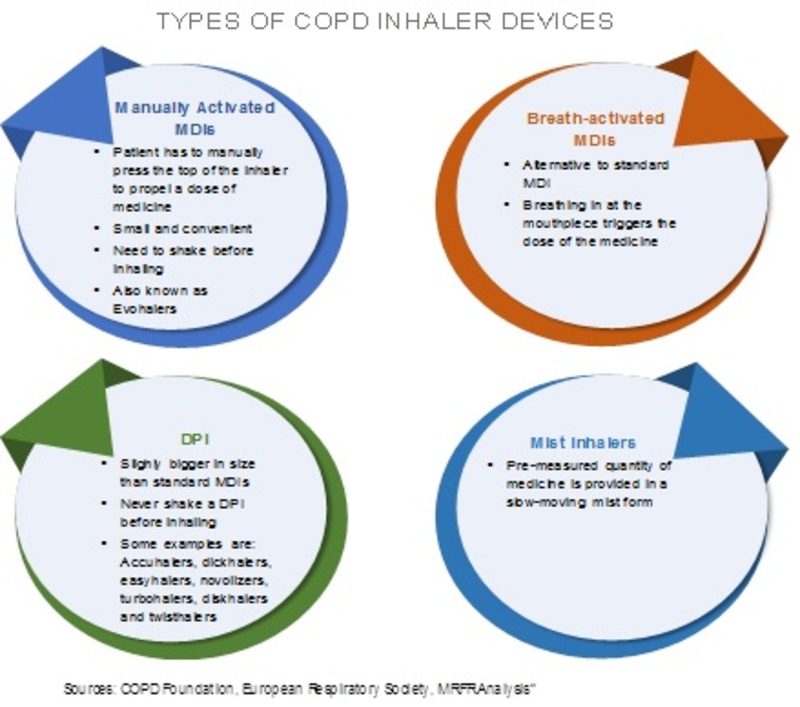 Based on the current situations in the field of COPD therapeutic area, a good amount of research is going on by major pharmaceutical companies to find out the best possible treatment options for COPD. However, there is a dearth of focus on indirect treatment options such as COPD awareness campaigns and pulmonary rehabilitation canters. All the leading players in the industry can come up with such pulmonary rehabilitation centres as a part of their CSR activity which would help in the early detection of COPD. This initiative would also be useful for their branding and would clearly increase the treatment options for COPD patients giving them a better life.
Furthermore, with growing incidence cases, various studies conducted by WHO and national health authorities in various countries, COPD has come up to be one of the alarming cause of death all over the world, which soon needs to be taken under control. The governments of various countries, NGOs and research foundations are actively participating in this research area to provide some sort of solution to the affected population. Although the incidence cases of COPD are growing year on year, there is a hope of cure with the increasing research and development in this therapeutic area.
Sources: MRFR Databases, COPD Foundation, European Respiratory Society, Paid Databases, Company Websites, Annual Reports, Journals, Associations, Expert Interviews, MRFR Analysis.
About Market Research Future (MRFR) Analysis and Reports

Market Research Future introduces about the global COPD inhaler market for the period 2014-2022 mainly includes growth drivers, trends, restrains and how the market will grow in the future across the globe. In report, Market Research Future has focused on the current market scenario which includes market segmentation, market dynamics and competitive landscape along with company profiles.
Every report of Market Research Future comprises of extensive primary research along with the detailed analysis of qualitative as well as quantitative aspects by various industry experts, key opinion leaders to gain the deeper insight of the market and industry performance. The report gives the clear picture of current market scenario which includes historical and projected market size in terms of value and volume, technological advancement, macro economical and governing factors in the market. The report provides details information and strategies of the top key players in the industry. The report also gives a broad study of the different market segments and regions.