Calcium Nitrate Market Introduction
Calcium nitrate is a colorless crystalline compound with molecular formula Ca(NO3)2. It is anhydrous salt that absorbs moisture from air and is soluble in water and alcohol. Calcium nitrate contains calcium and nitrogen and is mainly manufactured by three processes namely, treating limestone with weak nitric acid, reacting phosphate rock with nitric acid, or reacting ammonium nitrate with calcium hydroxide. Major applications of global calcium nitrate market include waste water treatment chemicals, agriculture, concrete production, latex production and others. Other application comprises niche applications such as molten salts and regeneration of cold packs. Among the prominent applications, fertilizers is estimated to be the largest application. It is used as a source of nitrogen element for the plants which is an essential nutrient for plant growth. Additionally, Calcium nitrate based fertilizer do not acidify the soil nor does it evaporate to atmosphere like ammonia. Owing to such superior characteristics calcium nitrate is widely used in fertilizer application.

Moreover, calcium ion in calcium nitrate accelerates the formation of concrete admixtures. In concrete mixing, the iron hydroxide layer formed due to nitrogen ion reduces the corrosion in concrete. It is used at construction sites where instant settling of concrete mixture is required. Furthermore, Calcium nitrate is used in waste water preconditioning in order to reduce odor emissions into the atmosphere. Liquid form calcium nitrate is used to limit the hydrogen sulfide in order to control the odor emission. The global calcium nitrate market is estimated to be significantly consolidated with the production concentrated in China and Europe. In terms of consumption, the market is witnessing shift towards emerging markets in Asia Pacific and MEA, owing to the growing food demand in the regions.

Calcium Nitrate Market Dynamics
The global calcium nitrate market is estimated to be driven by increasing consumption of calcium nitrate fertilizers along with increasing need of municipal and industrial waste water treatment. Rise in population has boosted the food demand globally, which subsequently drives the fertilizer demand in order to increase the crop yield. As calcium nitrate do not sour the soil, nor does it contain heavy metals or chlorides, it remains unaffected during temperature changes. This makes the calcium nitrate based fertilizers stronger compared to urea based fertilizer or ammonia. It is witnessing more in demand specifically in oil & seeds, owing to increasing consumption of oil & seed in the global market. The growing population and increasing industrialization has propelled the growth of calcium nitrate market mainly in developing markets in Asia such as India & China.
Water treatment is necessary by using calcium nitrate so that it stops anaerobic conditions and prevent bacteria and virus to spread in environment. Due to rapid industrialization, there is decline in clean water rates. Waste water disposal is high in countries like China, India and Brazil owing to elevating industries and growing food consumption with increasing population. Owing to toxic properties, government has implemented stringent regulations on the emission of hydrogen sulfide in the atmosphere. Such restriction regarding waste water disposal will positively influence the calcium nitrate market growth.
Calcium nitrate helps settling of concrete faster as it absorbs moisture from air. Therefore, it is widely used in construction sites where instant concrete settling is required. Concrete manufacturing is growing rapidly in China, India, Indonesia and some parts of Middle East due to growing demand for developing infrastructure and residential buildings. Consequently, rising product application across construction and agriculture can result in business growth.
However, Calcium nitrate fertilizers is hydroscopic in nature and has tendency to melt within packaged bags. Hence, it is not durable for long distance transport and is regarded as hazardous product by government. As a result of all such factors, the calcium nitrate market is anticipated to exhibit a CAGR of 5.2% over the forecast period.
Calcium Nitrate: Market segmentation
For the purpose of this study, Market Research Future has segmented the global citric acid market into grades and applications.
By Grades:


Agriculture grade


Industrial grade


By Application:



Agriculture




Waste Water Treatment




Concrete Production




Latex Production




Others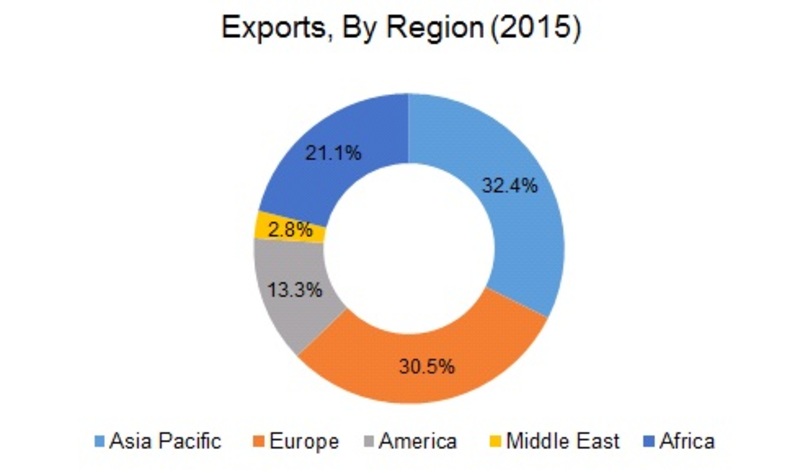 Calcium Nitrate: Regional Analysis
As per Market Research Future analysis, the global citric acid market has grown tremendously in Asia-Pacific, Eastern Europe and Japan. Geographically, Asia Pacific dominates the market of calcium nitrate owing to elevating industries and growing grain crop demand. Countries like China and India are looking out for opportunities to generate more business from agriculture as its sector dominating market. This calcium nitrate based fertilizer will boost the demand in China, India and Japan in order to meet food demand of growing population. Increasing fertilizer demand along with waste water treatment will boost the calcium nitrate market growth. Growing manufacturing industries are leading to decline of fresh water resources in China and India. Thus, with insufficient water supply in emerging economies is estimated to generate water treatment facilities which propel the business growth.
Rising consumption of food grains and growing use of concrete for building new infrastructure and monuments in developed regions like North America and Europe has further driven the market of calcium nitrate. US in North America accounts for 2nd largest due to extensively use of calcium nitrate in explosive industries. This leads to increase in government spending in defense activities which ultimately boost the global calcium market growth. Stern environmental legislations laid by European government regarding usage of chemicals like calcium nitrate can slow down the growth of business in these regions.

Calcium Nitrate: Trade Analysis (Import/ Export)
Owing to increase in agriculture activities and upcoming innovations in industries, global calcium nitrate market trade is expected to increase in future. China is a leading producer and consumer of calcium nitrate in the global market. After China, Russia, South Africa and Israel are the prominent countries in terms of calcium nitrate production. Moreover, Asia- Pacific is estimated to be leading exporter followed by Europe and North America. In 2015, Asia pacific accounted for 41% of the overall export and China is estimated to major revenue generating market with 37.5% calcium nitrate exported in 2015. Moreover, US, Mexico, Spain and India are estimated to be the prominent importers in the global market in 2015.

Calcium Nitrate: Key Market Players
Various prominent players present in the global calcium nitrate market includes Agrium Inc, Haifa-Group, Airedale Chemical Co. Ltd, GFS Chemicals Inc, Prathista Industries Limited, Aldon Corporation, All-Chemie Ltd, Rural Liquid Fertilizers, Sterling Chemicals Ltd., Yara International ASA.

About Market Research Future (MRFR) Analysis and Reports
Market Research Future introduces about the global citric acid market for the period 2014-2022 mainly includes growth drivers, trends, restrains and how the market will grow in the future across the globe. In report, Market Research Future has focused on the current market scenario which includes market segmentation, market dynamics and competitive landscape along with company profiles.

Every report of Market Research Future comprises of extensive primary research along with the detailed analysis of qualitative as well as quantitative aspects by various industry experts, key opinion leaders to gain the deeper insight of the market and industry performance. The report gives the clear picture of current market scenario which includes historical and projected market size in terms of value and volume, technological advancement, macro economical and governing factors in the market. The report provides details information and strategies of the top key players in the industry. The report also gives a broad study of the different market segments and regions.