Introduction:
Arterial blood collection devices are used to collect blood samples from the artery which is used of arterial gas sampling. The most common site for arterial puncture is the radial artery at the wrist. Femoral and radial artery puncture is most commonly performed to obtain arterial blood sampling for gas analysis. Pulmonary function can be assessed with the help of partial pressure of oxygen and carbon dioxide. Before performing arterial puncture, it is important to check the patency of ulnar artery. This can be examined by performing Allen test. A Positive Allen Test indicates normal blood supply to the hand. In radial artery puncture, needle is inserted into the radial artery to draw specific quantity of blood sample. Results from arterial blood gas analysis help to determine the current status of gas exchange between blood and lungs.
Arterial blood collection devices are used for arterial blood gas sampling & intraoperative blood salvage. Arterial blood sampling is used to diagnose diseases such as asthma, diabetes, kidney failure, chronic pulmonary disease, heart disease, haemorrhage, cystic fibrosis, and many more. Acid base status monitoring is another important application of arterial blood gas sampling. Intraoperative blood salvage is a procedure of recovering the loss of blood during surgery & re infusing it into the patient.

Market information:
Rising incidence of chronic diseases such as diabetes, asthma, kidney diseases, etc. and availability of a wide range of products for blood collection storage have driven the growth of the global arterial blood collection devices market. According to WHO, chronic diseases such as cancer require blood and blood products for treatment. It also stated that 1.3 million deaths are due to road traffic accidents each year globally, 90% of which occurs in developing countries. Risk of blood transfusion transmissible infection may act as an obstacle for the growth of this market.

Segmentation:
On the basis of type, the market is segmented into blood collection tubes, lancet, needles, vacuum blood collection system, microfluidic system, and other devices. Other devices includes arterial cannula, and blood bags.
Blood collection tube is further sub-segmented into plasma separation tube, heparin tube, serum separating tube, EDTA tube, and others. Blood collection tubes may contain coagulants & anti-coagulants. Blood collection tubes are categorised on the basis of coagulants or anti-coagulants it contains, for instance, grey coloured coagulant tube contains thrombin, a rapid clot activator, for STAT serum testing.
Lancet is further sub-segmented into push button safety lancet, pressure activated safety lancet, and other lancets. Lancet is a device used for the blood sampling. Lancets are mostly used by diabetic patients for monitoring the blood glucose level. It was estimated that in 2016, 420 million adult population was suffering from diabetes all over the world and the number is expected to reach 625 million by 2040.
On the basis of application, the arterial blood collection market is segmented into arterial blood gas sampling and intraoperative blood salvage. Arterial blood gas sampling is further sub-segmented into diagnosis of disease and acid base status monitoring.
On the basis of end user, the arterial blood collection devices market is segmented into hospitals & clinics, laboratories, blood banks, and others.
Arterial blood collection devices market is segmented on the basis of four different regions: Americas, Europe, Asia Pacific, and the Middle East & Africa.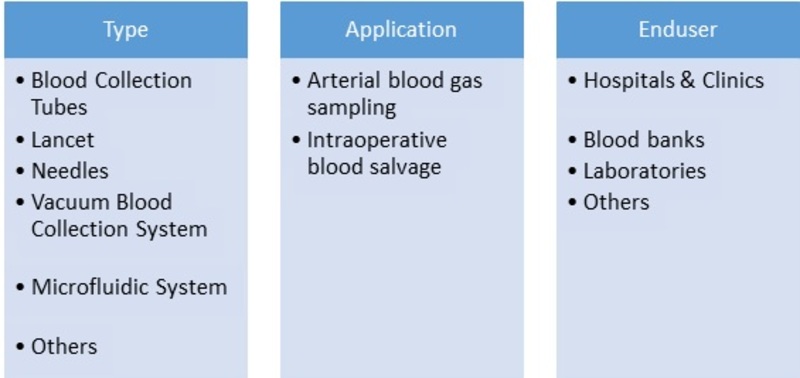 Regional analysis:
Americas dominates the global arterial blood collection devices market. It consist of two regions namely North America and South America In America, demand of safe & reliable blood collection devices, and concentration of major market players manufacturing blood collection devices are important drives for the market growth.
In Europe, demand critical care testing, and growing importance of sampling procedures are major factors influencing the growth of this market. Availability of funds from the government for research and development also contributes to the growth of the market in the European countries.
In Asia-Pacific, increasing prevalence chronic heart diseases, aging population, as well as growing number of surgical procedures performed in hospitals boost the growth of this market. Furthermore, rising awareness regarding the need of blood & blood products for live saving treatment & emergency care also contributes to the positive growth of the market. In Asia, government is taking various initiatives to provide affordable medical services for public welfare by giving subsidies and affordable medical supplies.
In the Middle East and Africa, increase in burden of communicable diseases in Africa and extensive demand of diagnostic products are services, equipments & better healthcare infrastructure also propel to the growth of this market.

Key players:
Some of the key players in this market are Beckton, Dickson and Company (U.S.), Thermo Fisher Scientific, Inc. (U.S.), Bio-Rad Laboratories, Inc. (U.S.), F. Hoffmann-La Roche Ltd. (Switzerland), NIPRO Medical Corporation (Japan), Terumo Corporation (U.S.), QIAGEN (Netherlands) and others.