Acetic Acid Market Information: Analysis, Trends & Forecast to 2022
Acetic acid is known as ethanoic acid which is organic chemical compound with molecular formula as CH3COOH. Acetic acid name is derived from acetum a Latin word for vinegar. By volume, vinegar contains 3-9% of acetic acid, the main component apart from water. It is colorless liquid which is recognized to give sour taste and pungent smell to vinegar. Acetic acid is produced by different process such as liquid phase oxidation process or by carbonylation of methanol. About 75% of acetic acid is produced by methanol carbon monoxide method also called as carbonylation of methanol. However, acetic acid can also be produced by bio-logical routes and accounts for only 10 % of world production. Acetic acid produced by biological routes remains main component in production of vinegar, as food purity laws stipulate to use vinegar of biological origin. Thus, vinegar is traditionally used for pickling of vegetables and as food preservatives. It is an important chemical reagent and industrial chemical.
Acetic acid is used in production of chemical compounds such as purified terephthalic acid (PTA), vinyl acetate monomer (VAM), Acetate Esters, Acetic Anhydride. Among all this application, VAM and PTA is most prominent applications accounting for more than 55% of total acetic acid consumption. VAM is used in paints, adhesives and sealant industry which further drives the automobile and construction industry in countries like China, India, South Korea and Japan. PTA is primarily consumed in manufacturing of polyester fiber and polyethylene terephthalate (PET) that is used in textile, plastic bottles and packaging materials. Owing to various properties of acetic acid, it also has niche application such as used in production of cellulose acetate for photographic film, household cleaning agent, food preservatives, synthesis of metal acetate and many more. Acetic Anhydride is used for producing cellulose acetate for cigarettes, pharmaceuticals, coatings and plastics. Acetate esters are used in coatings which is high in demand owing to
Acetic Acid: Market Dynamics
The global acetic acid market is estimated to drive a substantial growth due to extensive application in production of purified terephthalic acid (PTA) and vinyl acetate monomer (VAM) in paints & coatings, pharmaceuticals, textile and construction. VAM accounts for largest application segment of acetic acid with highest global consumption of more than 30 %. Growing demand of adhesives and paints & coatings is expected to fuel the demand of acetic acid market growth. China being largest producer and consumer of paints & coatings is expected to witnessed highest demand due to growing construction and infrastructure facility. VAM is key material for manufacturing of adhesive and sealants which increase the demand in automobile and electronic industry.
Acetic acid is main feedstock to manufacture PTA which is at the second largest in terms of volumetric consumption in 2015. It is mainly driven by growing usage of plastic bottles made of polyethylene terephthalate (PET) in packaging carbonated drinks. The market growth of global acetic acid market is also due to increase in consumption of vinegar as food preservatives owing to numerous health benefits associated with it.
However, growing environmental concerns regarding emission of harmful elements such as aerosols and non-biodegradability nature can hamper the market of acetic acid in coming years. On other hand adoption of innovative production coupled advanced technology are providing manufacturers to enhance their profit margin. These provides opportunity for manufacturer to expand their presence in emerging economies.
Acetic Acid: Market segmentation
For the purpose of this study, Market Research Future has segmented the global acetic acid market into applications and end user.
By Application:



Purified terephthalic acid (PTA)




Vinyl acetate monomer (VAM)




Acetate Esters




Acetic Anhydride



By End User



Food Industry




Paint & Coatings




Adhesive & sealants




Packaging




Textile



Acetic Acid: Regional Analysis
As per Market Research Future analysis, the global citric acid market has grown tremendously in Asia-Pacific, Eastern Europe and Japan. Geographically, Asia-Pacific dominates the market of acetic acid owing to robust manufacturing industries and easy availability of raw material and labor. Global PTA capacity will also increase between 2016 to 2022 due to tremendous growth in polyester market of China and South Asia. China is largest consumer growing at high speed owing to increase in consumption of food with growing population, increase in industrial output with increase in import and export trade and rise in capital investments. Europe is second largest as country like Germany is emerged as driving factor in global acetic acid market. The economic slowdown of Europe and U.S due to Brexit and economic recession has also affected the marketable success of acetic acid in developed regions. North America projected a moderate growth on account of increase in presence of government towards bio-based products.
Acetic Acid: World production capacity analysis
The global acetic acid prices increased due to persistent high methnol prices and turnaround production problems in US, Saudi Arabia and Southeast Asia. Global utlisation rates is expected to remain close margin from 2015-2022 due to over supply consitions persist in China. China is highest in producing acetic acid with 44% production capacity owing to rise in population that leads to increase in production capacity and growing demand from end user industries such as construction, pharmaceuticals, coatings, textile and others. Other countries like North America will enjoy low production cost owing to legal environmental issues leading to low production capacity of just 25% of world production. Various other macro economic factors keep the market scenario stable.
Global Acetic Acid Production Capacity Market Share, By Region (2015)
Acetic Acid: Key Market Players
The global acetic acid market has several manufacturers adopting new technology to meet the growing capacity of acetic acid in end user industries. Through merger & acquisition many players in acetic acid are increasing their production capacity to expand their presence globally.
The top key players in global acetic acid include Celanese Corporation, Eastman Chemical Company, Wacker Chemie AG Co., BASF SE, Sinopec Company, LyondellBasell Industries N.V., DuPont, SABIC Company, Daicel Corporation, Union Carbide Corporation and others.
MRFR Analyst Views: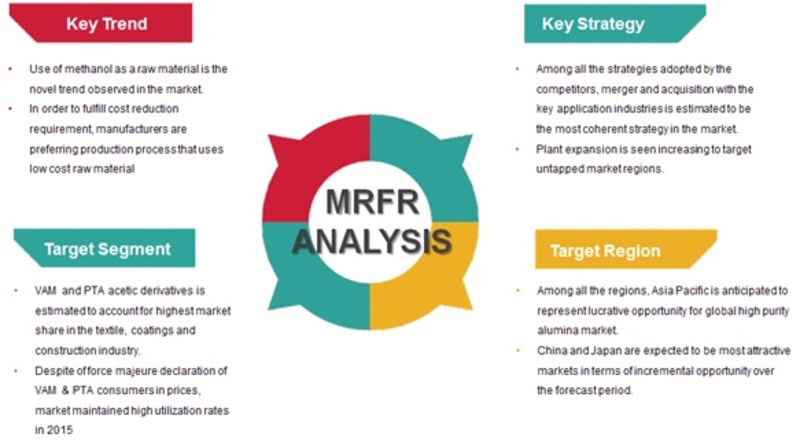 About Market Research Future (MRFR) Analysis and Reports
Market Research Future introduces about the Global Acetic Acid Market For The Period 2014 to 2022 mainly includes growth drivers, trends, restrains and how the market will grow in the future across the globe. In report, Market Research Future has focused on the current market scenario which includes market segmentation, market dynamics and competitive landscape along with company profiles.
Every report of Market Research Future comprises of extensive primary research along with the detailed analysis of qualitative as well as quantitative aspects by various industry experts, key opinion leaders to gain the deeper insight of the market and industry performance. The report gives the clear picture of current market scenario which includes historical and projected market size in terms of value and volume, technological advancement, macro economical and governing factors in the market. The report provides details information and strategies of the top key players in the industry. The report also gives a broad study of the different market segments and regions.