Introduction to 3D Bioprinting

3 dimensional or 3D bioprinting of human tissues and organs has been continuously evolving since the early 21st Century. Since then, the technology keeps on evolving, and nowadays, scientists are focusing on printing tiny sheets of tissue to entire 3D organs.
3D bioprinting technology allows scientists and medical researchers to build an entire organ, layer by layer. This technique is also known as "additive manufacturing", which makes use of various devices such as; scanners and printers. 3D bioprinting is useful in regenerative medicine to address the need for tissues and organs for transplantation. As compared to non-biological or 2D printing, 3D bioprinting has additional parameters which include, choice of tissue material, cell types, growth and differentiation factors, and technical challenges related to the sensitivities of living cells and the construction of tissues. To address these complex issues, there require integration of various advanced technologies from the field of engineering, biomaterials science, cell biology, physics, and medicine.

3D bioprinting is routinely practiced for generation and transplantation of several tissues, including multilayered skin, bone, heart tissues, vascular grafts, tracheal splints, and cartilaginous structures. In addition to this, 3D bioprinting has been also used in developing high-throughput 3D-bioprinted tissue models for research, drug discovery, and toxicology.

3D Bioprinting Market Information

The global 3D bioprinting market was valued at approximately $570 million in 2015 and is expected to grow at a CAGR of around 25-27% during the forecast period that is from 2016 to 2022. Such high growth is majorly attributed to factors such as; growing demand for tissues and organs for transplantation and the growing technological advancements in 3D bioprinting technology. Growing awareness and adoption of 3D printing is boosting the growth of 3D bioprinting market globally. With the rising awareness governments of various countries, as well as public and private companies along with academic institutes and laboratories are making huge investments in 3D bioprinting research and development. For instance, in 2013, as part of the industrial strategy, the government of U.K. has committed to develop the new technologies of 3D printing with the approximate investments of £14.7 million for this to support research activities.

In addition to this, factors such as; improving infrastructure, increased R&D activities and more compliance for 3D bioprinting in drug discovery processes are supporting drivers of the 3D bioprinting market growth across the all geographies. However, the high cost of 3D bioprinting, lack of skilled professionals and stringent regulatory policies are the key restraints for the market growth. Along with that, ethical issues are supposed to be one of the major barriers to this market. regulations & justice in health care, safety and efficacy of biomaterials, and question to whether these technologies should be used to enhance the capacity of individuals beyond what is 'normal' for humans are expected to hinder the market growth in coming future.

3D Bioprinting Segmentation & Analysis

The global 3D bioprinting market has been majorly segmented on the basis of; type of product, applications, end-users, and geographic regions.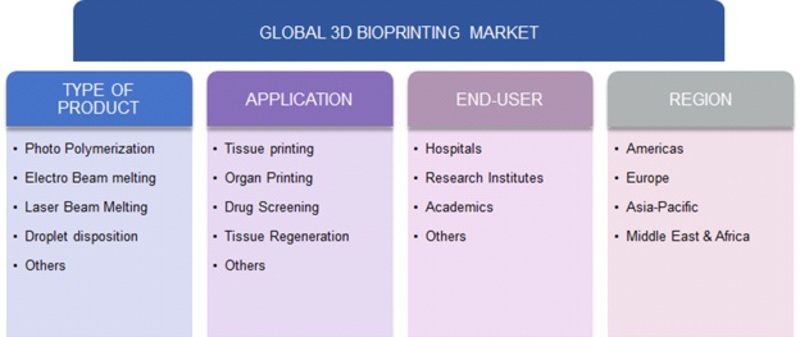 3D printing has wide scope in the medical field and hence, medical applications for 3D printing are growing rapidly and are expected to revolutionize health care industry. Medical applications for 3D printing can be classified into several broad categories, including tissue and organ fabrication; prosthetics creation, implants creation, manufacturing of various anatomical models; and pharmaceutical applications such as; drug dosage forms, drug delivery, and drug discovery.

On the basis of applications, tissue printing is the largest segment registered more than ~30% of market share in 2015 of the total market. While, organ printing is the fastest growing segment and expected to show profound break-through in this field.
The revolutionary application of 3D printing in biomedicine field can provide many benefits, which includes: personalization of medical products, drugs, and equipment, cost-effectiveness, increased productivity, among others. Despite these benefits, scientific and regulatory challenges will remain, and the most transformative applications for this technology will need time to evolve.
The developed countries have seen the huge potentials of 3D bioprinting in medical science and have able to create lucrative opportunities for market players. The technology has seen wide acceptance and success in developed countries like U.S. and some European countries, but, this technology is still in infancy and relatively new in developing national such as; India, china, Brazil, and others. Now, the question is regarding, how people in these developing nations would approach the new technology or whether they would accept this and allow its use in their medical treatments remains unknown.

3D Bioprinting Regional Analysis

Globally, North America holds the largest share of over 40% of 3D bioprinting market and is expected to be the leading market during 2016-2022. This large share is majorly attributed to, growing adoption of 3D bioprinting, rising number of organ transplantation procedures, increasing incident cases of chronic disorder such as liver failure, cardiovascular disorders, and such others, which needs organ transplantation at the end stage, coupled with developed healthcare infrastructure and reasonably higher disposable income levels are the key drivers for this market.

Asia-Pacific region is expected to witness the fastest growth owing to developing healthcare and life-sciences industry, growing awareness about new technologies and willingness to adopt these techniques for providing effective care to patients, are the key drivers creating rewarding growth opportunities in this region. Furthermore, increasing foreign investments, growing government support, is expected to continue the growth of this market over the forecast period; that is from 2016 to 2022.

3D Bioprinting Key Market Players

Companies are increasingly aware that the breadth of 3D printing technologies and materials offers solutions for many types of industries, all over the world. Some of the key players in 3D bioprinting market are; ORGANOVO HOLDINGS, INC (U.S.), Cellink (Sweden), Bio3D Technologies. (Singapore), Aspect Biosystems Ltd. (Canada), Stratasys Ltd. (U.S.), Materialise (U.S.), Fathom (U.S.), BioBots (U.S.), and others

3D printing technology has proven to be very useful and transformative tool in a number of different industries, including healthcare and medicine. Research activities are continuously taking place to enhance existing medical applications that use 3D printing technology and to explore new ones. The technological advancements in this field are significant and exciting, but some of the most revolutionary applications, such as organ printing, will need time to evolve.