Li-Fi Market, By Component (LED, Optical Sensing, Microcontroller, Photo Detector), By Application (Smartphone, Standalone Tracker, Advance Tracker) and By End User - Forecast 2023
Market Synopsis of Li-Fi Market:
Market Scenario:
Major companies like General Electric and Philips are investing into Li-Fi market due to increasing number of internet users and growing demand for high speed data transmission. Other companies like LightBee and Velmenni are coming up with innovative solutions to drive the growth of Li-Fi market. LightBee implies automotive control access and Car2car communications modules associated with the vehicle led lights and the vehicle unit control or other vehicle led car. So wireless communication can be established by means of LED light for security distance purposes, reporting car to car traffic incidents, or simply as a personal garage control access. Whereas, Oledcomm is a leading provider of Li-Fi network interface devices enabling high-speed wireless data communication using the LED lighting network. They design and manufacture Li-Fi router solutions for LED based lighting systems.
North America region holds the largest market share of global Li-Fi market followed by Asia Pacific and Europe. The market in North America region is mainly dominated by the U.S. and Canada and is attributed to the increasing demand for energy efficient devices and increasing demand for high speed communication in the region. The region also has a well-established infrastructure which allows easy implementation of advanced technologies and provides better connectivity.
Li-Fi market has been segmented on the basis of component, application and end user. The component segment is further bifurcated into LED, optical sensing, microcontroller, photo detector and others. Optical wireless technology is enhancing the Li-Fi market by transferring data at a faster rate. The information carried through wireless optical network is much faster as compared to other channels. The most important advantage of using wireless optical network is that, the frequency penetrates through wall and feasibility of installing these networks anywhere is boosting the utilization of wireless optical network in Li-Fi market.
Li-Fi is an emerging technology similar to Wi-Fi, with a speed of 224 gigabytes per second that is 100 times faster than Wi-Fi service. The prevailing benefit of light emitting diode is fuelling the light fidelity market. The data transmit changes are so fast, that it cannot be viewed through human eye and is capable of sending all kinds of data that includes audio, video and broadband at a speed of 1Gb/s than 150mb/s for Wi-Fi. Li-Fi signal travel through narrow focus beams and does not pass through walls. Factors such as low power consumption and high durability is increasing the usage of LED lighting system in LI-FI.
The global Li-Fi market is expected to grow at approx. USD 51 Billion by 2023, at 70% of CAGR between 2017 and 2023.
Li-Fi Market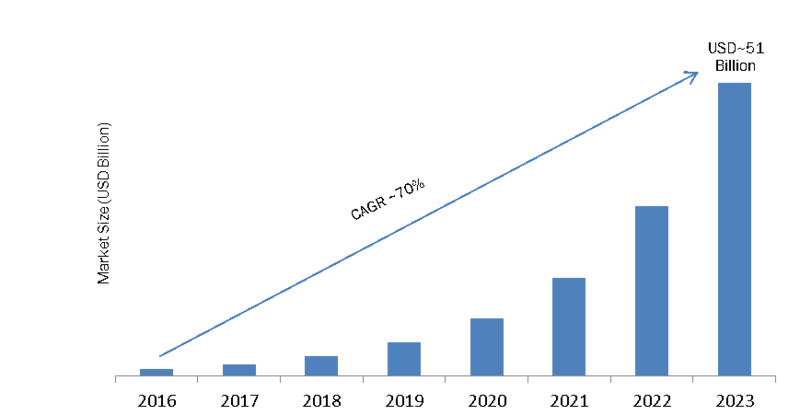 Key Players:
The prominent players in Li-Fi market are – General Electric (U.S.), Koninklijke Philips N.V. (the Netherlands), Oledcomm (France), PureLiFi Limited (U.K), Panasonic Corporation (Japan), Acuity Brands, Inc. (U.S.), LightPointe Communications, Inc. (U.S.), Velmenni (Tartu), LightBee Corporation (U.S.), FSONA Networks (U.K) and others.
Segments:
Li-Fi market can be segmented on the basis of following:
By Component



LED




Optical Sensing




Microcontroller




Photo Detector




Others



By Application



Smartphone




Standalone Tracker




Advance Tracker




Others



By End User



Aerospace & Defense




Healthcare




Education




Transportation




Automotive




Consumer Electronics




Retail




Government




Others



Regional Analysis:
The regional analysis of Li-Fi market is being studied for regions such as Asia Pacific, North America, Europe and Rest of the World. It has been observed that North America is estimated to account for the largest share of the market, whereas Asia-Pacific is projected to grow at the fastest rate during the forecast period. The major growth in Li-Fi market in North America is attributed to increasing demand for energy efficient devices and increasing demand for high speed data communication in the region
Intended Audience:



Technology Investors




Research/Consultancy Firms




Device manufacturers




Network Operators




Distributors




Suppliers




Software Developers




Commercial Banks




Vendors




Semiconductor Manufacturers




End-user sectors




Technology Investors