Vascular Stents Market Research Report, by material (metal, standard polymer, biodegradable polymer), by application (coronary artery, peripheral artery), by type (self-expanding stent, balloon expanding stent, renal artery stents, drug eluting stent), by end user (hospital, clinics, ambulatory centres) – Global forecast to 2023

Study objectives global vascular stents market research report-



To provide detailed analysis of the market structure along with forecast for the next 6 years of the various segments and sub-segments of the global vascular stents




To provide the detail information about drivers and factors restraining the market growth.




To analyze global vascular stents market based on various factors- price analysis, supply chain analysis, porters five force analysis etc.




To provide historical and forecast revenue of the market segments and sub-segments with respect to four main geographies and their regions- North America, Europe, Asia-Pacific, Middle East and Africa.




To provide the trends and opportunities in global vascular stents




To provide country level analysis of the market with respect to the current market size and future prospective




To provide overview of key players and their strategic profiling in the market, comprehensively analyzing their core competencies, and drawing a competitive landscape for the market



Intended Audience



Vascular stents manufacturer




Biotechnological institutes




Research and Development (R&D) Companies




Market Research and Consulting Service Providers




Medical Research Laboratories




Government and private hospitals



Market Scenario:
Vascular stents are the devices which are used for the treatment of different artery diseases. Arterial diseases is characterized by decreasing in the diameter of the artery due to the deposition of the plaque which is mainly cholesterol or fat. Vascular stents are used to unblock the arteries and relieve the obstruction of blood flow. Different types of materials are used for the preparation of the stents. The major driving factor for the growth of global vascular stents market is increasing prevalence of cardiovascular diseases and coronary diseases. Increase in number of angioplasty procedures, advances in the treatment of the vascular diseases, increasing obese population also contributed in the growth of the market. According to WHO, cardiovascular diseases is the cause of majority of deaths globally. Beside this number of obese population across the globe is rising continuously. In 2014, globally 39% of adults aged 18 years and over were overweight whereas 13% were obese. People are more prone to different vascular diseases due to adoption of deskbound work life, poor diet and lack of exercise. This is the major factor influencing the growth of the market. Whereas availability of alternative therapies and high cost of the vascular stents are some factors that hinders the growth of the market.
Global vascular stents market is expected to grow at a CAGR of 7.8% during forecasted period 2017-2023.

Figure 1:- Global Vascular Stents Market Share, By Application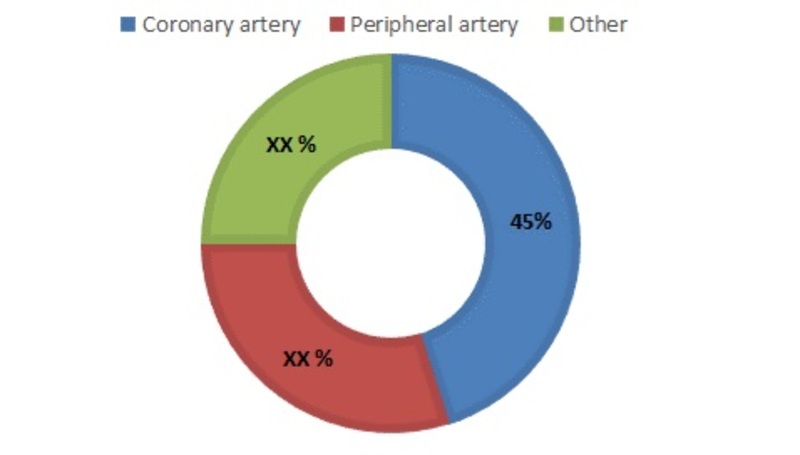 Annual reports, Press release, White paper, Company Presentation

Segmentation
Global vascular stents market is segmented on the basis of material into metal, standard polymer and biodegradable polymer. On basis of application they are coronary artery, peripheral artery and other. On the basis of type the market is segmented into self-expanding stent, balloon expanding stent, renal artery stents, drug eluting stent and other. And on the basis of end user they are hospital, clinics, ambulatory centres.
Regional Analysis
Geographically, North America commands market for vascular stents. Increasing obese population in North America is the major factor for the growth of the market. Beside this increasing people suffering from various cardiovascular diseases and lack of exercise also contributed in the growth of the market. Europe accounts second largest vascular stents market. While Asia Pacific is the fastest growing market due to rapid development in technology and a huge patient suffering from different vascular diseases. Middle East and Africa accounts the least share in global vascular stents market.

Key Players for global vascular stents market
Boston Scientific Corporation (US), Abbott Laboratories (US), Medtronic, Plc (UK), Cook Medical (US), Biotronik se & co. kg (Germany), B. Braun Melsungen AG (Germany), Cordis (US), Lombard Medical Technologies (UK), Translumina GmbH (Germany), MicroPort Scientific Corporation (China), Terumo Corporation (Japan), Vascular Concepts (India), W.L. Gore & Associates (US), Meril Life Sciences Pvt. Ltd. (India).


Market Assessment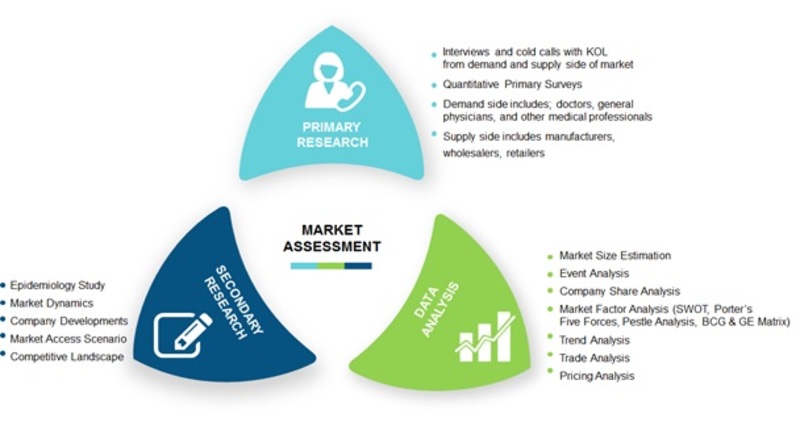 1 INTRODUCTION


1.1 DEFINITION


1.2 SCOPE OF STUDY


1.2.1 RESEARCH OBJECTIVE


1.2.2 ASSUMPTIONS & LIMITATIONS


1.2.2.1 ASSUMPTIONS


1.2.2.2 LIMITATIONS


1.3 MARKET STRUCTURE:


2 RESEARCH METHODOLOGY


2.1 RESEARCH PROCESS:


2.2 PRIMARY RESEARCH


2.3 SECONDARY RESEARCH:


3 MARKET DYNAMICS


3.1 DRIVERS


3.2 RESTRAINTS


3.3 OPPORTUNITIES


3.4 MACROECONOMIC INDICATORS


4 MARKET FACTOR ANALYSIS


4.1 PORTERS FIVE FORCES MODEL


4.2 BARGAINING POWER OF SUPPLIERS


4.3 BARGAINING POWER OF BUYERS


4.4 THREAT OF NEW ENTRANTS


4.5 THREAT OF SUBSTITUTES


4.6 INTENSITY OF RIVALRY


5. GLOBAL VASCULAR STENTS MARKET BY MATERIAL


5.1 METAL


5.2 STANDARD POLYMER


5.3 BIODEGRADABLE POLYMER


6. GLOBAL VASCULAR STENTS MARKET BY APPLICATION


6.1 CORONARY ARTERY


6.2 PERIPHERAL ARTERY


7. GLOBAL VASCULAR STENTS MARKET BY TYPE


7.1 SELF-EXPANDING STENT


7.2 BALLOON EXPANDING STENT


7.3 RENAL ARTERY STENTS


7.4 DRUG ELUTING STENT


7.5 OTHER


8. GLOBAL VASCULAR STENTS MARKET BY END USER


8.1 HOSPITAL


8.2 CLINICS


8.3 AMBULATORY CENTRES


9. GLOBAL VASCULAR STENTS MARKET BY REGION


9.1 INTRODUCTION


9.2 AMERICA


9.2.1 NORTH AMERICA


9.2.1.1 US


9.2.1.2 CANADA


9.2.2 SOUTH AMERICA


9.3 EUROPE


9.3.1 WESTERN EUROPE


9.3.1.1 GERMANY


9.3.1.2 FRANCE


9.3.1.3 ITALY


9.3.1.3 SPAIN


9.3.1.5 UK


9.3.1.6 REST OF WESTERN EUROPE


9.3.2 EASTERN EUROPE


9.4 ASIA-PACIFIC


9.4.1 JAPAN


9.4.2 CHINA


9.4.3 INDIA


9.4.4 AUSTRALIA


9.4.5 REPUBLIC OF KOREA


9.4.6 REST OF ASIA-PACIFIC


9.5 MIDDLE EAST & AFRICA


9.5.1 UNITED ARAB EMIRATES


9.5.2 SAUDI ARABIA


9.5.3 OMAN


9.5.4 KUWAIT


9.5.5 QATAR


9.5.6 REST OF MIDDLE EAST & AFRICA


10. COMPETITIVE LANDSCAPE


10.1 MAJOR STRATEGIES ADOPTED BY MARKET PLAYERS


10.1.1 STRATEGIC PARTNERSHIP


10.1.2 MERGER & ACQUISITION


11 COMPANY PROFILE


11.1 BOSTON SCIENTIFIC CORPORATION


11.1.1 OVERVIEW


11.1.2 PRODUCT OVERVIEW


11.1.3 FINANCIALS


11.1.4 KEY DEVELOPMENTS


11.2 ABBOTT LABORATORIES


11.2.1 OVERVIEW


11.2.2 PRODUCT OVERVIEW


11.2.3 FINANCIALS


11.2.4 KEY DEVELOPMENTS


11.3 MEDTRONIC, PLC


11.3.1 OVERVIEW


11.3.2 PRODUCT OVERVIEW


11.3.3 FINANCIALS


11.3.4 STRATEGY


11.3.5 KEY DEVELOPMENT


11.4 COOK MEDICAL


11.4.1 OVERVIEW


11.4.2 PRODUCT OVERVIEW


11.4.3 FINANCIALS


11.4.4 KEY DEVELOPMENTS


11.5 B. BRAUN MELSUNGEN AG


11.5.1 OVERVIEW


11.5.2 PRODUCT OVERVIEW


11.5.3 FINANCIALS


11.5.4 KEY DEVELOPMENTS


11.6 CORDIS


11.6.1 OVERVIEW


11.6.2 PRODUCT OVERVIEW


11.6.3 FINANCIALS


11.6.4 KEY DEVELOPMENTS


11.7 BOSTON SCIENTIFIC CORPORATION


11.7.1 OVERVIEW


11.7.2 PRODUCT OVERVIEW


11.7.3 FINANCIALS


11.7.4 KEY DEVELOPMENTS


11.8 OTHERS


11 CONCLUSION


12.1 KEY FINDINGS


12.1.1 FROM CEO'S VIEWPOINT


12.1.2 UNMET NEEDS OF THE MARKET


12.2 KEY COMPANIES TO WATCH


12.3 PREDICTION OF VASCULAR STENTS INDUSTRY


13 APPENDIX