Sodium Silicate Market is expected to grow at Significant CAGR from 2019 to 2023 as per MRFR Analysis.
Sodium silicate is a white powder synthesized by melting sodium carbonate and sodium dioxide together. It is used in various applications such as silica manufacturing, detergents, pulp paper & board, construction material, water treatment, and soil stabilization. Sodium silicate is widely used in the manufacturing of silica.
Increasing use of sodium silicate in detergents due to good emulsifying and high buffering power is fuelling the product demand. Furthermore, rising health awareness among the consumers coupled with increasing per capita income is propelling the growth of sodium silicate. Growing demand from the textile industry for synthetic detergents, wetting agents, and soaps are driving the market growth. The product demand is enlarging in water purification by virtue of its corrosion inhibition property coupled with increasing environmental & climate concerns and population expansion. Sodium silicate used for corrosion control in municipal water is approved by the American Water Works Association. Additionally, BASF SE, one of the key players in sodium silicate market, has started a new production line of Ultrasion in Yeosu, South Korea for water purification. Growing paper industry as a result of increasing use of paper towels, tissue paper, and the corrugated board is driving the market growth. Sodium silicate demand is influenced by its use in bleaching and coating of recycled products. Furthermore, the regulatory standards set by the governments to use recyclable products with respect to reducing environmental issues is stimulating the product demand. Sodium silicate consumption in the construction industry is increasing as a result of resistance to water and high temperature. Moreover, use of sodium silicate is rising in tire manufacturing due to abrasion resistance.
Global Sodium Silicate Market Share, By End-Use Industry (%)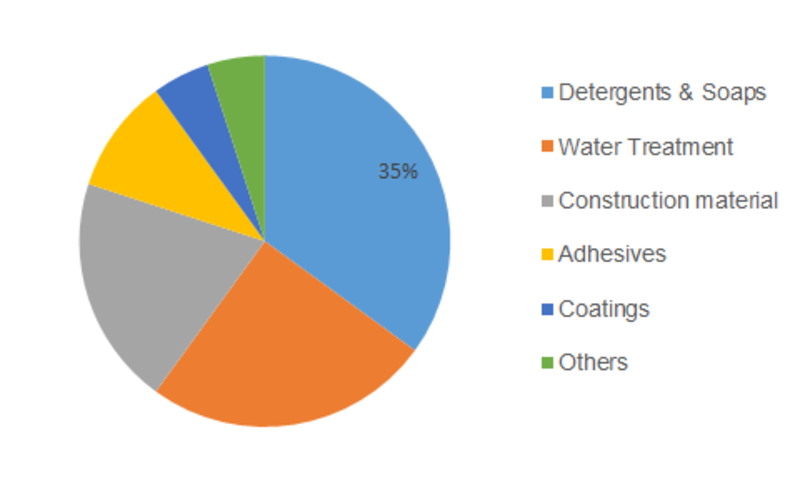 Source: MRFR analysis
Regional Analysis
Asia Pacific is the fastest growing market due to rising building and construction activities in the developing economies coupled with increasing purchasing power and improving living standards. Initiation of mega projects in the sectors such as aviation, energy, roads, and smart cities are likely to propel the market growth in India. Increase in the number of water treatment plants owing to rising environmental concerns is expected to boost the product demand.
North American market is growing due to the increasing investment in residential buildings as a result of the small business tax cut and increasing consumer spending. According to the Commerce Department, the construction industry in the U.S. has grown by 2.5% in 2017. Rising investment in the water treatment plants is stimulating the product demand. For instance, Nereda, a wastewater treatment plant has introduced new technology "Aerobic Granular Sludge "for sustainable purification of municipal and industrial water.
Europe is another prominent market in the sodium silicate market due to increasing investment in water treatment plants. For instance, the European Water Treatment Association educates the consumers about the benefits of water treatment and thus promotes the initiation of more water treatment plant. The Middle East & Africa is expected to grow at a moderate rate owing to the growing building & construction industry in this region.
Segmentation
The global sodium silicate market is segmented by applications, end-use industry, and region.
On the basis of the application, the global sodium silicate market is divided into detergents & soaps, water treatment, adhesives, construction material, coating, and others.
Based on the end-use industry the global aluminum honeycomb market is segmented into building & construction, paper & pulp, chemicals, healthcare, food & beverages, and others.
Geographically, the market is divided into Asia Pacific, North America, Europe, Latin America, and the Middle East & Africa.
Key Players
Some of the key players in the global sodium silicate market are PQ Corporation (U.S.), Evonik Industries (Germany), BASF SE (Germany), W.R. Grace & Company (U.S.), Ciech S.A. (Poland), Silmaco NV (Belgium), Oriental Silicas Corporation (Taiwan), Aromachimie Ltd. (UK), Nippon Chemical Industrial CO., LTD. (Japan), Solvay (Belgium), Occidental Petroleum Corporation (U.S.), and PPG Industries, Inc. (U.S.).
Intended Audience



Sodium silicate Manufacturers




Traders and distributors of sodium silicate




Research and development institutes




Potential investors




Raw material suppliers




Nationalized laboratory



Frequently Asked Questions (FAQ) :
---