Market Synopsis of Smart Workplace Market:
Market Scenario:
Major giants like Siemens AG, Honeywell International and Cisco Systems are investing into the smart workplace market due to increasing demand smart workplace solutions and emergence of smart cities. Increasing adoption of energy efficient solutions and growing need for safety and security solutions at workplace are other major factor fueling the growth of smart workplace market. Smart workplaces are gaining importance owing to the increasing adoption
North America region holds the largest market share of global smart workplace market followed by Europe and Asia Pacific regions. The growth is North America region is mainly dominated by U.S. and Canada and is attributed to the increasing demand for cloud computing applications and in the region. The region also has a well-established infrastructure which allows implementation of advanced technologies. Increasing adoption of internet of things and growing popularity of bring your own device is one major factor responsible for driving the growth of smart workplace market.
Smart workplace market has been segmented on the basis of component, product, office type and communication technology. The product segment is further bifurcated into smart lighting, security systems, energy management systems, heating, ventilation & air conditioning control systems (HVAC) and audio-video conferencing systems. Out of which, energy management systems sub segment is expected to hold the largest market share of the smart workplace market. Energy management systems provide a framework in order to manage on-going energy and also provide energy efficient solutions for the same. It helps in reducing costs and also does not require capital investment.
The global smart workplace market is expected to grow at approx. USD 47 Billion by 2023, at 13% of CAGR between 2017 and 2023.
Smart Workplace Market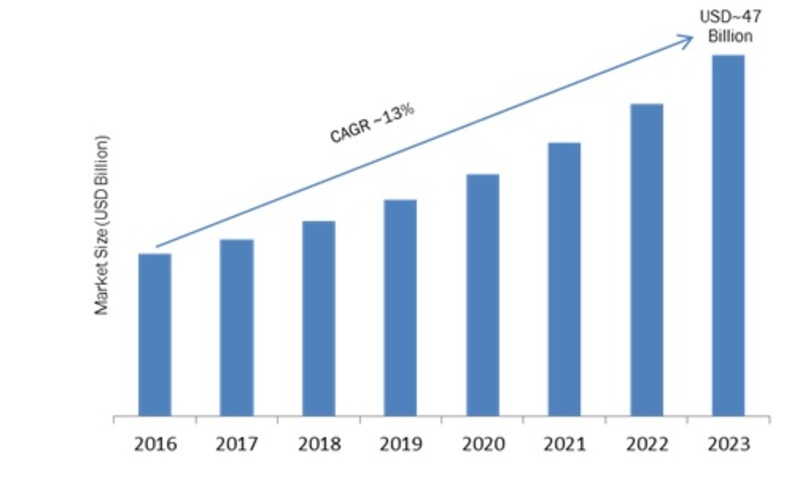 Key Players:
The prominent players in smart workplace market are – Siemens AG (Germany), Schneider Electric SA (France), Johnson Controls International PLC (Ireland), Honeywell International Inc. (U.S.), ABB Ltd. (Switzerland), Cisco Systems, Inc. (U.S.), United Technologies Corporation (U.S.), Lutron Electronics Co. Inc. (U.S.), Crestron Electronics, Inc. (U.S.), Philips Lighting Holding B.V. (Netherlands) among others.
Segments:
Smart workplace market can be segmented on the basis of following:
By Component
Software
Services
By Product
Smart Lighting
Smart Bulbs
Fixtures
Lighting Controls



Sensors




Switches




Relay Units




Gateways




LED Drivers & Ballasts



Security Systems



Access Controls




Video Surveillance




Fire & Safety Controls



Energy Management Systems



In-House Displays




Smart Thermostats




Smart Plugs




Load Control Switches



Heating, Ventilation & Air Conditioning Control Systems (HVAC)
Sensors



Temperature Sensors




Occupancy Sensors




Humidity Sensors




Flow Sensors




Pressure Sensors




Others



Control Valves



Heating & Cooling Coils




Dampers




Actuators




Pumps & Fans




Smart Vents




VAV & FCU Controllers



Audio-Video Conferencing Systems



Video Conferencing Systems




Audio, Volume & Multimedia Room Controls




Touch Screens & Keypads



By Office Type



Retrofit Offices




New Construction Offices



By Communication Technology
Wired



Wi-Fi




Bluetooth




ZigBee




Enocean




Others



Wireless



Power Over Ethernet (POE)




KNX




LonWorks




Power Line Communication (PLC)




Digital Addressable Lighting Interface (DALI)




Building Automation & Control Network



Regional Analysis:
The regional analysis of smart workplace market is being studied for regions such as Asia Pacific, North America, Europe and Rest of the World. It has been observed that North America is estimated to account for the largest share of the market, whereas Asia-Pacific is projected to grow at the fastest rate during the forecast period. The major growth in smart workplace market in North America is attributed to technical advancements and increasing demand for smart workplaces across various industry verticals in that region.
Intended Audience



Technology Investors




Research/Consultancy Firms




Original equipment manufacturers (OEMs)




Government Bodies




Consumers




IT & Telecommunication Companies



Frequently Asked Questions (FAQ) :
---