Smart Beacon Market

Synopsis
The Smart Beacon Market is expected to grow from USD 1,240.0 million in 2018 to USD ~25,000.0 million by 2025, at a CAGR of ~54% during the forecast period. The global positioning systems (GPS) receivers which are used for outdoor navigations are usually not suitable for indoor navigation as many times the signals are blocked by ceiling and walls. So, for indoor navigation, smart beacons are used that use low-energy Bluetooth technology to send signals to nearby smart devices. Smart beacons, for the purpose of indoor navigation, can be used in offices, retail outlets, airports, and in transportation and education industries for various applications. For example, in libraries, when beacons are placed near Bluetooth enabled smartphone with digital library application (App) installed in it, the result shows that when the smartphone comes in the range of a beacon, it displays the information related to any book on the smartphone screen. The demand for smart beacons for indoor navigation is one of the factors enhancing the growth of smart beacon market. With the maturity of cloud computing and IoT technologies, smart homes have become an important trend. Smart home automation solutions rely on different standards for wireless communication. Smart beacons have now forged their way into smart homes in a quest to digitize them after impacting various industries such as retail, events, and museums, among others. Smart beacons control the entertainment units, home appliances, thermostats, security systems, fixtures, surveillance cameras, and many more, through smartphones. Thus, growing smart home projects are enhancing the growth of smart beacon market.
Furthermore, in the logistics and transportation sector, as the operations are becoming large and complex, managing the mixed employment force is also becoming challenging. To remedy such issues, smart beacons are used, as they allow supervisors to objectively measure employee performance, set baseline work goals, and have real-time visibility into various operations. Thus, the growing demand for smart beacons in transportation and logistics is expected to drive the growth of this market during the forecast period. However, the limited sensing capabilities of Bluetooth low energy (BLE) technology is expected to pose a challenge to the smart beacon market growth.
Smart beacons are self-powered, small transmitters that run on Bluetooth technology and are used as a point of reference for mobile devices as they can detect Bluetooth-enabled devices once they enter into their transmission range. Smart beacons assist in generating timely and accurate data as they do not require any data plan to provide proximity services and can broadcast their presence to other nearby devices such as smartphones, tablets, computers, and sensors. These beacons can be used to broadcast advertising services and information for publicity and promotional message or events.
Key Developments


In July 2019, Kirtland, a City in the US, installed known as HAWK, a hybrid pedestrian beacon, to improve pedestrian safety near the high school. The HAWK is designed to stop traffic only as needed when pedestrians are present.




In July 2019, Nokia launched the Beacon 1 mesh Wi-Fi system, which is an affordable alternative to its previous version Beacon 3. Beacon 1 supports a dual-band wireless system and features a simple-to-use setup procedure.




In November 2016, Blesh, a startup providing beacon platform services, partnered with Volkswagen Turkey to sell its smart key fobs, a beacon, online. Smart key fob works using Bluetooth; it is paired with Volkswagen's mobile app, "Volkswagenim" (My Volkswagen)


Segmentation
The smart beacon market has been segmented on the basis of beacon standard, connectivity type, component, end user, and region.
On the basis of beacon standard, the market has been segmented into iBeacon, Eddystone, and others.
By connectivity type, the market has been segmented into Bluetooth low energy (BLE), Wi-Fi, and hybrid.
On the basis of component, the market has been segmented into hardware, software, and service.
By end user, the market has been segmented into retail, hospitality, transportation & logistics, healthcare, BFSI, automotive, aviation, education, and others.
Based on region, the market has been segmented into North America, Europe, Asia-Pacific, the Middle East and Africa, and Central and South America.
Regional Analysis
The smart beacon market is projected to grow at a significant rate during the forecast period from 2019 to 2025. The geographic analysis of the smart beacon market has been conducted for North America, Europe, Asia-Pacific, Middle East and Africa, and Central and South America.
Europe accounted for the largest market share in 2018 as companies in this region are adopting technologically advanced marketing platforms to capture the shares in the respective markets. North America holds the second-largest market share as this region is considered as the earliest adopter of this technology. Asia-Pacific is expected to be the fastest growing region owing to the growing traction of the beacon technology in the countries such as China and Australia.
Smart Beacon Market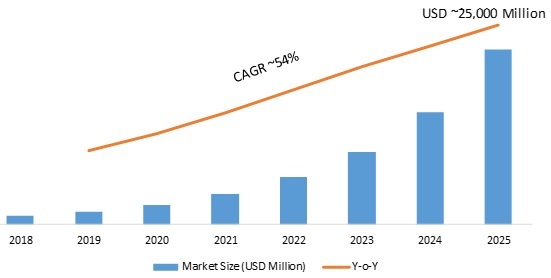 Source: MRFR Analysis
Competitive Analysis
The advent of BLE beacons offer a wide range of opportunities for companies to enhance their smartphone apps. The major companies always focus on scrutinizing the strategies of their competitors, scope the environment for emerging rivals, and stay several steps ahead of game-changing innovations and market disruptions to stay competitive in the market. Moreover, the suppliers of chipsets and sensors are emphasizing on improving the network capabilities and battery life of the beacons to enhance their value proposition for the users.
Key Players
The key players in the smart beacon market are Estimote, Inc. (US), Aruba-Hewlett Packard Enterprise Company (US), Kontakt.io (Poland), Cisco Systems Inc. (US), Bluvision-HID Global Company (US), Leantegra Inc. (US), Gimbal, Inc. (US), Accent Advanced Systems, SLU (Spain), Swirl Networks (US), and Sensoro Co., Ltd (US).
Other prominent players studied for the Smart Beacon Market are Blue Cats (Australia), JAALEE Technology (China), Square Metrics GmbH (Germany), BlueUp Srls (Italy), Bleesk Benelux Sprl (Spain), Radius Networks Inc. (US), Resono (Netherlands) among others.
Intended Audience



Smart beacon end users




Smart beacon providers




Smart beacon distributors




Research organizations and consulting companies




Associations, organizations, forums, and alliances related to smart beacons




Venture capitalists, private equity firms, and start-up companies




Government organizations




Research/consultancy firms



Speak to Analyst
Ask for Customization
Frequently Asked Questions (FAQ) :
---