Global Shrink Sleeve Labels Market Information by Type (Stretch, and Shrink), Material (PVC, PET-G, Expanded Polystyrene Films, PE, Polylactic Acid Films, and others), Application (Food & Beverage, Pharmaceuticals, Personal Care, and others) and region - Forecast to 2022

Market Synopsis of Shrink Sleeve Labels Market
The key drivers for the growth of shrink sleeve labels market are its properties such as flexibility and added capabilities. The unique feature that sets it apart is tamper-evident packaging. Shrink sleeve labels are one of the most durable and ideal labels for products. The advantages of this particular market are 360 degree, design coverage, full color, abrasion, moisture resistance and wide capability. Shrink sleeve labels ensure protection from UV radiation. One of the biggest challenges of this particular market is recycling of the bottles they use it.
The competition in the labeling industry is growing due to continuous demand. Shrink sleeve labels are widely used in food and beverages, pharmaceuticals and personal care packaging industries. Labeling can have a strong impact on the buying decisions of customers. A colorful cover with quality labeling can attract customers. The Asia-Pacific region accounted for the fastest growing share in terms of value followed by North America and Europe. The Asia-Pacific region has developed significantly in the shrink sleeve & stretch sleeve labels market, with the fastest market growth happening in the regions of India and China. The region is marked with increasing demand for packaged food, easy availability of polymer films, and low labor cost. The global shrink sleeve label market is expected to cross 14 Billion growing at a CAGR of approximately 6% by the end of 2022.

Market Size of Shrink Sleeve Labels by Regions (USD Million)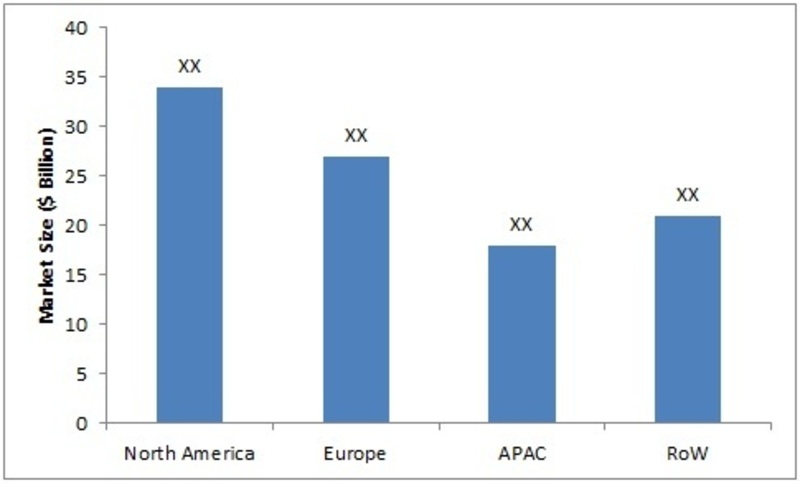 Study Objectives of Shrink Sleeve Labels Market



To provide detailed analysis of the market structure along with forecast for the next 6 years of various segments and sub-segments of the Global Shrink Sleeve Labels Market




To provide insights about factors affecting the market growth




To analyze the Global Shrink Sleeve Labels Market based on various factors- price analysis, supply chain analysis, porters five force analysis etc.




To provide historical and forecast revenue of the market segments and sub-segments with respect to four main geographies and their countries- North America, Europe, APAC, and Rest of the World (ROW)




To provide country level analysis of the market with respect to the current market size and future prospective




To provide country level analysis of the market for segment by material, type, application, and regions




To provide strategic profiling of the key players in the market, comprehensively analyzing their core competencies, and drawing a competitive landscape for the market




To track and analyze competitive developments such as joint ventures, strategic alliances, mergers and acquisitions, new product developments, and research and developments in the Global Shrink Sleeve Labels Market.




Segmentation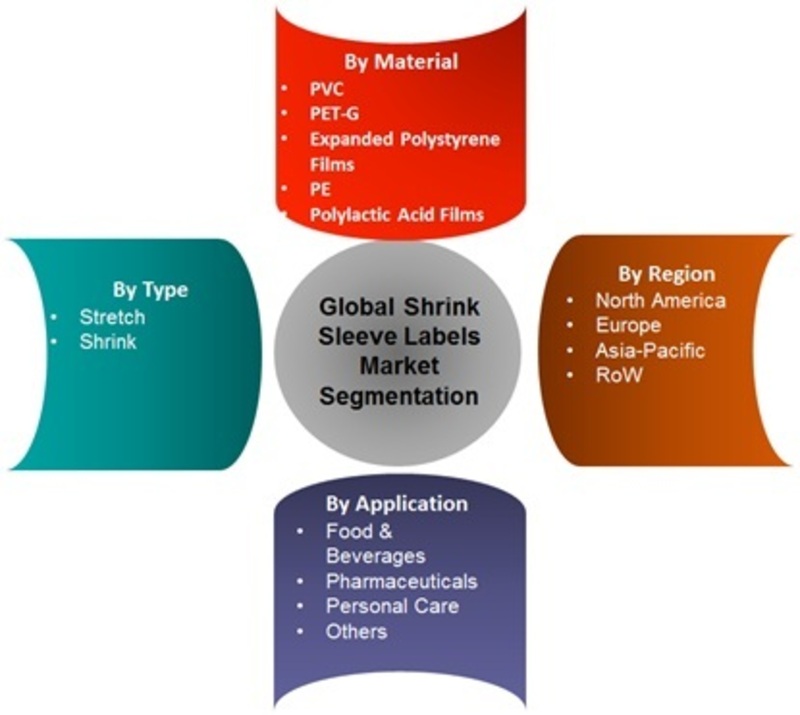 Regional Analysis of Global Shrink Sleeve Labels Market
The Asia-Pacific region is the fastest growing market for global shrink sleeve labels, followed by North America and Europe. The Asia- Pacific region has developed significantly in the shrink sleeve & stretch sleeve labels market, especially countries like India and China.The region offers a lucrative market to packaging and labelling manufacturers due to changing market dynamics and economic development. The region has seen increased consumption of packaged food & beverages items along with healthcare awareness.This induces the demand for such labels from both food & beverages and pharmaceutical industries.

Key Players
The key players of global shrink sleeve labels market report includeBerry Plastics Corporation, Bonset America Corporation,CCL Industries Inc., Fuji Seal International Inc., Huhtamaki OYJ, Hammer Packaging Corp., KlocknerPentaplastCorp.,MacFarlane Group UK Ltd,, Polysack Ltd, Paris Art Label Company Inc. and others.


Target Audience

Product Analysis

Additional Information



Regulatory Landscape




Pricing Analysis




Macroeconomic Indicators




Geographic Analysis

Company Information



Profiling of 10 key market players




In-depth analysis including SWOT analysis, and strategy information of related to report title




Competitive landscape including emerging trends adopted by major companies



The report for Global Shrink Sleeve Labels Market of Market Research Future comprises of extensive primary research along with the detailed analysis of qualitative as well as quantitative aspects by various industry experts, key opinion leaders to gain the deeper insight of the market and industry performance. The report gives the clear picture of current market scenario which includes historical and projected market size in terms of value and volume, technological advancement, macro economical and governing factors in the market. The report provides details information and strategies of the top key players in the industry. The report also gives a broad study of the different market segments and regions.
1 Executive Summary

2 Scope of the Report

2.1 Market Definition

2.2 Scope of the Study

2.2.1 Research Objectives

2.2.2 Assumptions & Limitations

2.3 Markets Structure

3 Market Research Methodology

3.1 Research Process

3.2 Secondary Research

3.3 Primary Research

3.4 Forecast Model

4 Market Landscape

4.1 Five Forces Analysis

4.1.1 Threat Of New Entrants

4.1.2 Bargaining power of buyers

4.1.3 Threat of substitutes

4.1.4 Segment rivalry

4.2 Value Chain of Global Shrink Sleeve Labels Market

5 Industry Overview of Global Shrink Sleeve Labels Market

5.1 Introduction

5.2 Growth Drivers

5.3 Impact analysis

5.4 Market Challenges

5.5 Impact analysis

6 Market Trends

6.1 Introduction

6.2 Growth Trends

6.3 Impact analysis

7. Global Shrink Sleeve Labels Market by Region

8. Global Shrink Sleeve Labels Market by Material

9. Global Shrink Sleeve Labels Market by Type

10. Global Shrink Sleeve Labels Market by Application

11. Company Profiles

11.1 Berry Plastics Corporation

11.1.1 Overview

11.1.2 Financials

11.1.3 Product Portfolio

11.1.4 Business Strategies

11.1.5 Recent Development

11.2 Bonset America Corporation

11.2.1 Overview

11.2.2 Financials

11.2.3 Product Portfolio

11.2.4 Business Strategies

11.2.5 Recent Development

11.3 CCL Industries Inc

11.3.1 Overview

11.3.2 Financials

11.3.3 Product Portfolio

11.3.4 Business Strategies

11.3.5 Recent Development

11.4 Fuji Seal International Inc

11.4.1 Overview

11.4.2 Financials

11.4.3 Product Portfolio

11.4.4 Business Strategies

11.4.5 Recent Development

11.5 Hammer Packaging

11.5.1 Overview

11.5.2 Financials

11.5.3 Product Portfolio

11.5.4 Business Strategies

11.5.5 Recent Development

11.6 Huhtamaki OYJ

11.6.1 Overview

11.6.2 Financials

11.6.3 Product Portfolio

11.6.4 Business Strategies

11.6.5 Recent Development

11.7 KlocknerPentaplast

11.7.1 Overview

11.7.2 Financials

11.7.3 Product Portfolio

11.7.4 Business Strategies

11.7.5 Recent Development

11.8 MacFarlane Group UK Ltd
11.8.1 Overview

11.8.2 Financials

11.8.3 Product Portfolio

11.8.4 Business Strategies

11.8.5 Recent Development

11.9 Polysack Ltd
11.9.1 Overview

11.9.2 Financials

11.9.3 Product Portfolio

11.9.4 Business Strategies

11.9.5 Recent Development

11.10 Paris Art Label Company Inc
11.10.1 Overview

11.10.2 Financials

11.10.3 Product Portfolio

11.10.4 Business Strategies

11.10.5 Recent Development

12 Conclusion

LIST OF TABLES
Table 1 World Population By Major Regions (2015 To 2030) (Million)

Table 2 Global Shrink Sleeve Labels Market: By Region, 2014-2022 (Usd Million)

Table 3 Global Shrink Sleeve Labels Market: By Region, 2014-2022 (Kt)

Table 4 North America Shrink Sleeve Labels Market: By Country, 2014-2022 (Usd Million)

Table 5 Europe Shrink Sleeve Labels Market: By Country, 2014-2022 (Usd Million)

Table 6 Asia-Pacific Shrink Sleeve Labels Market: By Country, 2014-2022 (Usd Million)

Table 7 RoW Shrink Sleeve Labels Market: By Country, 2014-2022 (Usd Million)

Table 8 Global Shrink Sleeve Labels for Material : By Regions, 2014-2022 (Usd Million)

Table 9 North America Shrink Sleeve Labels Market for Material : By Country, 2014-2022 (Usd Million)

Table 10 Europe Shrink Sleeve Labels Market for Material : By Country, 2014-2022 (Usd Million)

Table 11 Asia-Pacific Shrink Sleeve Labels Market for Material: By Country, 2014-2022 (Usd Million)

Table 12 RoWShrink Sleeve Labels Market for Material : By Country, 2014-2022 (Usd Million)

Table 13 Global Shrink Sleeve Labels Market for Type : By Regions, 2014-2022 (Usd Million)

Table 14 North America Shrink Sleeve Labels Market for Type : By Country, 2014-2022 (Usd Million)

Table 15 Europe Shrink Sleeve Labels Market for Type: By Country, 2014-2022 (Usd Million)

Table 16 Asia-Pacific Shrink Sleeve Labels Market for Type : By Country, 2014-2022 (Usd Million)

Table 17 RoW Shrink Sleeve Labels Market for Type: By Country, 2014-2022 (Usd Million)

Table 18 GlobaShrink Sleeve Labels Market for Application: By Regions, 2014-2022 (Usd Million)

Table 19 North AmericaShrink Sleeve Labels Market for Application: By Country, 2014-2022 (Usd Million)

Table 20 Europe Shrink Sleeve Labels Market for Application: By Country, 2014-2022 (Usd Million)

Table 21 Asia-Pacific Shrink Sleeve Labels Market for Application: By Country, 2014-2022 (Usd Million)

Table 22 RoW Shrink Sleeve Labels Market for Application: By Country, 2014-2022 (Usd Million)

Table 23 Global Material Market: By Region, 2014-2022 (Usd Million)

Table 24 Global Application Market: By Region, 2014-2022 (Usd Million)

Table 25 North America Shrink Sleeve Labels Market , By Country (Usd Million)

Table 26 North America Shrink Sleeve Labels Market, By Material (Million Usd)

Table 27 North America Shrink Sleeve Labels Market , By Type (Million Usd)

Table 28 North America Shrink Sleeve Labels Market , By Application (Million Usd)

Table 29 Europe: Shrink Sleeve Labels Market , By Country (Usd Million)

Table 30 Europe Shrink Sleeve Labels Market, By Material (Usd Million)

Table 31 Europe: Shrink Sleeve Labels Market , By Type (USD Million)

Table 32 Europe: Shrink Sleeve Labels Market , By Application (Usd Million)

Table 3 Asia-Pacific: Shrink Sleeve Labels Market , By Country (Usd Million)

Table 33 Asia-Pacific: Shrink Sleeve Labels Market, By Material (Usd Million)

Table 34 Asia-Pacific: Shrink Sleeve Labels Market, By Type Material (Usd Million)

Table 35 Asia-Pacific: Shrink Sleeve Labels Market , By Application (Usd Million)

Table 36 RoW Shrink Sleeve Labels Market , By Country (Usd Million)

Table 37 RoW: Shrink Sleeve Labels Market, By Material (Usd Million)

Table 38 RoW: Shrink Sleeve Labels Market , By Type (Usd Million)

Table 39 RoW: Shrink Sleeve Labels Market , By Application (Usd Million)



LIST OF FIGURES



FIGURE 1 Global Shrink Sleeve Labels Market segmentation

FIGURE 2 Forecast Methodology

FIGURE 3 Five Forces Analysis of Global Shrink Sleeve Labels Market

FIGURE 4 Value Chain of GlobalShrink Sleeve Labels Market

FIGURE 5 Share of Global Shrink Sleeve Labels Market in 2014, by country (in %)

FIGURE 6 GlobalShrink Sleeve Labels Market, 2015-2022, (USD billion)

FIGURE 7 Sub-segments of Global Shrink Sleeve Labels Market

FIGURE 8 Global Shrink Sleeve Labels Market size by Material

FIGURE 9 Share of PVC in GlobalShrink Sleeve Labels industry, 2012 to 2022

FIGURE 10 Share of PET-G in GlobalShrink Sleeve Labels Industry, 2012 to 2022

FIGURE 11 Shares of Polylactic Acid Films in GlobalShrink Sleeve Labels Industry, 2012 to 2022

FIGURE 12 Share of Expanded Polystyrene Films in GlobalShrink Sleeve Labels Industry, 2012 t2022

FIGURE 13 Global Shrink Sleeve Labels Market size by Type

FIGURE 14 Share of stretch Global Shrink Sleeve Labels Market size by Type industry, 2012 to 2022

FIGURE 15 Share of shrink Global Shrink Sleeve Labels Market size by Type inindustry, 2012 to 2022

FIGURE16 Global Shrink Sleeve LabelsMarket size by Application

FIGURE 17 Share of Food & Beverage in Global Shrink Sleeve Labels industry, 2012 to 2022

FIGURE 18 Share of Pharmaceuticals in Global Shrink Sleeve Labels industry, 2012 to 2022

FIGURE 19 Share of Personal Care in GlobalShrink Sleeve Labels industry, 2012 to 2022